DIY With Annie Sloan's New Charleston-Farmhouse-Inspired Chalk Paints
The founding queen of Chalk Paint has graced us with three new decorative paint kits perfect for DIY projects.
Keep in mind: Price and stock could change after publish date, and we may make money from these affiliate links.
Simply put, Annie Sloan is the go-to expert when it comes to decorative paints. So, of course, we were excited when she announced the release of new limited edition Chalk Paint colors—and some pretty cool DIY projects—inspired by the iconic Charleston Farmhouse in Firle, England. Grab your brushes, because these paints are perfect for your next weekend project!
"I've been wanting to do this forever and ever," says Annie.
Charleston Farmhouse was once home to pioneering artists, thinkers and creatives of the 20th century. Today, it's filled with vibrant furnishings and decorations that mimic its roots—including beautifully painted walls and accessories. Annie fell in love with Charleston while studying fine art, so it's no surprise the farmhouse is exactly what inspired her three new decorative Chalk Paint kits: Rodmell, Firle and Tilton. Each kit includes three complementary Chalk Paint hues, clear Chalk Paint Wax and an inspiration guide.
The best part about this collaboration is that the paints can be used on walls, but also on furniture or for fun DIY projects. Annie herself went to work on some pretty cool chairs below. Want to recreate them? Keep reading for step-by-step instructions.
Here's how to recreate Annie's Rodmell chair design.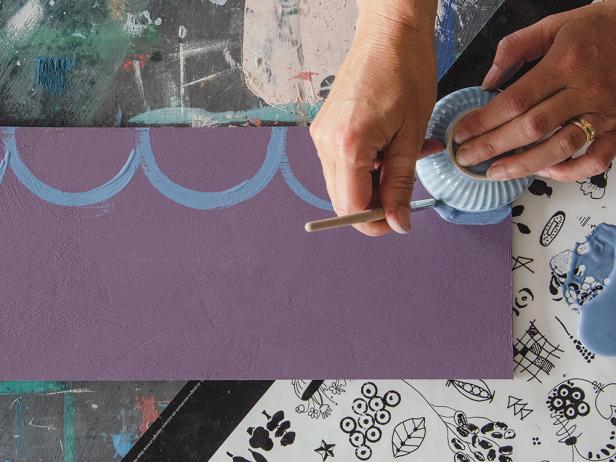 Courtesy of Annie Sloan
STEP 1
Wipe down your surface and apply a coat of Chalk Paint in Rodmell. Then, using a small bowl, a small Decorative Paint Brush, and the Greek Blue included in this set to create a scalloped shape along the top and bottom edges of the chair back.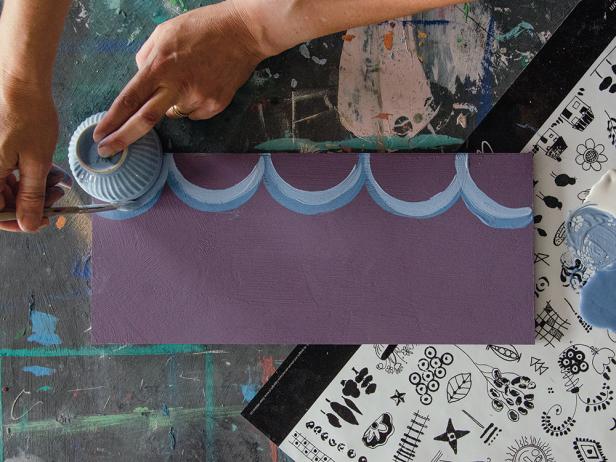 STEP 2
Next, mix a small amount of Greek Blue and Original together to create a softer blue accent colour. Using the same bowl create another, lighter blue outline inside the first.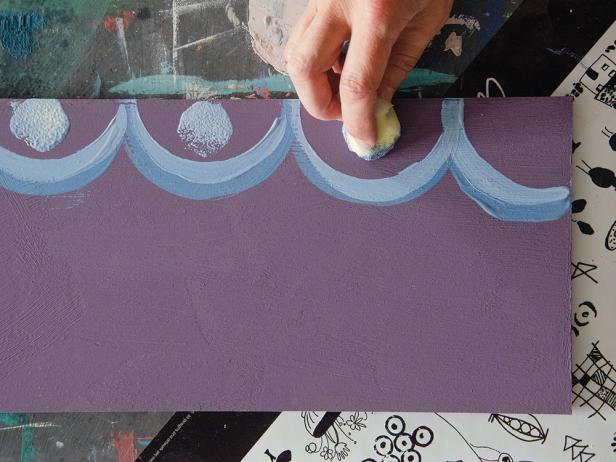 Courtesy of Annie Sloan
STEP 3
Using the same Greek Blue and Original mix, take a kitchen sponge and apply circles of color inside the middle of the scallop shapes.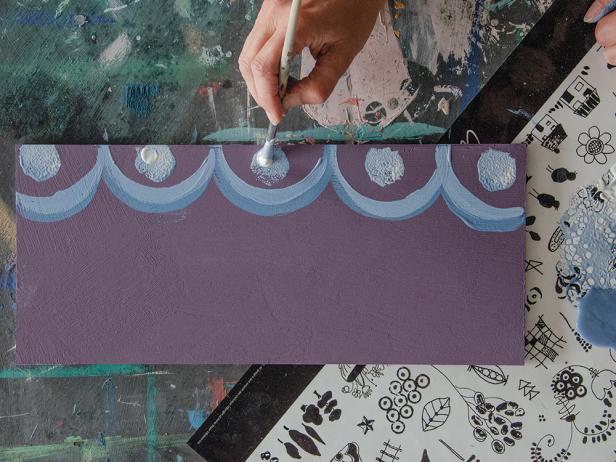 Courtesy of Annie Sloan
STEP 4
Use the Decorative Brush to add a neat dot of Original inside this circle. Repeat the scallop outlines in Greek Blue and your Greek Blue and Original Mix on the seat of the chair to tie everything together.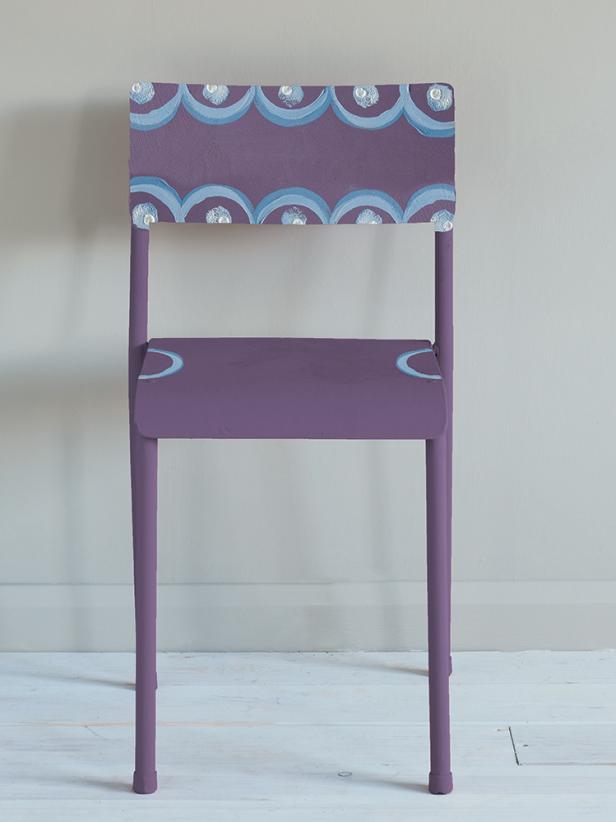 STEP 5
Voila! Once you're happy with your piece, use the Clear Chalk Paint Wax from your set to finish and protect. Use a lint free cloth and gently massage the wax into your painted furniture, wiping off excess as you work.
Create Annie's Tilton chair design. The creamy, mustard-yellow paint in Tilton serves as the base color on this bold and cheerful chair.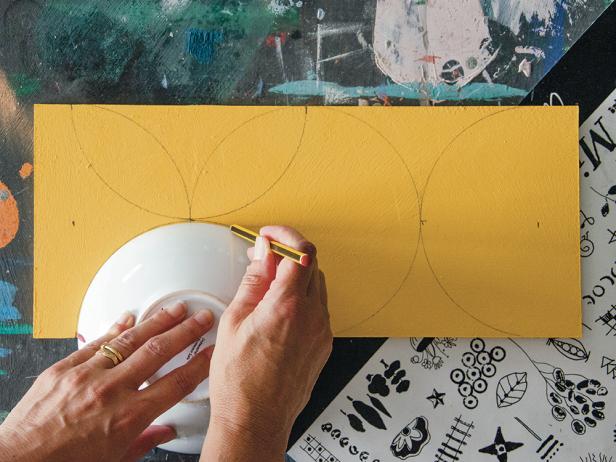 Courtesy of Annie Sloan
STEP 1
Once you've painted your chair using Tilton's yellow hue, use a bowl and a pencil to draw a kaleidoscopic circle pattern along the back rest (the same bowl in different placements can create segments which suggest petals).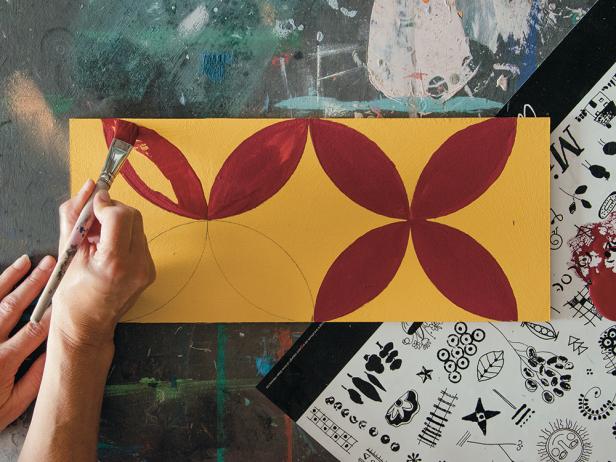 STEP 2
Fill each shape in with rich Burgundy.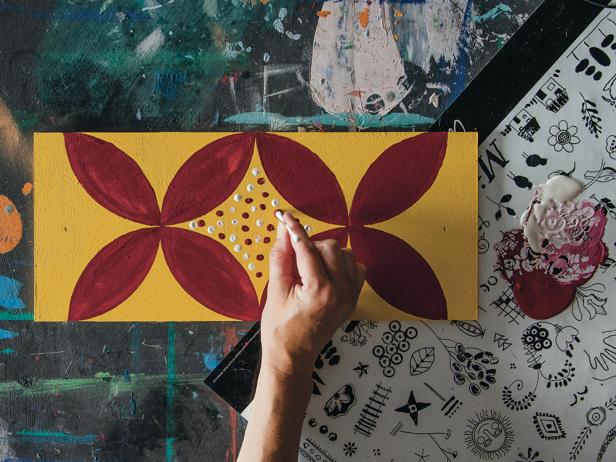 Courtesy of Annie Sloan
STEP 3
Use a q-tip dipped in Burgundy on one end and Original on the other to add dots. Pro tip: To avoid waste you can also use the wooden end of a Decorative Paintbrush to create the dots.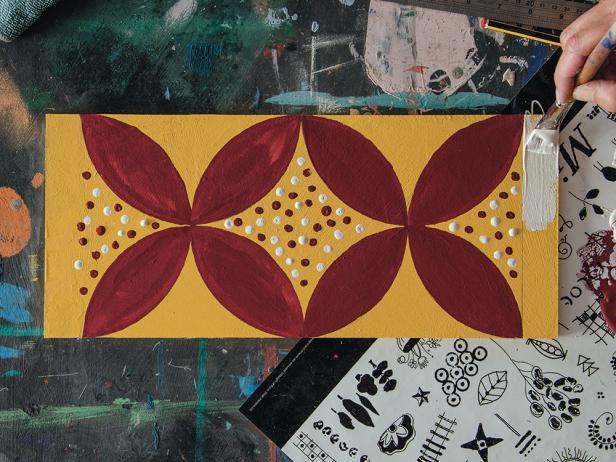 Courtesy of Annie Sloan
STEP 4
Then apply a strip of Original along the edge of the back rest to frame the design. Then use the bowl and pencil to mirror the pattern on the back of the chair on the seat.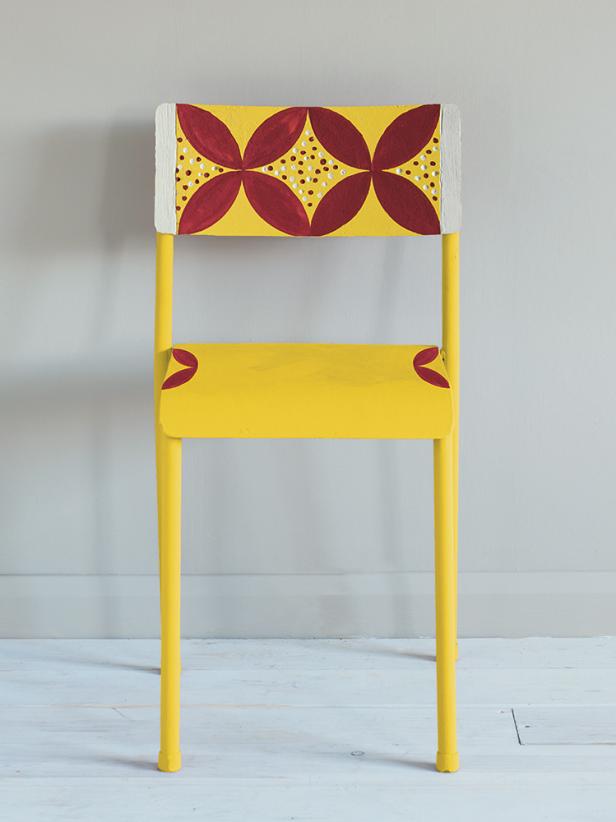 Courtesy of Annie Sloan
STEP 5
Once you're happy with how everything has been painted, seal your work with Clear Chalk Paint Wax. Make sure it's completely dry before sitting.
Recreate Annie's Firle chair design.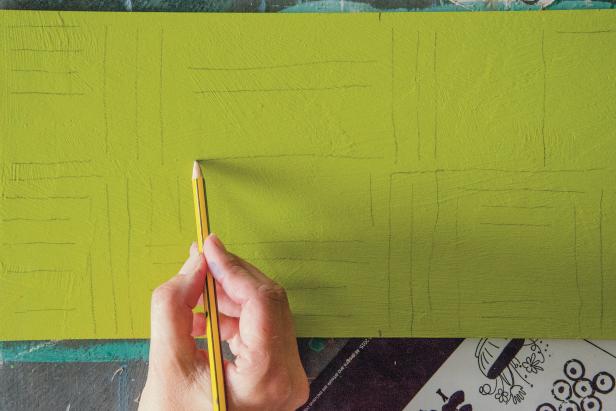 Courtesy of Annie Sloan
STEP 1
First, apply a base coat of Chalk Paint in zingy Firle and allow to dry. Then, use a pencil to create a geometric pattern built on straight lines. Annie began by drawing a couple of larger squares at random points along the chair back and then filling the areas inside and around those squares with straight lines in varying lengths.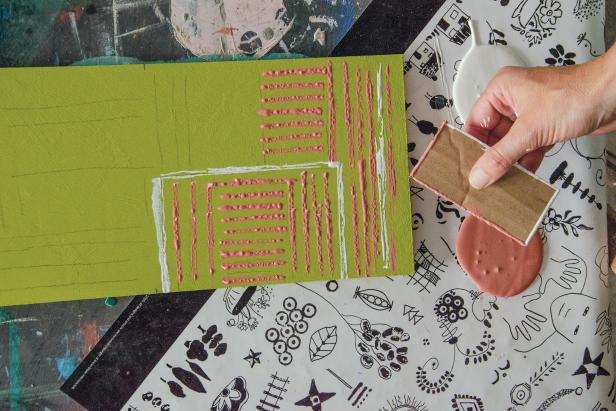 Courtesy of Annie Sloan
STEP 2
Then using a thick torn off strip of cardboard, apply Scandinavian Pink and Old White over the pencil outlines. The cardboard will give a wonderful textured effect.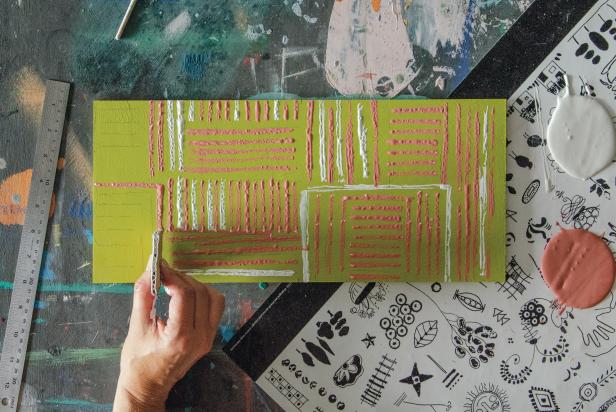 Courtesy of Annie Sloan
STEP 3
Annie limited the cardboard pattern to the back rest to avoid the chair becoming too busy, but made sure to apply a few lines of Scandinavian Pink and Old White using the same cardboard technique to the front of the chair seat for some added interest. "Those little touches are everywhere at Charleston," she explains.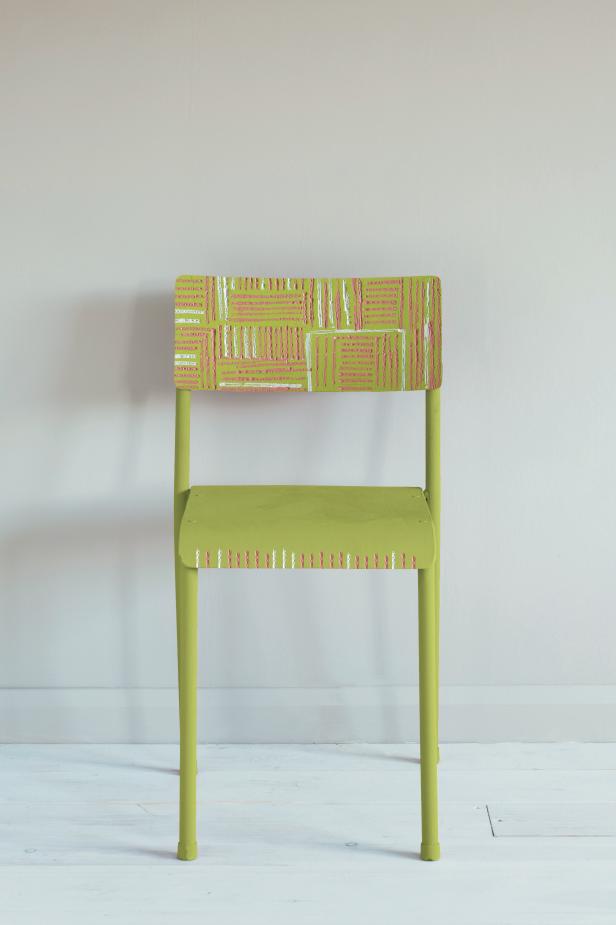 STEP 5
Once the Chalk Paint is completely dry, use the Clear Chalk Paint Wax to finish and protect. Pro tip: Avoid cleaning with harsh chemicals such as bleach (as you should with any painted pieces) and it will safeguard for years to come.