Designer Rachael Franceschina redesigns a 1920s English cottage kitchen to give the space a fashionable, fresh design.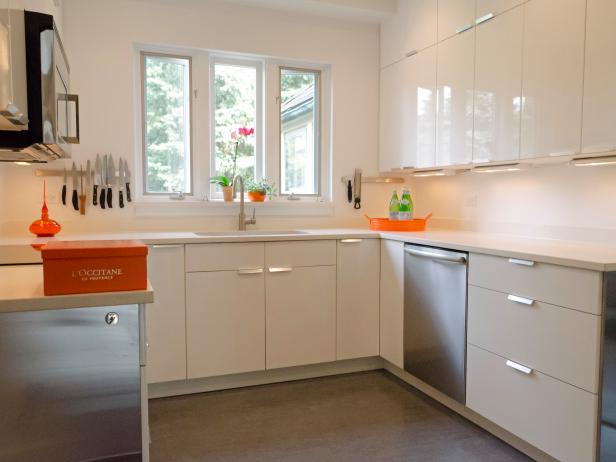 White Modern Kitchen With Orange Accessories
Photo Courtesy of Betsy Maddox
Photo Courtesy of Betsy Maddox
In this gut remodel of a 1920s cottage kitchen, designer Rachael Franceschina details how she renovated a small cottage style kitchen to include modern updates and lots of added storage.
Franceschina shares how she designed a cozy space for cooking and entertaining.
What was on the owners' wish list for this remodel?
We needed to update the 1920s kitchen to fit the lives of the owners, but still keep the English cottage style of the home intact. We could not demo or relocate the walls of this small kitchen to make it larger; therefore, we really had to get creative. We needed to maximize the amount of storage and counter space.
Did you face any outstanding issues with this project?
The issue we had was construction time. The owners lived in the space throughout most of the renovation, so it was difficult for them to live in a constant construction zone. Their patience is to be admired.
How did you address design obstacles?
Our plan was to remove the unnecessary soffits in the kitchen and extend the upper cabinets to the ceiling. When we demolished the soffits, we found a duct and plumbing that could not be relocated. The contractor built the smallest soffit he could on one kitchen wall, just above the sink, and did a great job modifying the upper cabinets on the perpendicular walls. Luckily, no one else seemed to notice it, except me.
Does the end result match the original design for the project?
The extra storage space that was gained from adding the extra line of upper cabinets is amazing. We also increased the height of the cabinets above the refrigerator and pull-out pantry. We added glossy, white cabinets and a white Caesarstone countertop and backsplash that made the small kitchen appear larger.
Were there any "hidden gems" that made a big difference?
The owners chose a bright, orange carpet runner that starts in the basement and continues upstairs to the attic throughout all seven floors! We continued the accents of orange throughout the home, even in the all-white kitchen, and the clients love it! The white backdrop makes the windows to the colorful backyard pop and they use the windowsill to house their plants and bring more nature indoors.
What lessons did you learn from this project?
To push the envelope ... most clients will prefer the better design, even if it costs more.