Traditional Kitchen With Added Storage
Designer Cyndi Haaz creates a neutral kitchen with traditional style and plenty of storage.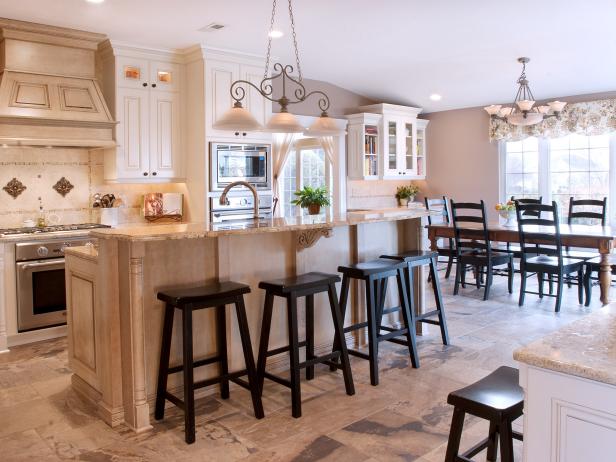 Country-Style, Open-Layout Kitchen and Dining Area
Photo Credit: Top Kat Photography Inc.
Scripps Networks
Photo Credit: Top Kat Photography Inc.
See how Cyndi created a dream kitchen for homeowners who hoped for enough cabinet space for all of their dishes plus extra storage for everything else.
Describe the homeowners' wish list.
They wanted their complete kitchen renovation to include a desk, pantry, more counter space and cabinets — including stacked, lighted cabinets.
What was the biggest issue the design addressed?
The biggest issue was the design of a wall of storage to maximize the available space, eliminate a need for storage in the basement and include space for a broom closet in the kitchen.
Describe an obstacle in the space.
Making the casual eating area have a sense of being integral to the kitchen was accomplished by using tile on the floor for both areas and extending the cabinetry along the back wall of the kitchen.
How did the end result match your original vision?
In this kitchen, no changes were needed from the original design.
What lessons did you learn from this project?
Stacked, lighted cabinets were customized to replace the door panel design with glass. Glass size could have been larger to maximize light and view. Going forward I'd make sure the design of stacked, lighted cabinets would incorporate as much glass as possible.
What are the hidden gems that make a big difference?
The broom closet was incorporated into the side of the wall of cabinets that faced the dining area. When the cabinets are closed, it was important to have all the individual cabinet doors line up. The broom cabinet had to be customized to ensure that it would be finished that way.