Contemporary Living With a Rustic Flair
To open up this condo and make one large living space, designer Rachel James worked her demo and designer magic, resulting in an open living space full of bright colors and cool accent pieces.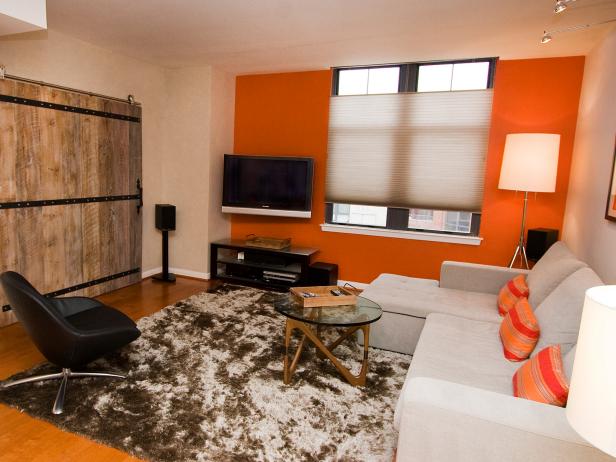 Orange Accent Wall Electrifies Contemporary Living Room
A bright orange wall livens up this otherwise neutral contemporary living room. The space is filled with fun touches, including orange-striped throw pillows, a shaggy area rug and a rustic sliding barn door.
When designer Rachel James' client asked for a more open, bright and colorful living space, Rachel knew just how to make their interior design wishes come true.
Describe the homeowner's wish list.
The client wanted to open up the living space by knocking out the guest room wall and adding a sliding door. We used reclaimed hardwood on stainless steel casters to create a rustic yet modern and industrial theme. This building was the first condo erected in downtown Clarendon (area of Arlington), so it became the blueprint for all other condos in the area.
What was the biggest issue the design addressed?
We wanted to bring in light and create more openness, making the rooms function as a large living space that was industrial, yet classy and full of chi.
Describe an obstacle in the space.
There weren't too many large obstacles, however working in a condo presents a certain set of challenges in terms of timing, parking and making sure all elements fit in the freight elevator. Demolition involved issues in making sure we didn't affect duct work.
How did the end result match your original vision?
The original reclaimed wood for the door warped and had to be replaced. We painted the columns in a custom finish to replicate the concrete pillars on the wrap-around deck, however the general painter accidentally painted over the faux finish, so we had to redo it.
What lessons did you learn from this project?
Loved the way the rooms could absorb a bright color. Even though we used Racing Orange by Benjamin Moore on the walls, orange upholstery on the chairs, and orange pillows, the effect was at once energetic and soothing. This bright color is quite liveable.
What are the hidden gems that make a big difference?
The artwork in the office area was inspired by one of Stravinsky's ballets. It looks to be a simple abstract, but it actually has great depth in meaning. The wrap-around deck truly functions as an extra room, and the client spends all the warm months living outside.