Craftsman Open Kitchen Makeover
What was once a dark, gloomy kitchen is now a light, airy cooking space thanks to designer Catherine Nakahara.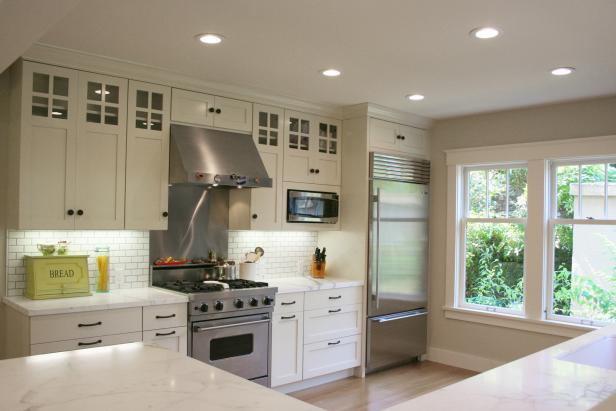 Airy, Transitional Kitchen With White Subway Tiles and White Marble Countertops
Wide windows with Craftsman styling shed a lot of light on this transitional kitchen. The designer's top goal was to brighten the space. The windows not only bring in loads of natural light, but they also offer a great view of the garden outside.
White cabinets, stunning Calacatta marble countertops and fresh, natural light made all the difference in this refreshing Craftsman style kitchen. With just one look, it's hard to believe designer Catherine Nakahara started with an out-of-date '80s nightmare.
Describe the homeowner's wish list.
They were very tired of their dark, outdated '80s kitchen with the oversized cabinetry and heavy soffits. For their new kitchen, they wanted more natural light; an open, more functional kitchen design; and cabinetry and finishes that blended seamlessly with the other rooms in their beautiful old home.
What was the biggest issue the design addressed?
The outdated, heavily soffited kitchen was very dark. The owners have a lovely back yard and a beautiful crabapple tree, which they couldn't see from the kitchen or family room. So, our No. 1 priority was to lighten up the space by bringing in more natural light. We added larger, symmetrical windows, so the owners could stand at their kitchen sink and look out into their lovely garden. We also reworked the family room windows and installed a large picture window where there used to be a solid, exterior wall. Now, they have a lovely, enchanting view of their garden and crabapple tree from their kitchen, breakfast table and family room.
Describe an obstacle in the space.
We had a structural element that could not be relocated, so we worked around it and created an unobtrusive boxed beam detail.
How did the end result match your original vision?
The kitchen and family room turned out exactly as I'd envisioned them – a beautiful, warm, light-filled space for all to enjoy. We work with a 3D program called Sketch Up, which allows clients to consider several different design options, as well as textures, cabinetry finishes and countertop materials, so they can see how the different designs might work for them before settling on the one that will ultimately become their beautiful new kitchen or bathroom.
What lessons did you learn from this project?
When structural elements come into play, there can be surprises. Our clients were prepared, but if at all possible, try to determine ahead of time whether the structural elements could potentially have an adverse impact on the design and budget.
What are the hidden gems that make a big difference?
We just love how the different finish materials came together (warm white custom cabinetry with decorative door details; gorgeous stained-wood, custom built-in cabinetry and peninsula details; and beautiful Calacatta marble countertops), which transformed the space from dark and cold to warm, inviting and full of light.