Master Bathroom Makeover With Luxurious Tub
How do you make a bathroom a go-to retreat? Include what most homeowners want most—a tub to spend time soaking in, a shower for quick cleansing, good big mirrors, great lighting, and a soothing palette!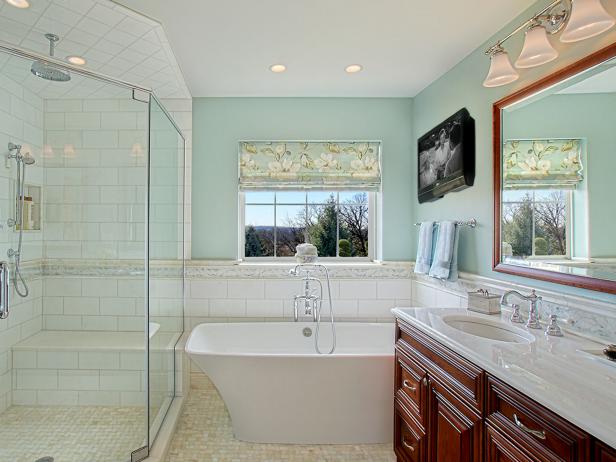 Stylish Space With Contemporary Tub
A blue-green paint color—similar to the ocean—was used on the walls for this water-pampering space. The contemporary tub provides more room for a larger shower, and the Roman shades are adjustable to let more or less light in. A flat-screen TV mounted to the wall for long soaks is the perfect touch for this relaxing space.
Norman Sizemore / Mary Beth Price
Designer Joan Suzio, LEED AP, owner of a Decorating Den Interiors franchise in Libertyville, Illinois, carefully melded together different tile patterns by creating three major focal points in the remodeled bathroom—a beautiful wood vanity with matching mirrors, a curving tub, and a walk-in shower with bench, all with the glamor of a Hollywood flick. She unified the remodeled space more with the romantic ocean-blue paint color.
Describe the homeowner's wish list.
Expand and update the shower, improve the lighting, upgrade to a tiled floor from carpet, add more functional storage, and separate the master bathroom from the master bedroom.
What was the biggest issue the design addressed?
Actually, a leak in the shower wall hastened the remodeling timing. My clients are tall, and the low sink height caused back problems; the shower was very small; the lighting was dingy, and the whole space was thrown together with the cheapest possible fixtures. It just was not working.
Describe an obstacle in the space.
Creating a spa-like space, especially a bigger shower, within the existing footprint. We laid everything out to the inch and measured many times to be sure all would fit!
How did the end result match your original vision?
Initially, we wanted to do a curbless shower, but that was not possible. We could not do pocket doors as desired because of plumbing placement, so instead, we did a bi-fold French door that took up minimal space.
What surprised you about this project?
The biggest surprise were joists that were 24" on center! We had to reinforce the floor for the tub. Thankfully, the tile designer had chosen mosaic tiles for the floor; she said larger tiles would have cracked with the floor supports.
What are the hidden gems that make a big difference?
Attention to lots of little details like the toiletry niche, body jets, big bench in the shower, and even a couple of feet more space made the client so happy in this space. Other gems are the rich variation of the marble tiles, custom mirror frames, faucets, and heated floor, plus a wall-mounted TV!