Contemporary Kitchen With Rustic Flair
Cool and contemporary with rustic accents, this gorgeous kitchen is full of custom details and hand-crafted accessories.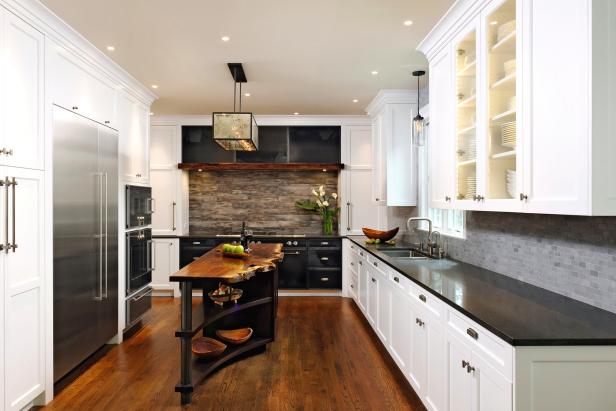 Organic Island in Modern-Industrial Kitchen
An angular island draws the eye in this custom kitchen. Black steel cabinets draw the eye to the unique walnut island and vent hood. Integrated appliances and quartz countertops complete the room's sleek look.
Photography by Bob Narod for Jennifer Gilmer Kitchen and Bath
Old meets new in this charming contemporary space. Rustic touches, state-of-the-art appliances and tons of hidden gems meet all the homeowners' needs, and the stunning design makes it one of the most beautiful rooms in the home.
What were the main items on your client's wish list?
Among their wish list items, these were especially important: conducive layout for cooking and entertaining; latest technology (Gaggenau appliances preferred); plenty of resilient workspace tops; and organized storage. Most of all, they wanted excitement.
What were your main objectives for the design?
My clients were completely uninspired by the original layout of their kitchen. It was time to re-envision the space from the builder's original, lackluster arrangement to something worthy of my clients' imagination and distinguished taste.
What makes this kitchen unique to your client?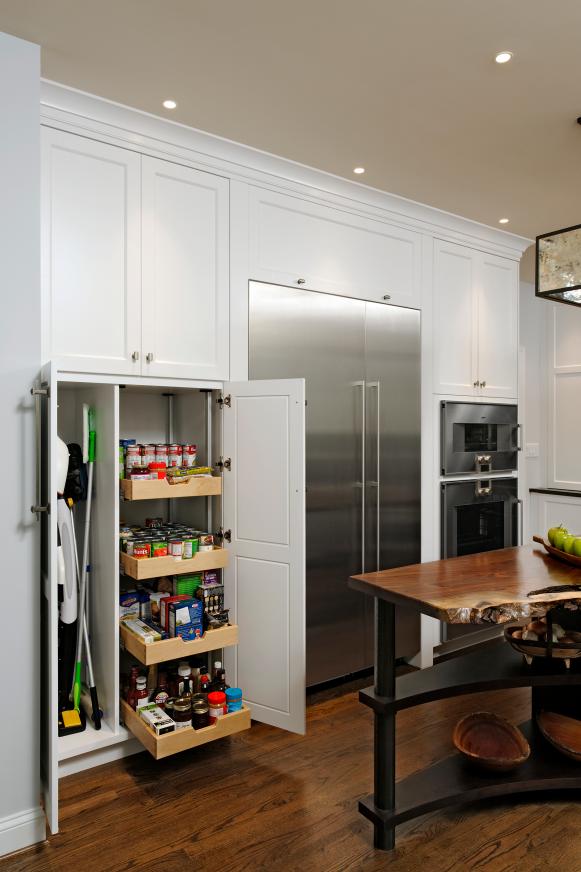 An Efficient and Streamlined Custom Kitchen
Pull-out pantry doors are cleverly hidden behind white cabinets in this cheerful kitchen. Integrated appliances include a steam oven and warming drawer. At the center of the space, a custom island features a unique live-edge walnut top.
Photography by Bob Narod for Jennifer Gilmer Kitchen and Bath
The biggest hindrance to the practical and aesthetic success of the kitchen lay in the walls of the pantry closet. Removing the closet was paramount to achieving a sense of balance to the room and creating a strong focal point. In addition, moving the cooktop to the back wall was a way to surround it with proper ventilation, larger adjacent countertops, and of course, a much bigger cooking surface. The pantry storage is elegantly solved with cabinet pantries and whisk-away storage garages. Changing the back wall of this kitchen truly changed everything.
What was your biggest obstacle in space?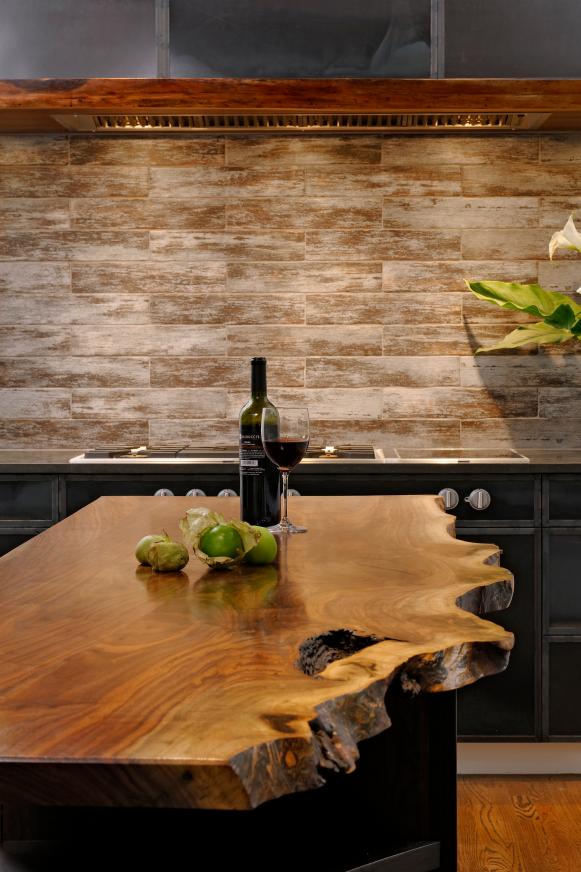 Custom Features in Warm, Contemporary Kitchen
The unique kitchen island features a top made from live-edge walnut, bringing an organic element into this rustic, contemporary space. On the cooktop wall, cabinetry is constructed from hot-rolled steel panels, and rough-hewn walnut continues with the custom hood.
Photography by Bob Narod for Jennifer Gilmer Kitchen and Bath
Whenever you go rogue – design something that will truly be one of a kind – there are many nerve-wracking moments. You try to anticipate, check and double check, but you never rest easy until it's over. In this project, we commissioned two very talented artisans to do handcrafted work, and their parts of the project were truly the most exciting and the most nerve-wracking of all. Our project site was in Maryland. The custom cabinetry was being built in Minnesota. Somewhere in Texas, the fabulous Cole Thompson was welding the cold-rolled steel panels we used to face our cooking area cabinetry. He was working these by hand, sizing them to our specifications. When the giant crate of steel arrived to Maryland, each panel had to fit exactly right in order to work properly with the cabinet's wood drawer boxes. I've never met Cole and never seen his studio, so I had to trust in the friendly voice on the phone line and pray that everything would come together for my clients. Meanwhile, local woodworker extraordinaire Marcus Sims was also making my handcrafted dreams come true. We asked Marcus to help us warm up the design with some live-edge reclaimed walnut. He found some perfect gnarly pieces with tremendous character and used incredible skill to fabricate both an island top and a cooking hearth mantle. I asked him to create a special curve to the island top to allow extra space for the dishwasher area, and he executed it beautifully. Visiting Marcus's woodshop with my clients, smelling the sawdust, and feeling out the details together remains one of my favorite memories of this collaborative effort.
What was the inspiration for this project?
These clients travel the world in their lives and careers, collecting gorgeous works of craftsmanship from near and far. Antique woven rugs, hand-carved furniture and lovely watercolor paintings distinguish their collection. Walking through their home, I could see clearly that there was a deep appreciation for the talents of the artisan. It became a natural inspiration to design some locally-crafted, original details into the kitchen to continue that "touched-by-hands" sensibility.
Was there a specific piece that was essential to bringing the design together?
In addition to blending paint, wood, metal and stone materials together, it felt important to bring in an element of gleaming, glimmering glass. I chose a mercury-glass pendant fixture from West Elm to hang over the island, and I believe it strikes the perfect bright note in this design.
What is your favorite element of the kitchen?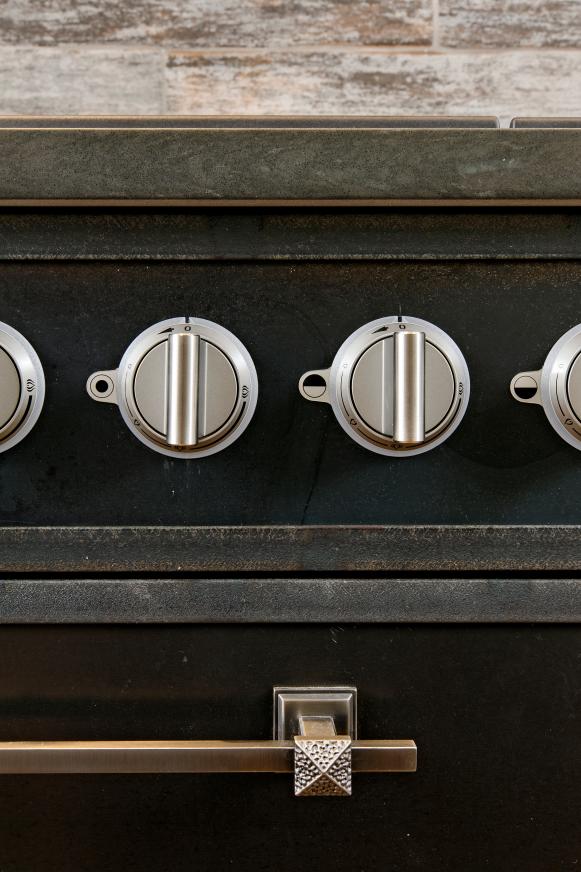 Integrated Appliances in Custom Kitchen
Custom steel panels are integrated into the cabinetry that surrounds this cooking area. The range features hidden roll-out trays that store kitchen accessories, and controls for the Gaggenau cooktop are drilled into the steel panels.
Photography by Bob Narod for Jennifer Gilmer Kitchen and Bath
One of my favorite details is one of the smallest. I like to think that the way I designed the cooking area in this kitchen resembles a streamlined, slick version of the classic European cast-iron range. You know, the ones that weigh/cost as much as a small car and are handed down for generations. In reality, the huge cooking area is comprised of wood cabinetry with a 36" gas cooktop and a 15" induction cooktop set into the counter closely, side by side. This sneaky solution gives the clients the best technology the market can offer and fantastic pot and pan storage as well. To help pull off the illusion, a close look will reveal that the knobs of the Gaggenau cooktop have been drilled straight through the metal drawer fronts of the cabinet below. Drilling those in by hand was nerve-wracking to say the least, but this tiny detail is the biggest reason that I love this look.
What makes this project uniquely yours?
If there is a signature characteristic to my work, it might be a continual interest in playing with contrast. I like to contrast both tone and texture in my designs. I'll pair glossy or hard-edged materials with rough, warm materials and colors. I like to mix rustic elements with modern elements, traditional with non-traditional. I think the more eclectic a design is, the more interesting it is. My hope is that designs like this one will defy the passing trends of the day and be more timeless in their appreciation.
What are the hidden gems that make a big difference?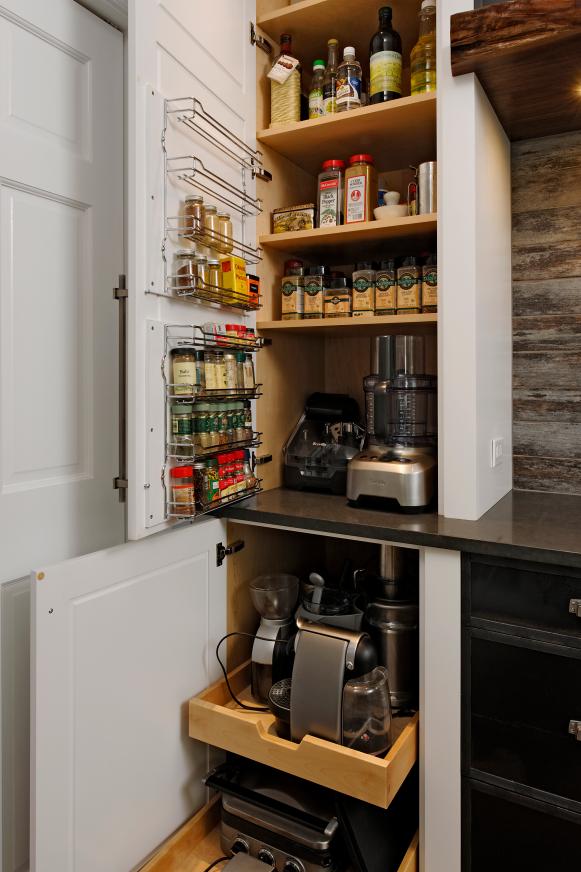 Smart Storage in Chic, Custom Kitchen
Clever hidden storage increases function in this rustic, industrial kitchen without cluttering up its streamlined style. Custom cabinetry is constructed from hot-rolled steel panels, creating a cooking area that marries function and style. A ceramic tile backsplash mimics the look of weathered wood.
Photography by Bob Narod for Jennifer Gilmer Kitchen and Bath
Hidden countertop appliances are happy appliances and make for happy counters too. In this design, the pantries that flank the cooking area have countertops than run beneath, creating appliance garages that are functional in place, yet they are immediately invisible when not in use. This removes clutter in an instant and preserves the rest of the counter spaces for real activity.