Penthouse Remodel in Downtown St. Louis
A St. Louis family consolidated four apartments into a single penthouse home. S&K Interiors designed the remodel while construction was going on.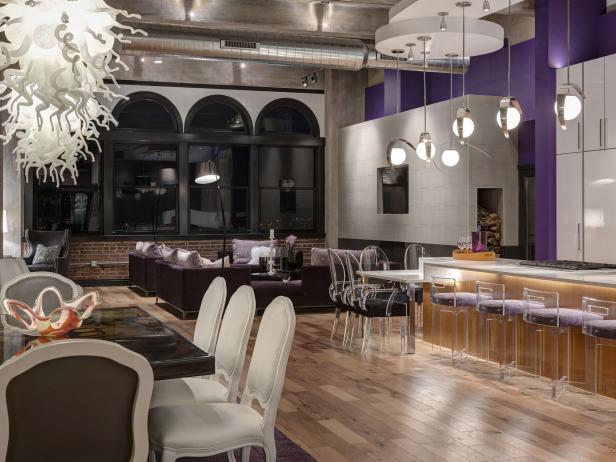 Contemporary Loft With Purple Accent Wall and Ghost Chairs
The open floor plan of this downtown loft boasts an 18-foot ceiling, while bold purple walls add depth. A row of ghost chairs line the bar and casual dining area.
S&K INTERIORS, Scripps Networks
What were the main items on your clients' wish list for the home remodel?
Our clients, a couple with two teenagers, wanted a beautiful, comfortable home for their family and friends first and foremost. They wanted the ability to entertain family members and also have room to host fundraising events for the many non-profit organizations that they are involved with.
What were the main objectives and goals? Was there a space that was most important to your client?
The clients' most important spaces were the living room, kitchen and master bedroom. Our main goal was to get the renovation completed in a timely manner because construction was moving forward very quickly and we had a very tight deadline.
How extensive was the remodeling project?
The project involved a complete rehab of a very unique, distinctive home with over 9,000 square feet including 5 bedrooms, 7 bathrooms, kitchen, guest room, rooftop lanai and pool. The penthouse was 70% gutted, and the homeowners were living elsewhere while construction took place.
We changed everything about the space, converting four one-bedroom apartments into a single residence. We completely re-arranged all the various spaces and even re-routed plumbing lines, the electrical system, and ductwork for heating and cooling.
What was your biggest obstacle in the remodel/redesign of the home, and how did you address it?
The timeline was our biggest challenge. We had to design all the bathrooms and kitchen and recommend and purchase all new furniture, rugs, draperies, artwork, etc concurrent with the construction phase. Elements were constantly changing and there was a lot of back-and-forth between our design team and the contractors.
Shirley's biggest personal challenge was that despite being somewhat afraid of heights, she had to go up and down two flights of open stairs with no rails to access the roof-top pool, lanai and guest bedroom during the construction process.
Katie's most memorable moment was when one of the main downtown streets had to be shut down so that the construction crew could bring the swimming pool and hot tub up to the roof nine floors up by crane. Speaking of which, the rooftop had to be elevated 5 feet to make room for the pool to be dropped in.
What was the inspiration for the remodel?
Our clients loved modern design with mixes of traditional and high glamour-themed elements. They shared a photo of one of Elton John's bedrooms and we used that for some of our design inspiration. Our clients also loved purple, and we used that color extensively.
While each room might have its own color palette, style and function, it's important for the home to seem fluid and harmonious. How did you make transitions from room to room without losing the individuality of each space?
We kept a common color palette of black, purple, orange and creams throughout the main space, and individualized each of the private spaces by adding special elements.
What was your favorite room/space to design in this home?
The great room was our favorite because it was about 3,000 square feet, and we had an opportunity to create multi-functioning areas that would suit everyday needs in addition to being able to comfortably host large parties.
What's the best thing about this house, in your opinion?
One especially interesting feature of the space is that the new master bathroom shower used to serve as an old freight elevator shaft. Aside from that, our favorite elements were the dining room chandeliers, the dramatic kitchen/fireplace area, the glamourous master bedroom, the amazing custom faux fur bedspread and the gorgeous wooden bar top in the bar area.
Like many industrial lofts, this downtown loft has tall ceilings, exposed brick and cement walls. How did you incorporate each of these elements into your design?
The client wanted to retain as much of these industrial elements—such as the HVAC ductwork and the exposed brick—as we could, so we incorporated these elements in our design plan. The tall ceilings required us to use dramatic lighting to bring the focus lower down to more of a human scale.
Is there a design element (pattern, texture, color) that you incorporate into all of your projects?
The one element that we try to use is at least one animal print and faux fur in our projects, such as the living room rug and master bedspread. We also blend modern, contemporary with touches of Hollywood glam and vibrant colors.
What are the "hidden gems" in your plan that really made a big difference in the overall success of your design?
The hidden gems are the personal elements that turn a house into a home. One gem was the master bedroom's wonderful photo wall, which displays a collection of photos of the husband and wife over the many years of their relationship. Very romantic! Another hidden gem is the doorknob art wall in the daughter's room. The daughter loves to create and change out her artwork along with vintage items. Katie designed a wall of doorknobs to serve as shelves to display the art.