Multipurpose Master Suite Offers New Parents Spots for Relaxation and Fun
After welcoming a baby boy, two parents turned to Marie Flanigan to create a spa-inspired, multipurpose master suite. The result was a soothing space which married their styles while creating areas where everyone could feel comfortable -- even the family dog.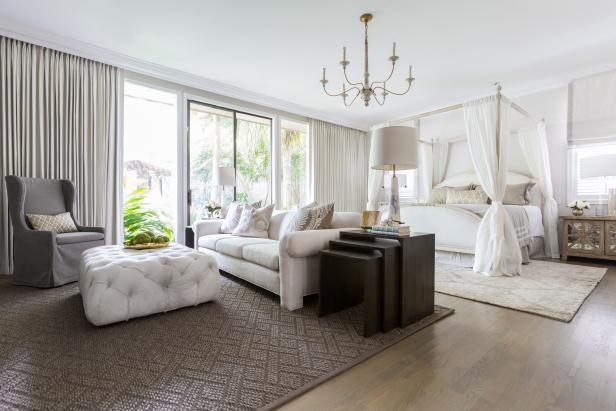 Sophisticated Sitting Area in Master Bedroom
Simply elegant, a canopy bed is the centerpiece of this expansive master bedroom. The sitting area pairs a linen sofa with a tufted ottoman and wingback chair for a cozy, relaxing spot to read a book or sit and chat. Two area rugs help to define the separate areas of the space.
What were the main items on your client's wish list for their master suite?
This young couple had recently welcomed their baby boy into the world, and they were dreaming of a peaceful, spa-inspired bedroom where they could relax and unwind. They wanted everything to feel romantic, light and airy with an unobstructed view of the lush outdoor space that lies just a few steps away.
What was the inspiration for this project?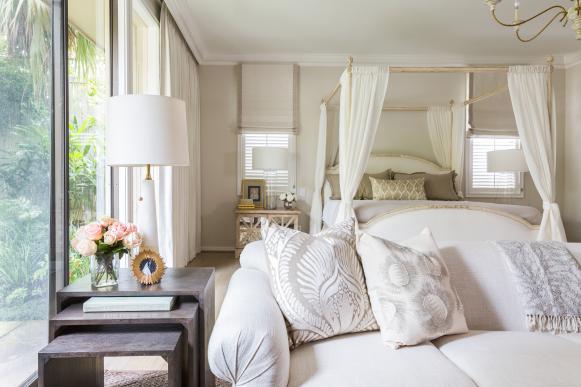 Cottage Master Bedroom is Romantic, Relaxing
The homeowners set out to refresh their 1960s ranch-style home with a clean, airy new vibe while still celebrating the home's unique architectural style. A light, romantic atmosphere is evoked through the beautifully dressed canopy bed and cozy siting area, which pairs a soft linen sofa and nesting end tables.
This was the first home our clients owned as a couple, and it's always so exciting to help two people unite their styles while maintaining a level of respect for the history and architecture of the home they both fell in love with. This space in particular is a celebration of a soft, spa-inspired style that is handsomely highlighted by a selection of masculine accents, creating a chic and comfortable space where both of our clients feel perfectly at home.
What improvements and changes did you make to the space to better suit the lifestyle of your client?
The space featured the home's original green carpeting and small furniture pieces that seemed to float aimlessly within the super-spacious room. Together, we developed a plan that would create a sophisticated, multi-functional master suite by defining multiple areas within the room -- one where they could play and snuggle with their son or enjoy a glass of wine while watching TV, and the other where they could peacefully retire for the evening. Our clients were thrilled because although we enhanced the space through the use of new lighting and carpeting we were able to incorporate a great deal of the existing decor that holds special meaning for their family.
What was your biggest obstacle in the redesign of the master suite, and how did you address it?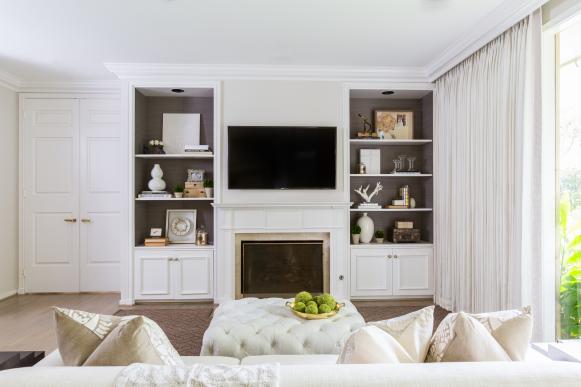 Stylish Bookshelves in Romantic Master Bedroom
Built-in bookshelves flank a classic fireplace and flatscreen TV in this master bedroom's sitting area. Soft gray is used behind the bookshelves to add depth to the space and allows the accessories and books to really stand out.
Our biggest challenge was addressing the 1970s architecture and design elements that existed within the space. There were sliding louvered shutters over the glass doors, and outdated green carpet covered the floor -- both of which needed to be removed in order to lighten and brighten the space. We had a lot of fun troubleshooting the dated shutters and decided to add custom track drapery with hardware that's handsomely hidden behind the crown molding!
Was there a specific piece of furniture, fabric, color, texture or piece of art that was essential to bringing the design together?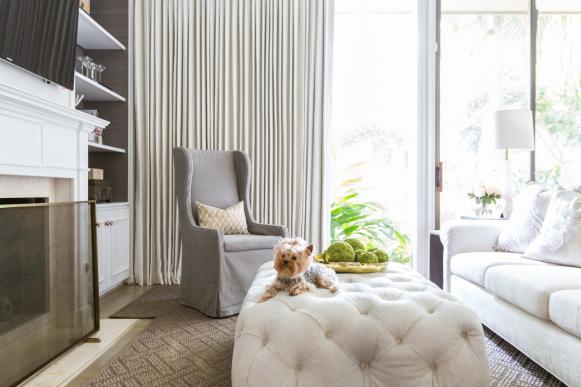 Elegant Master Bedroom Sitting Room
Built-in shelves flank an elegant fireplace in this cozy sitting area off the master bedroom. Creamy curtains dress the floor-to-ceiling windows to provide privacy and block out light for a restful night's sleep. A sophisticated wingback chair and linen sofa are paired with a tufted ottoman, creating the perfect spot to watch TV or read a book.
The couple's adorable little dog loves resting on the furniture, so I used a lot of animal hides (they're virtually indestructible) and even designed a white tufted hide ottoman where he could relax in peace without ruining any beloved textiles. The area rugs were also crucial to bringing this design to life because they helped define the two distinct spaces within the larger room while also creating a warm, intimate atmosphere.
What are the hidden gems in your plan that really made a big difference in the overall success of your design?
The transformation of this space relied heavily on scale. The room is quite large, so it was important for us to create more intimate "spaces within a space" and to swap out a selection of smaller furnishings for larger, statement pieces that would more comfortably fit the room.
What is your favorite feature, element or detail of the space?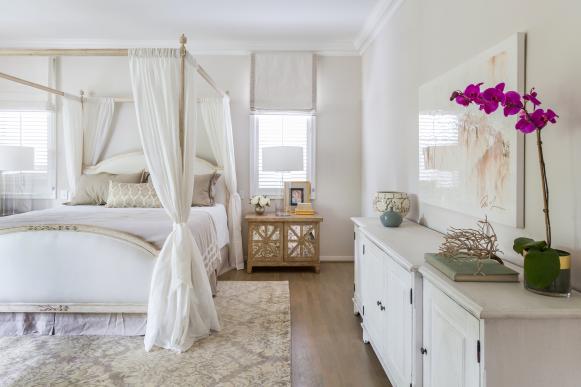 White Cottage Bedroom With Orchid
An all-white palette with accents of natural wood and a single splash of fuschia make this pretty bedroom feel so fresh, light and airy.
To me the bed adorned with delicate canopy sheers combined with the addition of enhanced lighting is what really brightens up the room, setting the spa-inspired tone this young family was looking for.
Every designer has their own style that is reflected in each project they work on. What makes this project uniquely yours?
I love a clean, tailored style that relies on traditional undertones accented by modern design elements, and I never shy away from the bold use of texture. It's important that a space feels carefully curated as though it has slowly evolved over time, and I believe this space radiates a timeless sense of serenity.