Travel-Inspired Attic Playroom
Designer Kendall Simmons transformed a dusty, unused attic into a fun travel-themed playroom. The bright space makes great use of unusual angles and nooks, with a built-in desk, window seat and bunk bed.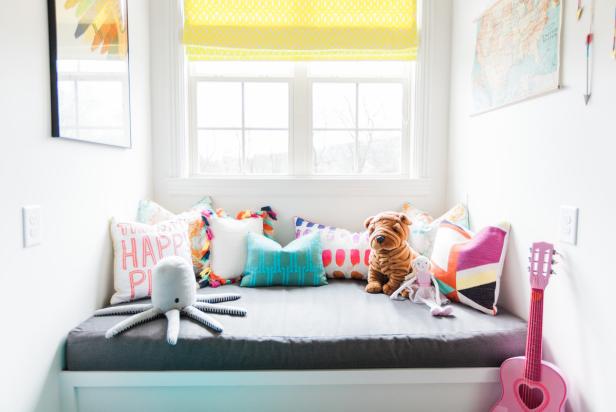 Play Room Window Seat With Stuffed Animals
Because the backdrop of the play room is simple, the space can easily evolve by swapping out the soft goods and bringing in more grown-up accessories.
What did your clients want for the remodeling of their attic?
My clients came to me with a desire to transform their unused, unfinished attic space into a haven for their two small kids. It was intended to be a playroom from the beginning, but we wanted to design the space so that it could easily transition to a teenage hangout space when the kids got older. My clients' wish list went beyond just a place to play. We needed to add storage, a homework area, places to read and overflow sleeping space for future slumber parties.
Was the attic usable before, or did it have to be finished?
Prior to our renovation, the attic space was completely unfinished. It was not heated or cooled, and only had one tiny dormer window for natural light. My clients used it for storing Christmas decorations.
The worst part about finishing out such an odd space is also the best part. The shape, size and challenging architecture of the room mean that no one else will ever have a room exactly like it — it's a one-of-a-kind space. We designed each little nook with my clients' needs in mind, so it's truly personal to them.
What was your biggest obstacle in remodeling the attic?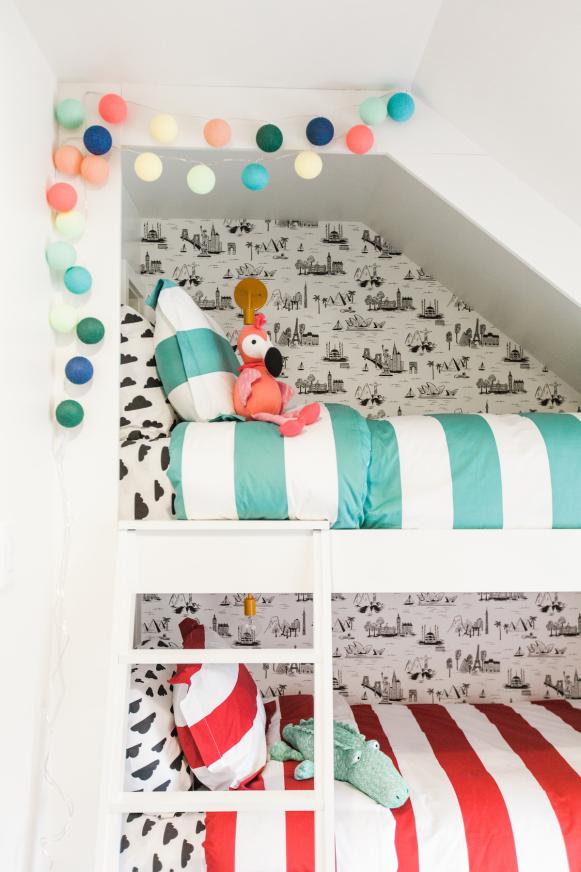 White Built-In Bunk Beds With Striped Bedding
One of the goals in the attic-turned-playroom design was to create overflow sleeping space. The solution: these imaginative built-in bunk beds. Papering the back wall in black-and-white wallpaper with little city scenes adds graphic punch and a fun visual surprise.
The architecture of the room was my biggest challenge. Specifically, there were odd ceiling angles, not enough windows and two levels of floor that we couldn't avoid because of the ceiling heights of the rooms below. I addressed each problem one at a time while keeping the clients' objective in mind. I took advantage of the odd ceiling angles by tucking useful built-ins inside each nook and cranny. The double bunk, desk and storage cabinets all take advantage of the angles to turn previously unusable spaces into functional zones. The window issue was solved by adding a large dormer with a double window to the room. This created a natural place for a window seat/reading nook.
One memorable moment was when we discovered that the raised level of the room (where the teepee and bunks are located) did not have large enough floor joists to support the necessary weight. That discovery led to replacing the joists with larger ones, which then had the domino effect of making the ceiling height even lower than it already was. For a moment I feared we would have to eliminate the top bunk because we wouldn't have enough head room, but we got lucky without an inch to spare.
What inspired the playroom's design?
The idea for this playroom is one of my all-time favorite sources of inspiration: travel. Learning about the world expands a person's mind and exposes them to different ways of thinking and living. I strategically placed maps, globes and travel-inspired wallpaper throughout the room. It's gender-neutral since my clients have a daughter and a son, and it can also grow up with the kids for years to come without feeling too young when the kids get older.
You used white walls to create a blank canvas. What tied the design together?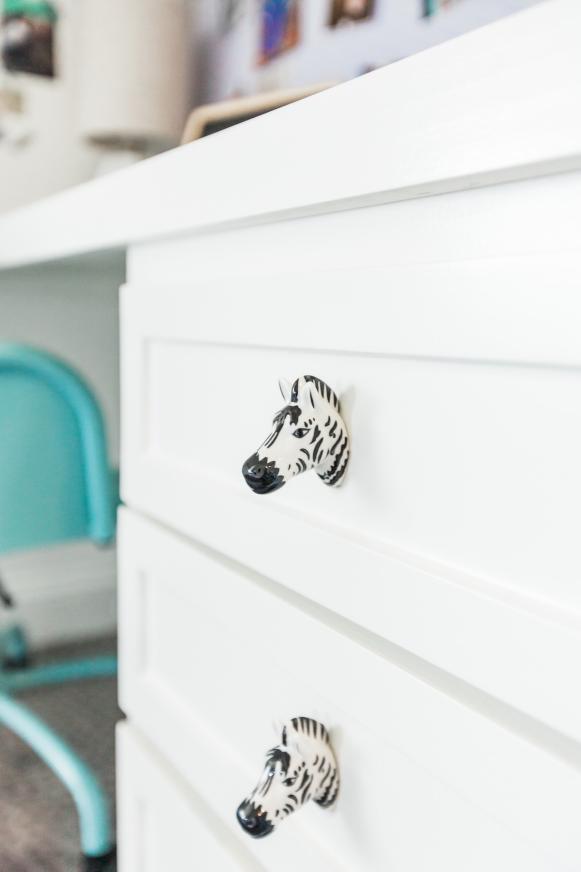 Zebra Drawer Pulls
What's black and white and adorable all over? These zebra-shaped drawer pulls!
I love using white paint as a backdrop in a room like this. White is light, bright and airy. It allows each fabric and piece of art to stand alone as a grand gesture, like a painting hung in an art gallery. There were two essential elements that I built the rest of the room around: the black-and-white cities toile wallpaper and the chartreuse loop fabric that's on the Roman shades. They're bright and make a huge impact in the room, but they don't lock the design into a certain gender or age bracket. The smaller details like the zebra pulls, vintage globes and bright pillows came later. Cabinet pulls (like the fun zebras from Anthropologie) are a fun way to add whimsy to a room without a big financial commitment. In a few years, if the zebras are too child-like for the room, it's a quick and easy swap to replace them with something more mature.
What are you proudest of?
My client's reaction to the end result is what always makes me the most proud. When a client tells me that they go out of their way to go upstairs and sit in that room, even if the kids aren't with them, then I know a project was a home run. The built-in bunks are my favorite element in the room. They're tucked away in the far corner of the room and you don't even see them until you're all the way into the room, so it's like a little surprise when you do finally see them.
Did you plan on the built-in bunk beds, desk and window seat?
White Built-In Kid's Desk With Globes
For unique character, the designer included vintage details like the globes above the desk and the brass animals. Like the window seat, this built-in desk is a smart choice for a smaller space, fitting handily into the sloped ceiling alcove.
Yes, the bunks, desk and window seat were all part of the design from the very beginning, but the unique nature of the room really dictated exactly where each element would fit. As we progressed through the building process, little elements kept continually changing as new obstacles came up. It kept me on my toes, to say the least.
What makes this project uniquely yours?
My style is defined by significant color and layering of patterns. This project is no exception. From the bold chartreuse loop fabric of the window treatments to the graphic black-and-white cities toile wallpaper to the patterned carpet, I think it has my signature style all over it.
Each and every project is different, so I can't say that there's a signature element that I incorporate into all of them. What I like to say is that I take my clients' hopes and dreams for their design, and I filter them through my lens in order to give them the best possible version of the design that they want. In the end, they are the ones who will live in the space, and I try to be respectful of that.
What "hidden gems" are in your design?
The hidden gems of this project are definitely all of the vintage pieces. I strongly believe that you always need a handful of carefully chosen vintage pieces in a room to add personality, age and character. The collection of vintage globes, the family of brass giraffes and the awesome Crayola art print are just a few examples of this. They make the room truly unique since no one else will ever have that exact same combination of vintage treasures.