Boy's Surf Culture-Inspired Bedroom
To help a 9-year-old fall in love with his basement bedroom, J&J Design Group drew inspiration from the surf and skateboard culture of Southern California and the West Coast. Now this boy's bedroom is a cool, unique retreat that's all his own.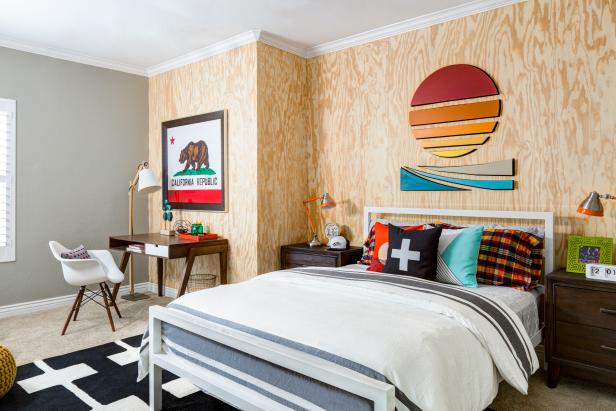 Neutral Contemporary Boy's Bedroom With California Flag
The accent wall in this cool boy's bedroom shows off detailed wood grain, becoming a dynamic neutral backdrop for colorful art. Throughout the rest of the room, gray, black and white offsets rainbow pops in a display that feel bright and energetic and thoroughly masculine.
John Woodcock Photography
What were the main items on your clients' wish list for the remodeling/redesign of their space?
My clients' 9-year-old wasn't too keen on sleeping in his bedroom in the basement. His mom wanted a place where he would feel comfortable, that was all his own and where he could hang out with his friends. He loves skateboarding and surfing, so we went for a Southern California vibe.
What were the main objectives and goals you set out to accomplish for your client?
We wanted the room to have a Southern California skate park feel. We wanted to have a seating area where he could hang out with friends, as well as a desk for doing homework. We knew the more unique we made the room the more likely he would love it and be on board with his room in the basement.
There are several one-of-a-kind and fun pieces in this room, but the custom cutout skateboarder over the bookcase might be the most unique. What inspired this idea? Talk about the process of having this crafted and the functionality of this piece of art.
We were researching skate shops online and found a similar cutout. We decided to make this into a bookshelf that you would be able to see through the cutout. The bookshelf has a door on it that opens so you have access to all the shelf units, visible and hidden.
I drew the skateboarder in AutoCAD and sent it to my CNC guy, who cut the skateboarder out of plywood. My contractor then built the shelving unit and secured the door to the bookshelf with a lock. The bookshelf is securely fastened to the wall because it is a very heavy and solid piece.
Seeking design inspiration is what draws our readers in and makes them fall in love with a space. What was the inspiration for this project?
I guess we were thinking San Diego and Maui, coastal cities that have laid-back surfer/skater guys. What kinds of elements do we think they would be drawn to? So we did a little research into skater and surfer companies and got a vibe of what types of colors, textures and patterns they use.
Was there a specific piece of furniture, fabric, color, texture or piece of art that was essential to bringing the design together?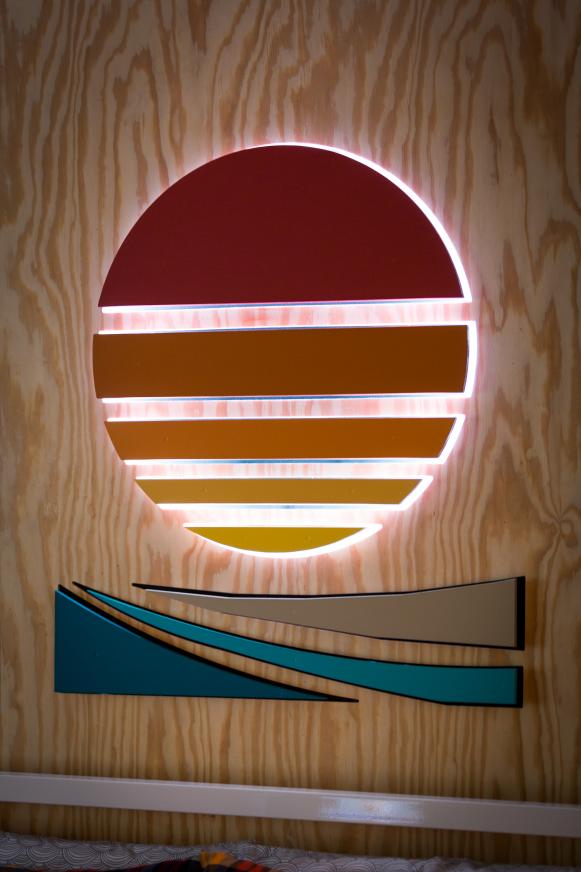 Rainbow-Colored Sun Wall Art and Lighting Fixture
Let there be light! Turn on this rainbow-colored sun and waves wall art when the real sun sets.
John Woodcock Photography
I think the cutout sun above the bed was essential to bringing the design together. I also had the sun cut out by my CNC guy and I hand-painted it in my garage with carefully selected colors to mimic a sunset over the ocean. I decided to have my contractor hang the pieces mounted slightly off the wall so they appeared three-dimensional. I had him back-light the cutouts with LED lighting. We painted the wall behind the sun pieces black to create a shadow from the pop-outs. This sun fades through all colors in the light spectrum and can be dimmed. This is a great nightlight for a little guy who is nervous to be in his room alone.
After putting a lot of time and energy into this project, what makes you proudest of the end result? What is your favorite feature, element or detail of the space and why?
Not only did we have a happy 9-year-old, but happy parents as well. Tate's dad said he would have loved to have a room like that when he was little and he thought it was so cool. We were even contacted by another client who wanted us to basically design the same room for her son because he fell in love with it. We did a slightly different version, but it had a lot of similar elements.
The Southern California-inspired art combined with the natural grain of the wood on the wall creates a laid-back West Coast vibe that any boy would love in their bedroom hangout. Talk about the inspiration and design behind these elements for the room.
When I think of skateboard ramps I think of plywood. So we decided to make this the focal wall in the room. By keeping the plywood in its raw state we have a touch of authenticity. I took a Southern California vacation with my family last summer and I saw that flag in a shop and had to get it for this room. I also found some great surfer art at a farmers' market that we framed and put on the wall. I love finding or creating those one-of-a-kind pieces that make the room design truly unique.
What makes this project uniquely yours? Is there a particular design element that you incorporate into every project you work on?
Bold patterns and textures are almost always incorporated into our designs. I think the bold black-and-white rug and the texture of the plywood wall scream J&J Design.
Our readers love the small details. What are the "hidden gems" in your plan that really made a big difference in the overall success of your design?
I think the biggest hidden gem is the backlighting on the sun — it's such a cool element when it's lit up!