Bright Green Kitchen Makeover
Designer Laura Dalzell turns a lackluster white kitchen into a bright green masterpiece, complete with new appliances and an improved layout.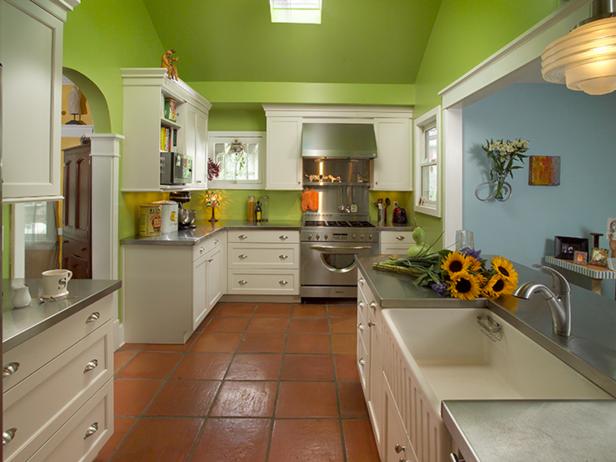 Kitchen With Tropical Green Walls and Saltillo Floor Tiles
This kitchen picks up a tropical vibe with bright green walls and sun-dried Saltillo floor tiles. A convenient layout helps traffic flow easily through the space to the adjacent dining and family rooms.
Walt Roycraft Photography, Walt Roycraft
Though it was once basic and outdated, see how designer Laura Dalzell transformed this bland kitchen into a colorful space the homeowners can actually enjoy spending time in.
Describe the homeowners' wish list.
They wanted new appliances.
What was the biggest issue the design addressed?
The main issue was the cross traffic through the middle of the kitchen to the back door with a steep set of stairs leading to the backyard and no direct connection to the dining room.

Describe an obstacle in the space.
The kitchen was so disconnected from the rest of the house. I designed a new arched entrance directly into the dining room to match another existing arched opening. Instead of the occasional formal event, the dining room is now used all the time.
How did the end result match your original vision?
The old plaster ceiling was in such bad condition, it became obvious that the best thing to do was to completely remove it. Doing this exposed the open attic space above, so we decided to vault the ceiling up to the roof in that part of the kitchen, which added a great dramatic touch!
What lessons did you learn from this project?
Matching the new arched opening with an existing one was a great tie-in to the classic bungalow architecture of this house. I always look for those kinds of details to pull everything together, and I always try to lay out the floor plan to expand the visual view from room to room and then to the outside as much as possible. The expanded view and how natural light can be spread further always make a home seem bigger.
What are the hidden gems that make a big difference?
Traffic goes straight through from the front of the house, skirting the side of the kitchen and connecting to a new family room and side door, which now has a great deck leading to the backyard. One of the sun-dried Saltillo floor tiles has dog prints in it, which was positioned in front of the new door. The upper cabinet at the end of the sink island has glass doors on both sides and opens from both sides.