White Cottage-Inspired Kitchen
Designer Peter Salerno brings farmhouse appeal to a kitchen with white cabinetry, delicate wallpaper and beadboard paneling.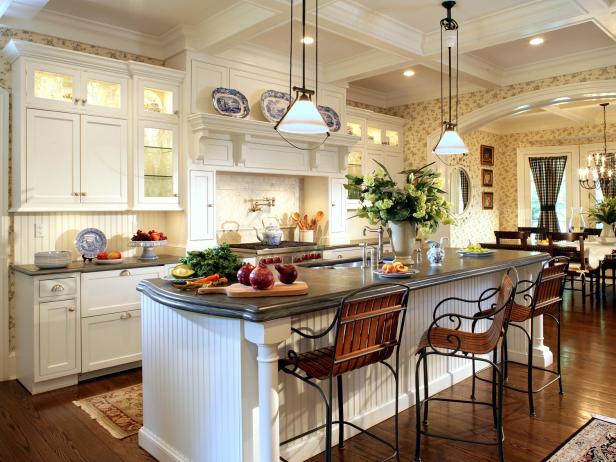 Captivating Cottage Style Kitchen
Full of abundant detail, this cottage style kitchen offers a little of it all. Peek-a-boo cabinets with lighting draw the eye upwards to the captivating tray ceiling. From there, the black pendant lights brings you back down to the dark gray marble countertops that sit atop white detailed cabinets. The blue and white plate detail and homey patterened wallpaper makes this cottage vibe come to life.
For this cozy kitchen design, designer Peter Salerno mixes style and function. He infuses the space with classic cottage style through beadboard, floral and plaid patterns and glass cabinet doors. The true statement piece of the space is the large island that features bar seating, a second sink and tons of counter space for food preparation.
We caught up with Peter to find out about his favorite design elements of the kitchen.
Describe the homeowners' wish list.
The objective was to have a natural flow from the kitchen to the breakfast area to the butler's pantry.
What were your top design solutions?
The stove area is the first element seen upon entering the room and so it needed something special. A simple yet bold hearth surrounding the commercial stove was created. The backsplash is a combination of Carrara marble and beadboard.
What made the biggest design impact?
The island features beadboard on three sides and its front overhang is supported by two five-feet columns. The island has a sink and a dishwasher to create a second preparation area that can be used in conjunction with the commercial stove. The island's countertop edges were doubled to give it a greater definition and more substance.
What are the "hidden gems"?
The two hanging light fixtures are antiques and have a pulley system built in so the client can bring them closer to the counter for a more intense light source.