Robin's-Egg-Blue Kitchen Makeover
Designer Bonnie Pressley creates a serene and colorful kitchen with an interesting mix of rustic and elegant accents.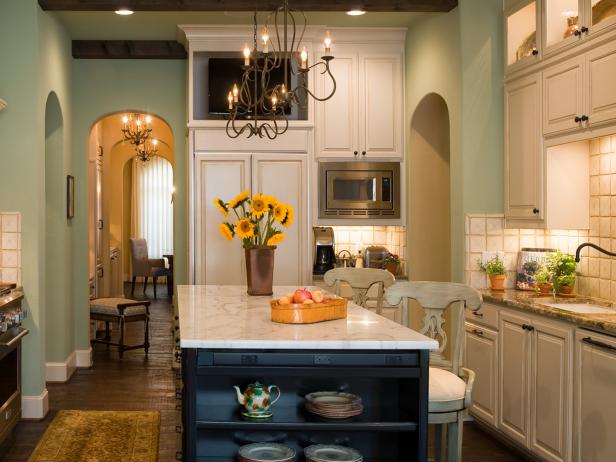 Traditional Kitchen With Mint-Green Walls and Neutral Cabinets
Delicate iron chandeliers above the marble island contribute to the traditional kitchen's elegance. The mint-green walls are a perfect color accent to the neutral cabinets and square sink tile. Tall neutral chairs allow seating at the island with a view to the shelved TV.
Working closely with her client, designer Bonnie Pressley was able to create a cooking space full of style and character, as well as all the personal details the homeowner requested.

Describe the homeowner's wish list.
The homeowner wanted to have a gas range with center grill; a big island in the center that would accommodate dog treats for three rescue dogs the owner has saved; and a big window seat at the back of the room, so the dogs could look out the window.
What was the biggest issue the design addressed?
One issue was convincing the owner to use white marble on the island, even though it's not practical. I love the ambiance it contributes, and it makes the room look older with the regular granite on the countertops. She understood how it would improve the room's look; she's careful with all her surfaces, so it works.
Describe an obstacle in the space.
The biggest obstacle was reusing her previous French antiques to fit into this space, which has 10'-high ceilings. Her last kitchen had 8'-high ceilings, so we didn't want the pieces to look dwarfed. In the adjoining sunroom/breakfast room, we hung large English botanical prints to raise peoples' eyes and added large shelves on either side of a bench to accommodate wine jars. We got all into the right scale with what the homeowner already owned and was reusing. In the kitchen area, we used the same types of tricks for scale.
What lessons did you learn from this project?
The application of window treatments in the sunroom and the use of sheer, embroidered linen and lining gives a beautiful effect, which I'd do again.
What are the hidden gems that make a big difference?
Hidden gems include: white marble in the kitchen; double chandeliers above the island (which are more delicate and beautiful); and the use of sheer, embroidered linen for a soft ambiance and peaceful look. Also, we ran the Spanish tile for this Spanish Colonial-style home on the diagonal, so it makes the room feel much bigger.