Designer Laura Dalzell takes a mismatched kitchen and turns it into a mint-green masterpiece that fits right in with the traditional Kentucky home.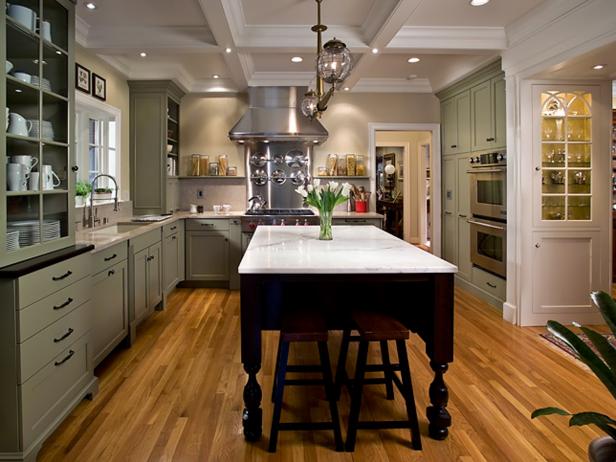 Marble Island in Green Transitional Kitchen
A marble-top kitchen island sits in a beautiful, spacious mint green kitchen. Gas lamps and a glass display case add a traditional feel while stainless steel appliances give the space a more contemporary feel.
Walt Roycraft, Walt Roycraft
With plenty of storage space, updated appliances and a great place to show off their collections, these homeowners could not be happier with their stunning kitchen update by designer Laura Dalzell.
Describe the homeowners' wish list.
Counter and storage space was inadequate, and cabinets and appliances were outdated. The owners also wanted more display space for their collections.
What was the biggest issue the design addressed?
Everything about the kitchen was out of harmony with the rest of the traditional Georgian-style home.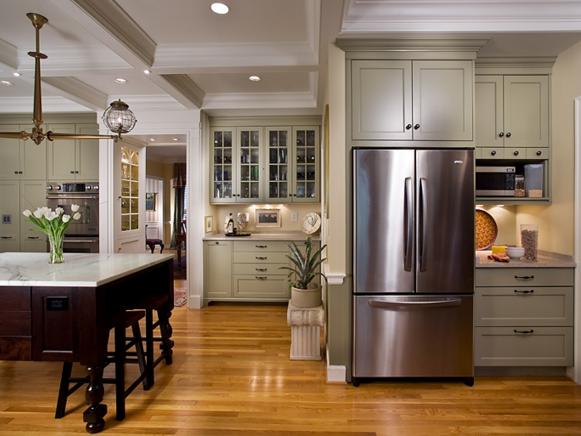 Traditional Kitchen is Open and Family-Friendly
Smart use of cabinets in this traditional kitchen allow for plenty of storage, while still keeping an open atmosphere. A large island features dark wood to contrast against the soft green of the other cabinets.
Walt Roycraft, Walt Roycraft
Describe an obstacle in the space.
The sink, cooktop and refrigerator were way too close to each other. The small window over the sink made the room feel closed in and did not allow enough natural light. By enlarging the window and relocating the large refrigerator, the sink and cooktop could be positioned farther away from each other. Under-counter refrigerator drawers to the right of the new range top support the main food prep area, while the big refrigerator is now in a beverage/breakfast bar area.
How did the end result match your original vision?
Our preplanning for the whole project was very meticulous. Laying out the ceiling beams was the biggest challenge and actually turned out better than we thought.
What are the hidden gems that make a big difference?
Matching display cases flanking the new entrance to the dining room were inspired by a feature at the du Pont Winterthur estate in Delaware. The owner collects and restores old light fixtures, including the circa-1875 gas lantern over the island.
What lessons did you learn from this project?
The new kitchen design started out with a lot more cabinets. Lesson: Less is more! With careful planning for storage, all those extra cabinets were not needed. Dishes stored in under-counter drawers with soft-close slides work great. Bonus: a perfect spot for a magnificent antique furniture piece.