Designer Jane Moyer shows how to divvy up a small space when she redesigns her own studio.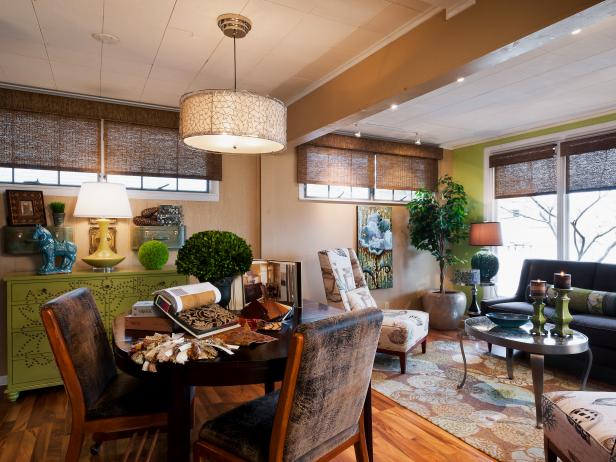 Eclectic Living Room With Woven Blinds & Leather Chairs
This eclectic living room mixes styles, textures and colors for a cohesive whole. Woven blinds and soft leather chairs offer natural texture, while the green hue on the accent wall is repeated on the sideboard. A potted tree in the corner of the room adds height to the space.
Designer Jane Moyer of Decorating Den Interiors needed separate areas to sit and discuss a project, spread out samples and look at plans, and discuss details more intimately tête-à-tête. From her extensive work experience, she knew to remember some key lessons for herself — add in plenty of good artificial and natural lighting, appealing color and accessories to show her honed eye and high-taste level.
Describe the homeowners' wishlist.
To provide a functional space that is aesthetically pleasing for the use of a resource studio for interior design purposes. The function intended for this space was to have an area in which to design beautiful rooms for clients, provide the space for storage of products and samples, perform administrative functions, and showcase preferred suppliers' products and samples in a highly organized, attractive way.
What were the homeowners' design problems?
Flow. The existing 900-square-foot space was used as an apartment before, and the rooms were walled off to allow for privacy.
What was your biggest obstacle in this space?
The biggest obstacle was replacing the flooring where a wall used to be to match the existing laminate without looking like I patched it. The solution was to completely remove the snap-in place laminate from one of the rooms, and start laying it over again where the wall had been. This allowed the seams to match up, and the room's flooring to look as if it had always been there as part of one room.
How does the end result match up with your original vision?
Honestly, this went very smoothly. This space is perfect for its intended wishes as a design studio.
What lessons did you learn?
Sometimes, a few changes can transform a space from one certain function to another without a lot of work if planned well.
What are the "hidden gems"?
Previously, not only was this space an apartment, but originally it was built to be a dental office. There was so much storage in what used to be the lab/sterilization room/kitchen area in the form of cabinets. A ramp at the back door is now used for small deliveries, and many electrical outlets are available where opportunities had been.