Contemporary Backyard Kitchen
Designer Claudia Schmutzler brings warmth to a contemporary outdoor kitchen and living area with a large redwood deck and pergola.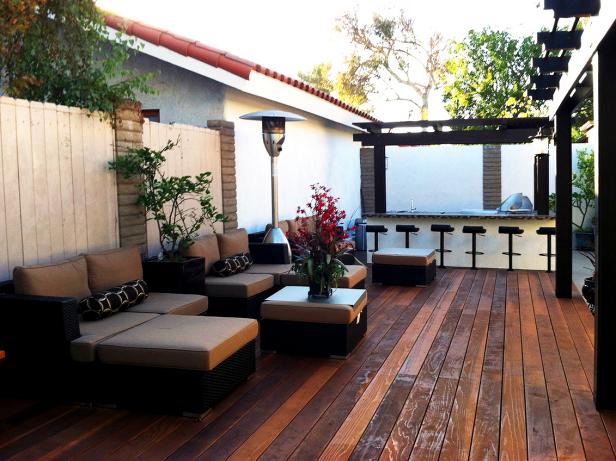 Brown and White Contemporary Deck With Outdoor Bar
Low furniture is used to create a contemporary, lounge-like atmosphere on this so-chic deck. An outdoor bar flanks one end of the space, awaiting the next cocktail party.
Designed with luxury and drama in mind, this stunning backyard features a contemporary living room and kitchen. Designer Claudia Schmutzler of Windsor Decks and Gardens uses warm redwoods, glass tiles, stone pavers and stainless steel appliances to create an outdoor retreat in Irvine, Calif.
Describe the homeowner's wishlist.
The homeowner, a gourmet chef, wanted a large area to entertain guests and at first, wanted just a basic outdoor kitchen with a countertop, refrigerator and ice machine. He wanted a contemporary look.
What were the homeowner's design problems?
The homeowner didn't realize that the large issue of flooding in the space would need to be addressed first. The area was located on the lowest point of the neighborhood, so the water drained into this yard. This property is also known as a "lot-line to lot-line parcel" which meant that the neighboring pitched roofs also dumped rainwater onto this backyard. Flooding has been a real problem, so the immediate focus was to install a sump pump and drains throughout the yard, including several under the deck.
Also, I suggested to the homeowner that we install a large redwood deck with built-in seating along the side to save some space and add warmth to the contemporary vision he had. The space featured an overhead patio structure to offer shade, but it was entirely too low, so we tore it down and built one with warm redwood that was higher off the ground.
What was your biggest obstacle in this space?
Outside of flooding, the challenge with this project was to accommodate more and more design elements. What started out as a basic kitchen, turned into one of the most gourmet, high-end kitchens I have ever done. The homeowner decided he wanted high-end appliances, such as a more advanced refrigerator, a prep space with a larger countertop, a wet bar, two burners, more storage and drawers and cutting boards.
It was a challenge to accommodate this larger kitchen concept, but we did so, and it was a lot of fun to create. We also added bar stools so that he could entertain guests while cooking outside. In order to accommodate so much into a small space, we created defined areas – seating areas with built-in benches, patio furniture and a fire pit as well as the cooking and bar area with the kitchen and bar stools.
How does the end result match up with your original vision?
This space turned out even better than I imagined. I first imagined a simple, warm outdoor space with a large redwood deck and basic outdoor kitchen. However, it turned into so much more with a higher end kitchen. We also added an extra redwood pergola over the kitchen with built-in lighting so that he could cook and entertain at night. It was still the warm, contemporary space I envisioned; however, it turned out better than I had planned because of all the extra add-ons.
What lessons did you learn?
As a designer I always strive for unique design in every space. The homeowner trusted me to choose the materials, and I always go for something that grabs my attention. I chose an elaborate tile, glass and stone to use in the outdoor kitchen area. However, because the tile was anything but basic, the labor cost of laying the unique, intricate design was a lot more than anticipated. Because of this, I absorbed the cost, so next time I might be more mindful. I did love the look of the tile and was very pleased with the outcome.
What are the "hidden gems"?
The hidden gems are built-in seating along the outside of the redwood deck, the built-in lighting, not only in the deck area but also in the redwood pergola that's built over the kitchen, as well as the higher end appliances in the outdoor kitchen, such as the ice machine where the ice cubes actually look like glass.