Texas Family Home Infused With Warm, French Acadian Charm
Wanting to give their dream home a French Acadian feel, a young couple in Spring, Texas turned to designer Kate Duckworth for help. See how Duckworth paired gentle hues, hardwood floors and glossy finishes to create an elegant yet welcoming space for the whole family.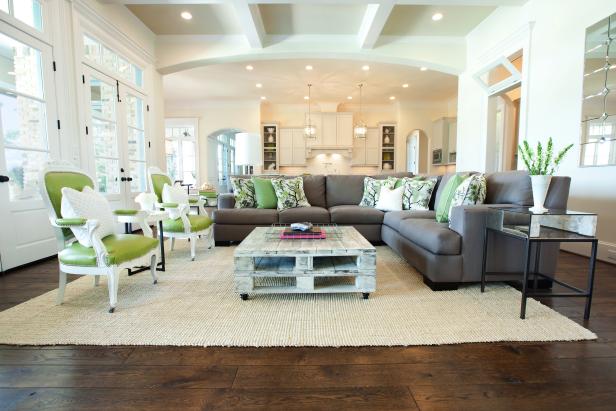 White Transitional Living Room With Green Chairs
Pops of bright green throughout this living room recall a fresh, spring day. The chairs are antique, painted white and recovered with alligator print fabric. The coffee table was handmade and painted by a local artisan. Wall paint color: Sherwin-Williams Narce SW6154
Q: What were the main items on your clients' wish list for the design of their home?
A: They wanted their house to have a French Acadian style. They wanted it to be really beautiful, but also practical and durable for their children. They also wanted to be able to entertain a lot of friends and family.
Q: What changes did you make to ensure that the home was more functional for your client?
A: I was actually fortunate to work with this couple from the ground up. My brother-in-law was the builder, and I worked with him and the owners to make a lot of the building selections. After completing construction, the homeowners then allowed me to finish most of the interior for them.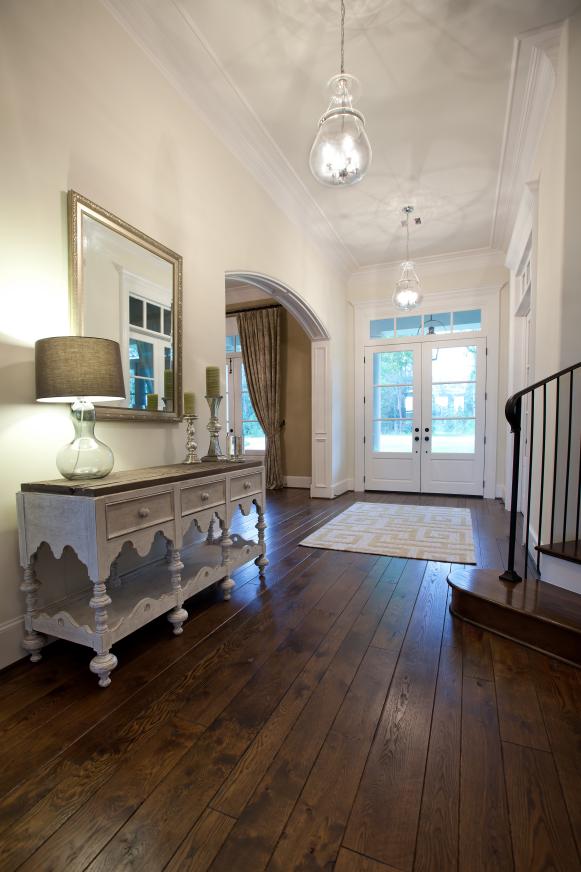 White Cottage Foyer With Glass Pendants
To make this foyer as open and inviting as possible, walls were kept basic and neutral accented by delicate glass pendants. The space is anchored by a sturdy console table and mirror. Wall paint color: Sherwin-Williams Narce SW6154
Being from Louisiana, our clients knew from the start that they wanted a French Acadian style. The house was built on a slab, but we gave it the appearance of being built on pier and beam like it would have been in Louisiana. We incorporated a mixture of old Chicago brick and painted brick on the exterior, French-blue accents, lots of French doors and gas lanterns.
Inside the house, we used real hardwood floors on tar and screeds in order to create that "clippity-clop" sound, which further achieves the feeling of the house being built on a pier and beam foundation. We also used heavy moldings, transom windows above some doorways, and then interior brick accents and beams to bring the Acadian flare inside.
Q: What was your biggest obstacle in the redesign of the home and how did you address it?
A: Actually, our biggest obstacle was designing the kitchen island. Our clients knew that they wanted Carrera marble on the island but didn't want a seam in the countertop. The problem was that the scale of the island was much larger than a standard slab of marble, so it was more likely there would be a seam.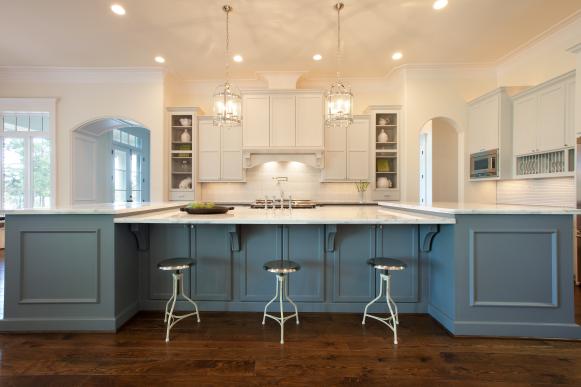 Blue and White Open Plan Kitchen With Metal Stools
The blue-gray base of this kitchen's island is a nice grounding for the open, airy space.
We first searched for the oversized slabs but were still coming up short. We then started trying to design the island cabinets around this dilemma. I drew so many versions of the island before we settled on the one you see in the finished photographs. Raising the ends up slightly allowed us to bring in a second slab without any seams.
Q: Why did you choose that beautiful springy green for the living room, and how did you use it without ever making the space feel too busy?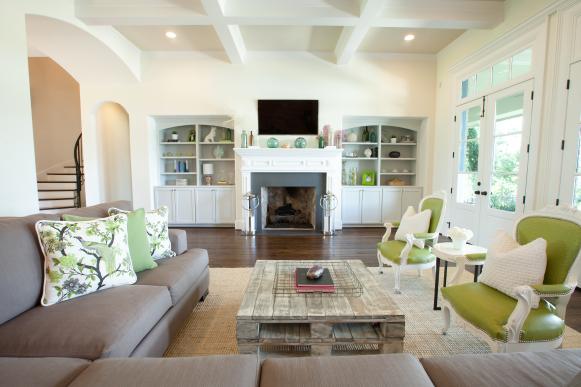 Green Cottage Living Room With Bird Pillow
The walls of this spacious living room have the palest green tint, picking up the brighter accents of the color throughout the space. Twin built-in shelving units on either side of the fireplace make sure there's plenty of storage. Wall paint color: Sherwin-Williams Narce SW6154
A: Our client actually found the bird fabric that you see on several of the pillows. I quite liked it as well and suggested that it become our "lead fabric," the fabric that ties everything together. We were then able to choose other fabrics that would support our lead without stealing the show.
I think the pops of green keep the home feeling lively and fun for a family with young children. In new construction, you see a lot of open living spaces these days. We wanted to treat the family room, kitchen and breakfast nook like one space because it was all so open. I think keeping the color palette consistent was key to making everything feel unified.
Q: What was your favorite room to design in this home? What was the most difficult?
A: My favorite room was the nursery. I love designing children's spaces! I think it's because you can just have so much fun and really throw the "rules" out the window.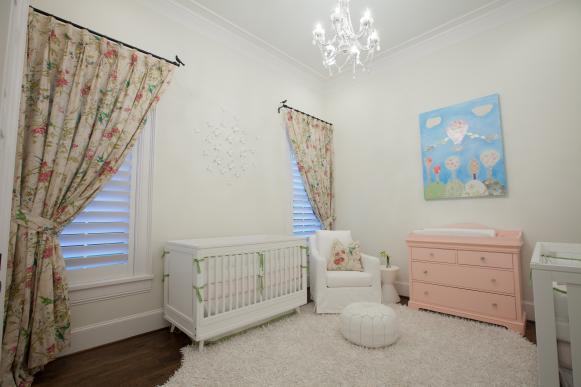 Shabby Chic Nursery With Pink Dresser
A few floral accents and touches of pink make this nursery sweetly feminine.
So we incorporated a subtle bird theme in the nursery. You'll notice the birds in the drapery fabric and on the hardware. We also commissioned the artwork above the changing table from a local artist who made the piece out of a wide array of papers and also incorporated two birds to represent the twin babies.
The most difficult room was probably the family room, and I think that's because it was such an important space. It's right off of the foyer and leads to the kitchen and the backyard. With all of those traffic patterns, the furniture layout was really important. It's also the room that receives the most use, so durability and comfort, as well as visual appeal were equally important.
Q: How did you choose the agate accent on the dining table and what does it add to the room?
A: This was easily my favorite item that I purchased for the home! The lady of the house and myself both share an affinity for geode and minerals.
After finding out that she was expecting twins, she decided that she deserved a nice present and I agreed. We wanted a specimen for the dining table, but it proved to be quite difficult to find the right piece because it needed to be low enough to not block eye contact, it needed to be beautiful from all sides, and it needed to be of significant scale. We didn't want it getting lost!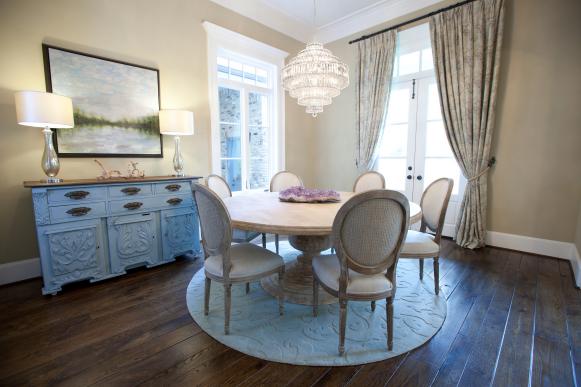 Neutral Traditional Dining Room With Round Table
In this dining room, a round table creates an intimate, warm mood while refined lighting and an embellished buffet layer in a formal feel.
After looking everywhere and speaking with geologists all over the country, I finally found a geologist in Brazil who said he would mine a specimen specifically for us. It was then airfreighted in! Let me tell you, of all of the packages I've opened, that one was by far the most thrilling!
I think when you initially look at the dining room, the chandelier is what first captures your attention, and then you notice the light bouncing off the centerpiece, which immediately draws you into the space. I think contrast, texture and nature-derived elements make our spaces feel really good to the user. Incorporating driftwood offered a contrast in texture and another natural element.
Q: What was your clients' vision for the master suite?
A: I always want the master suite to feel like a retreat and so did these homeowners. We opted for an all-metallic color scheme in the master, no pops of color here, to achieve maximum tranquility. You'll notice a lot of silver, gray, bronze and gold.
Our clients wanted the space to feel like a hotel, and I think one great thing about hotels is usually blackout drapery! We had all of these beautiful French doors on a curved wall, so we needed functional drapery that curved too!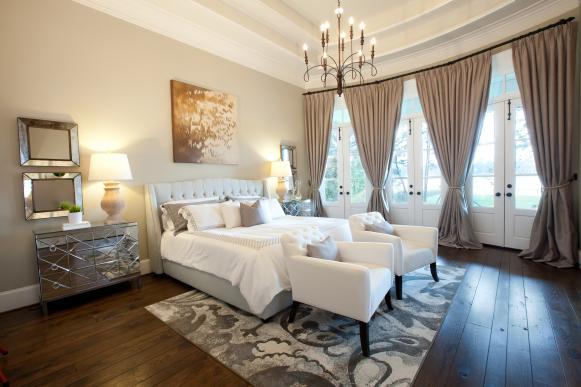 White Transitional Bedroom With Mirrored Dresser
This bedroom has a unique rounded shape with sets of French doors leading outside. Thick curtains give privacy at night; during the day, they can be pulled back to fill the space with sunlight.
We went with a heavy fabric that's a combination of different metallics, and then we lined it with blackout fabric. When it's all closed, it's a solid wall of fabric that's just beautiful. With all of the glass around the nightstands, we needed to create balance with wooden lamps. And of course, you can't get that hotel feel without luxurious hotel-style bedding.
Q: What are the hidden gems in this design?
A: I really care about the little details, and I love to hunt down the perfect items for my clients! I found the buffet in the dining room at an auction and really loved the carving on the front of it. It needed a lot of love, so my dad and husband/co-owner painstakingly restored it and brought it back to life.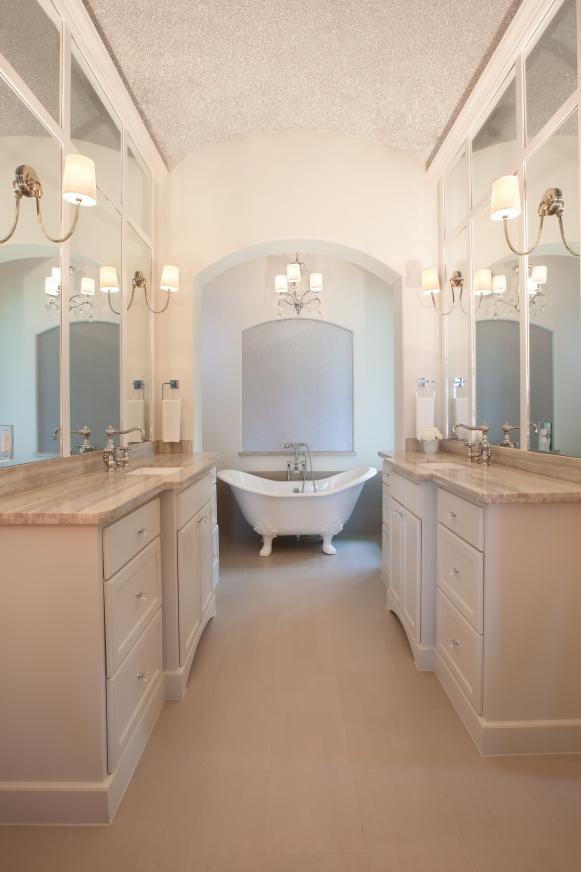 White Spa Bathroom With Clawfoot Tub
Highlighted by an open arched doorway, a grand soaking tub is the reward at the end of this passageway.
And then, it's so hard to tell from the photo, but in the master bathroom, I think that the treatment in the barrel-vaulted ceiling and also in the niche behind the tub is just exquisite! We used a wallpaper that's covered in thousands of clear beads with a silver backing. When you stand in the room, the ceiling just glistens!