Is Your Steam Mop Damaging Your Floor?
The good, the bad, and the ugly mistakes that homeowners make with their steam floor cleaner.
I've seen firsthand how flooring manufacturers and salespersons use creative language when explaining whether a floor product is durable enough for a powerful, disinfecting steam mop. Steam mopping has become my preferred method of floor sanitizing over the last few years because the tools I've chosen are easy to operate, effective at cleaning, and make me feel like I'm really getting a deep clean (especially in bathrooms in those hard to reach areas).
That said, I can't use my floor mop in all areas of my home, despite manufacturers telling me that it would be safe – "just don't hold it in place too long," they advise. So, in what circumstances are you safe to use a steam mop, and when it is a terrible, terrible mistake?
Engineered Hardwood Floors
Though durable on the surface, engineered hardwoods are bonded using adhesives, and the steam cleaning can affect the quality of those adhesives. Moisture can seep between the layers, weakening the bond and permanently damaging the floors. Avoid using steam mops on engineered hardwood floors.
Sealed hardwood floors can withstand the moisture and heat from a steam mop, and they clean really nicely with a streak-free finish. However, avoid using a steam mop on unsealed hardwoods, as they're more vulnerable and easily damaged by excessive moisture.
Don't do it! Steam mops create too much moisture for laminate floors, which are often manufactured with a compressed fiber/particleboard layers. The steam can cause swelling and warping of the product.
Steam mopping over a painted surface is risky, even if the paint layer is sealed. The heat from the steam can cause bubbles beneath the paint, which may then peel. Best to avoid steam mopping on all painted floor surfaces.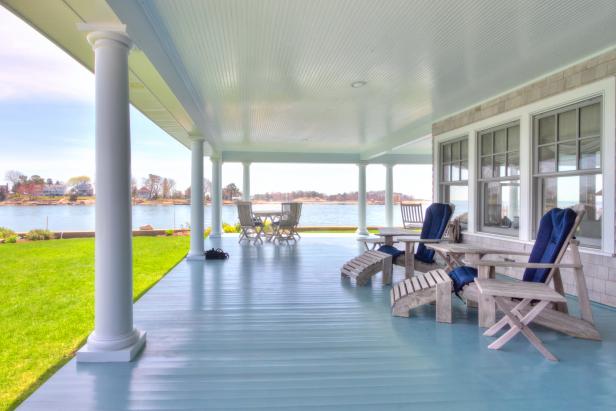 Waterfront Porch With Blue Floor
The back porch floor gets a coat of sky blue paint, a beautiful complement to the peaceful oceanfront setting.
Page Taft Real Estate, a member of Luxury Portfolio International
Vinyl Adhesive Tile Floors
Using a steam mop on any surface bonded by adhesive is a mistake, which disqualifies all of the peel-and-stick products that are popular for inexpensive remodeling. Persistent steam and water will loosen the corners of these tiles, and the adhesive will weaken and fail.
Ceramic and Porcelain Tiles
Yes! Go crazy with your steam mop on your ceramic and porcelain tile floors. The mop will clean the tile surfaces and the grout, leaving a streak-free surface that's simultaneously disinfected. Since these tiles are embedded into a mortar and concrete board surface, even older, cracked tiles can be safely cleaned without risking permanent damage.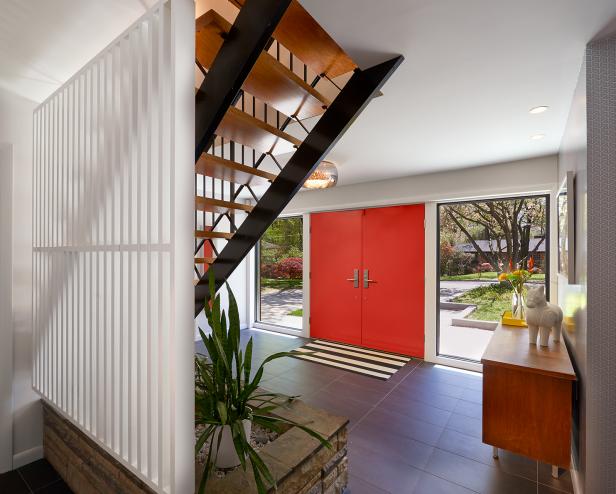 Bright, Updated Entryway
The designers left the staircase and fieldstone planter in their original condition, but added a painted wood screen to separate the stairs from the lower-level family room and bedroom, the latter of which is now used as an office. Pushing out the entry door gave the foyer a bit more breathing room, and new porcelain tile flooring updated the look.
Anice Hoachlander/ Hoachlander Davis Photography
High heat steam cleaners may cause damage to porous marble floors, but steam mopping is still an undeniably effective way of removing dirt from marble. Keep moisture to a minimum, and avoid commercial-strength floor cleaners in favor of smaller steam mops.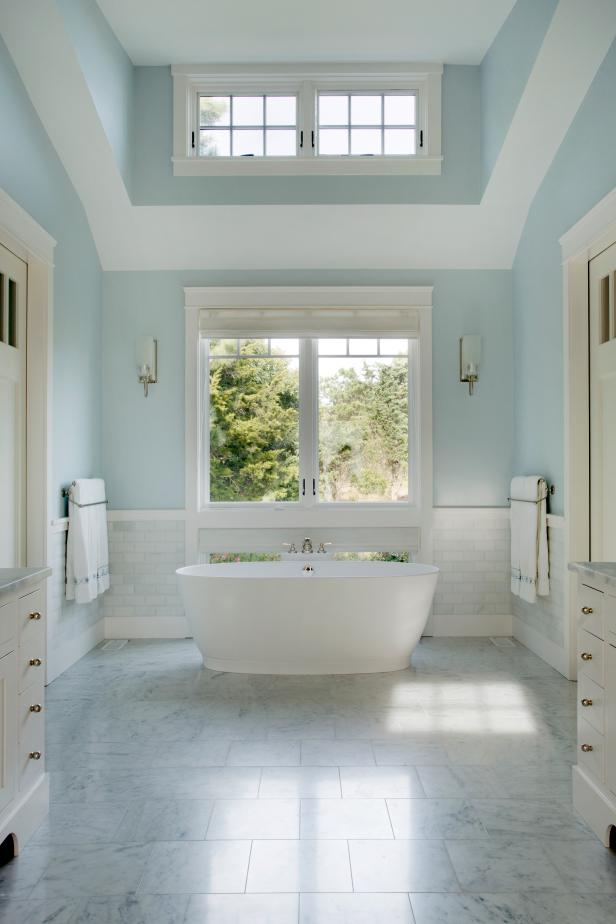 Transom Windows Highlight Dramatic Ceiling in Master Bathroom
A transom window draws the eye up toward the vaulted ceiling detail in this luxurious master bathroom in a Martha's Vineyard home. Marble tiling is used on both the floor and backsplash for a cohesive look, and soft blue tones evoke the view of the ocean and sky outside.
Porous surfaces like concrete are ideal for steam mopping, as the steam is able to extract dirt and build-up with ease. Depending on how the concrete is sealed (polyurethane vs. wax, for example) you should check with the product manufacturer before using steam cleaning tools.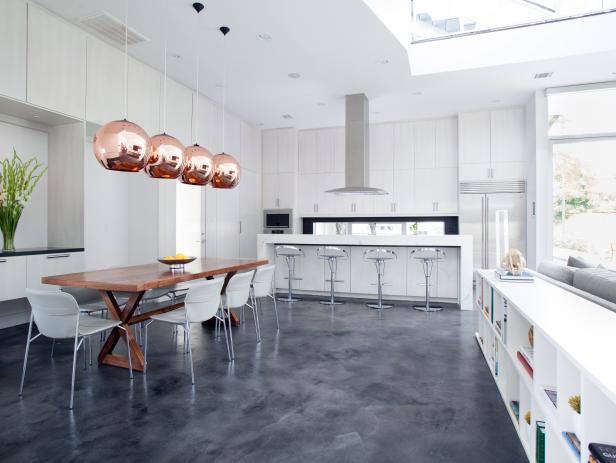 Modern Open-Plan Kitchen with Stained Concrete Floor
Bathed in sunlight from a wall of windows and a skylight, this modern open-plan kitchen and dining room are tied together by a stained concrete floor. Pendant lighting in copper and a wood dining room table add welcome color and a contrast of finish.
Steam targeted at grout lines between tiles won't cause damage. Give it a go, and see how easy it can be to loosen dirt, grease, and stains.
Keep your laminate floors looking like new with these simple, gentle cleaning techniques.
Remove dirt, scuffs and stains from vinyl floors with these easy cleaning and maintenance tips.
Learn how to care for hardwood floors by using these natural cleaners and following these simple tips.