California Home Offers Style for Mom, Comfort for Kids
With two young boys and three dogs, a client in Newport Beach, Calif., wanted a home that the whole family could enjoy. Drawing on reclaimed wood and plush furniture, designer Brooke Wagner delivered a stylish yet durable interior.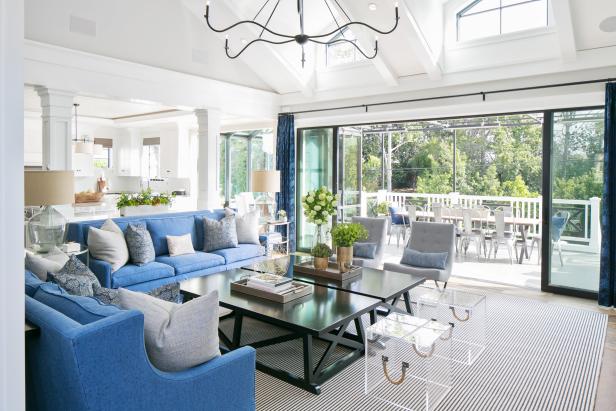 Transitional Living Room Features Rich Blue Sofas
Rich blue sofas bring color and personality to this carefully styled living room. Furniture pieces in pairs create a sense of symmetry and balance within the transitional space.
When a client in Newport Beach, Calif., asked Brooke Wagner to design her new home, she had only one major request: make the interior sophisticated for mom but comfortable for two kids and their pets.
"We got to have a lot of creative control," Wagner says. "The client really let us run with it. She wasn't too involved in the micro-detailing of anything."
Equipped with her client's trust and confidence, Wagner and her team worked with architect Cynthia Childs to develop an open floor plan with large, sweeping windows. Where the layout encourages an easy flow between rooms, the windows fill the home with beautiful natural light.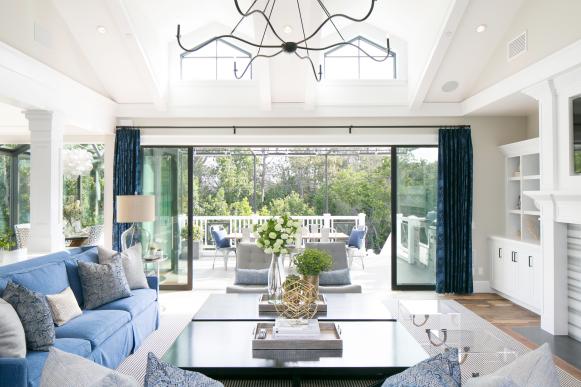 Serene Living Room Boasts Indoor-Outdoor Functionality
A color palette of soft neutrals and cool blues creates a calm, serene atmosphere in this transitional living room. Large sliding glass doors open the room up to an outdoor seating area, providing endless options for indoor-outdoor entertaining.
In turn, the interior is spacious, airy and entirely inviting.
To complement that calming ambiance, Wagner introduced comfortable yet elegant pieces into the living room. Drawing on plush sofas and accents in soothing shades of blue, gray and white, she achieved a soft, stylish setting in which mom and kids can unwind.
Our major goal was to make the home feel livable and open. Nothing says, 'Don't touch this' or 'Don't walk here.' It's more family-centric with a little touch of glam.
Brooke Wagner, Brooke Wagner Design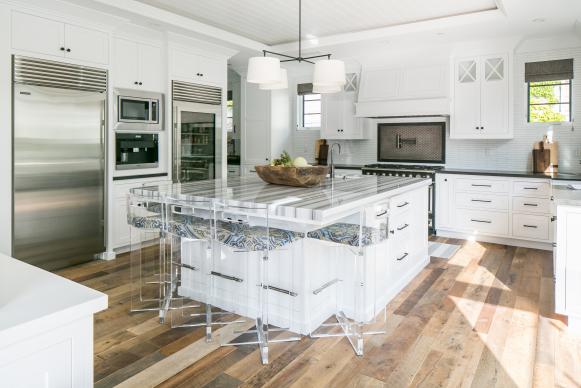 Transitional White Kitchen With Fun Lucite Barstools
Lucite barstools with a fun, contemporary design surround one end of the island in this transitional kitchen, creating a spot for dining without visually crowding the room. Variegated wood flooring warms the crisp white space.
That warm design is evident throughout the kitchen. Set against black countertops, a large island topped with Delano marble becomes a stunning focal point.
A breakfast bar built into one side invites casual conversation, while reclaimed wood floors below offer easy cleanup in the event of a spill.
Those floors also create a gentle transition into the solarium. Here, Wagner paired patterned slipper chairs with a round table to create a more formal dining space where the client can gather with friends or family.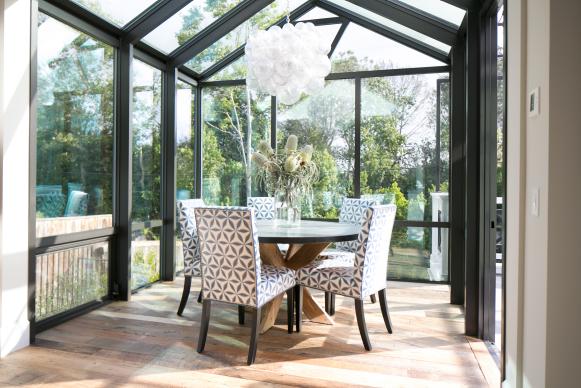 Glass-Enclosed Dining Room With Whimsical Chandelier
Dine with the beauty of natural surroundings but in the comfort of air conditioning in this glass-enclosed dining room. A bubble-like chandelier hangs above the stylish dining set, adding whimsy to the space.
A free-form chandelier adds a whimsical touch that the client specifically requested.
"She really wanted edgier, funkier light fixtures, nothing overly-safe," Wagner recalls. "So we had a lot of fun with them. They're more playful in this house than serious."
Inspired by her client's unique style, Wagner infused the home with other unexpected elements, such as 3D tile. Layered in powder rooms, shower stalls and even a dry bar, the tile not only adds texture to the home, but also features a subtle "H" design as a nod to the client's name.
Wanting to give the boys' rooms a similar personal touch, Wagner included a fun message in their Jack-and-Jack bathroom upstairs that reminds the young residents to "Wash behind your ears."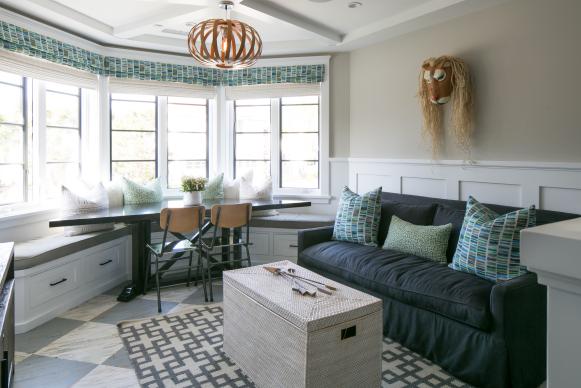 Transitional Family Room Is Fun, Playful
Mixed patterns help cultivate a lively, playful energy in this multipurpose family room. Blue accents bring cool color to the room, and a lion's head art piece adds an unexpected touch of fun and fierceness.
She outfitted their playroom with a whimsical feature as well: a hand-painted checkerboard pattern for the wood floor. Paired with a plush couch and video game console, the design sets a comfortable, playful tone whether the boys watch a movie or do homework.
The designer notes that these unexpected details, as well as many others, are what gives the home its sense of character.
"Each of the boys' rooms also has a couple of areas where you push on the wall paneling and it leads to little rooms that are carpeted and finsihed off," Wagner reveals. "So that's another fun element that makes this house different."