Remodeling Project Restores Beauty, Adds Functionality to 1920s Home
Drawn to a more traditional home in Santa Monica, Calif., a family of four asked designer Ryan Brown to remodel and revive the neglected interior. See how he used vintage and custom-made pieces to breathe warmth and life back into the historic structure.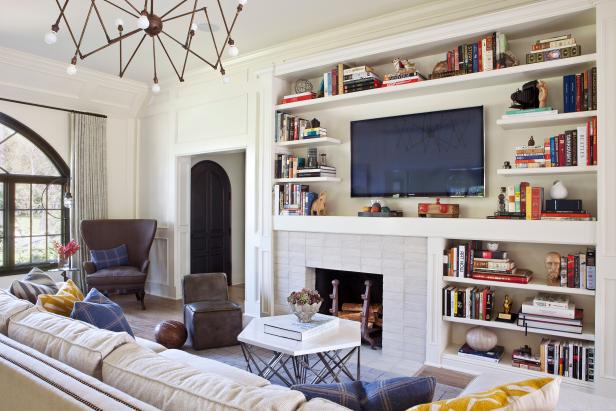 Cozy Living Room With Built-in Bookshelves and Fireplace
Built-in shelves, doubling as an entertainment center, nearly take up the entire wall in this living room. The bottom half of the wall includes a fireplace and more shelving to store media and/or personal treasures.
Stepping inside his clients' 1920s home in Santa Monica, Calif., designer Ryan Brown could tell almost immediately that something was off.
Though he loved the home's traditional exterior and how it reflected the period in which it was built, the designer found that the remodeled interior was coldly modern and not at all befitting of the home's architecture or new owners, a husband and wife with two daughters.
For me, the inspiration was seeing the architecture, knowing what I could do with it and wanting to put elements of the home back to what they may have been when it was built.
Ryan Brown, The Brown Design Group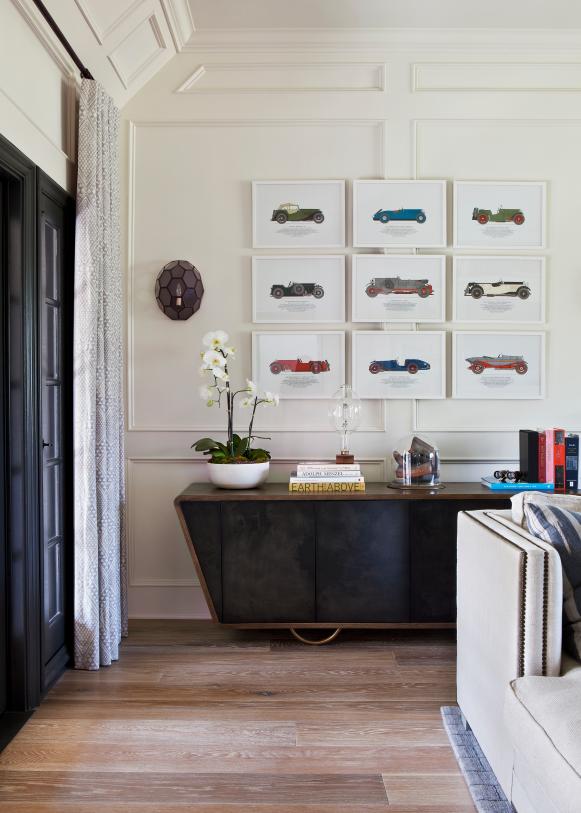 Living Room Features Colorful, Antique Car Artwork
A collection of white frames featuring colorful, antique cars decorate this wainscoted wall in the living room. Below, a console table is just the right height to easily reach books and water the orchid.
To return the home to its former glory, Brown first needed to remedy the disconnect between the interior and exterior. To that end, he and his team relieved the house of its stark features, leaving only the doors and windows.
Then they introduced custom paneling and crown molding across the home—which echoed the original architecture—and added beautiful texture to the walls.
Though understated, these traditional features easily breathe life back into the home, making it feel warm and inviting.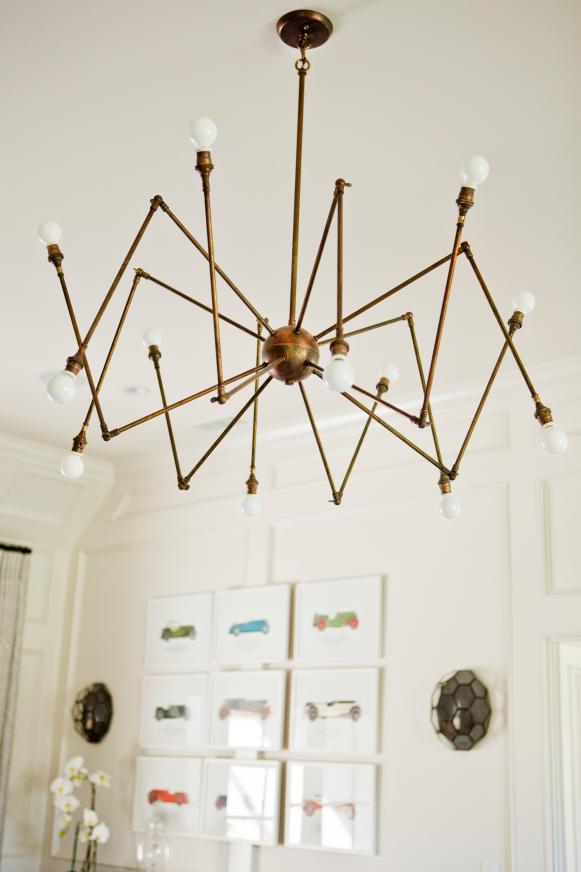 Funky Midcentury Chandelier
Dangling above the living area, a brass, midcentury modern chandelier adds funky style to the design.
For added visual interest, Brown looked to vintage and custom-made light fixtures. In the living room, a brass chandelier with gangly limbs evokes thoughts of a "daddy longlegs" spider. When paired with two glittering tortoiseshell lights, this piece illuminates the space and becomes part of a subtle, slightly whimsical menagerie.
"I see lighting as functional art," Brown explains. "It takes on a different life, means something different at day, at dusk, at night. They definitely bring something remarkable to the space."
Thus, each piece within the home is deliberately unique, ranging from Italian candelabras to midcentury modern floor lamps. Because their styles so strongly contrast from one room to the next, these fixtures help convey the designated spaces that Brown envisioned.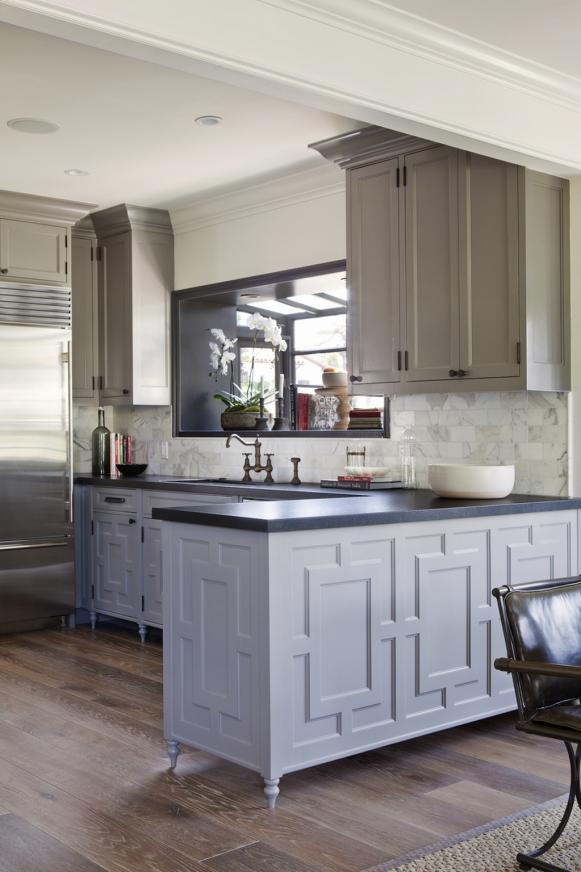 Contemporary Kitchen With Marble Tile Backsplash
This contemporary kitchen features marble tile backsplash, white cabinets and hardwood flooring.
That thoughtful design extends into the kitchen and dining areas. Wanting to delineate spaces without building walls, Brown used furniture to create visual boundaries. A large area rug beneath the tulip table and leather chairs separates the formal dining room from the breakfast nook, while free standing cabinets create a border between this space and the kitchen.
The front-work pattern on the cabinets is a custom touch that Brown is particularly fond of, as it makes the tight space seem grander in scale.
"It's a small kitchen, so to have plain cabinetry in there wouldn't have done the space justice," Brown says. "The pattern really makes it feel like a special feature."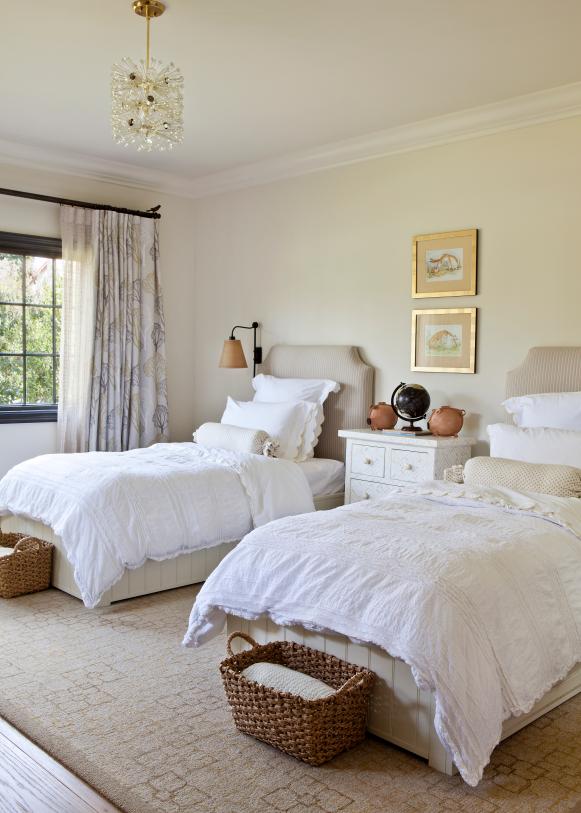 Light and Airy Bedroom in Neutral and White
This bedroom would make the perfect guest room or kids room, depending on your preference. A neutral setting and crisp, white linens give the space a fresh and airy vibe.
It also helps bring the home into the present. Where closed cupboards and bronzed faucets allude to the past, the contemporary pattern pairs with a marble backsplash and open shelves to keep the kitchen fresh for the owners.
Having established spaces for the whole family, Brown and his team then focused on creating individual retreats. Though the kids share a room, the designer wanted each to girl to have a place of her own. To that end, he separated their twin beds with a tall white dresser, as well as provided storage underneath where they could tuck personal belongings.
For their father, Brown envisioned something equally functional. As an author, the client needed a workspace that fostered productivity. Thus, Brown designed a private study that spoke to his client's profession, with a brown leather chair and contemporary desk for focused writing.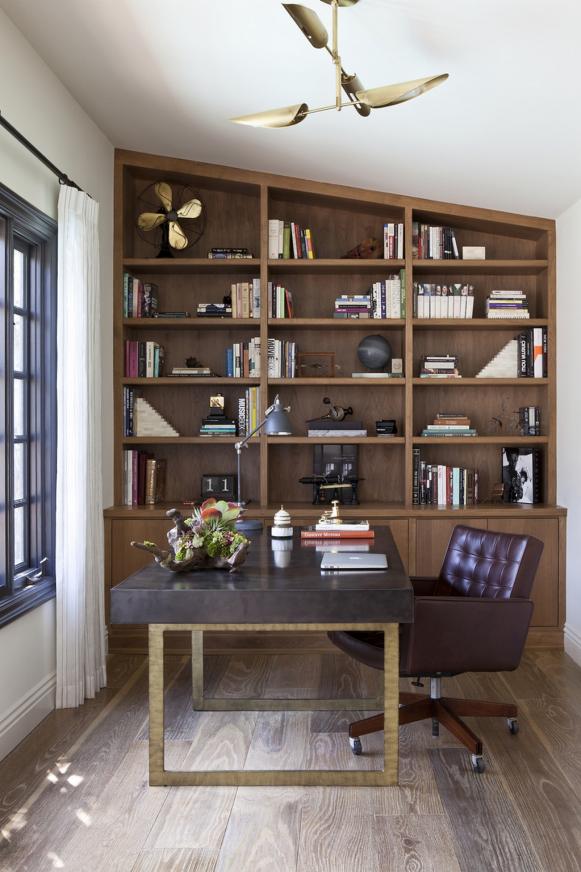 Arts and Crafts Home Office With Bookcase
A large bookcase, desk and upholstered leather chair are featured in this arts and crafts style home office.
An expansive bookshelf against the far wall showcases the client's novels and other possessions, giving the room a charming and collected aesthetic.
While Brown takes pride in the finished look of the house, it means even more to him that the home suits and reflects his clients.
"At the end of the day," he says, "one of the biggest compliments is to have somebody come into one of our homes and say it doesn't look like a designer did it, it just looks like someone with really good taste put it together over time."