Sophisticated & Stylish Family Home in Arizona
See how interior designer Raegan Ford layered neutral furnishings, patterned accents and hints of color to create a sophisticated family home for a client in Paradise Valley, Ariz.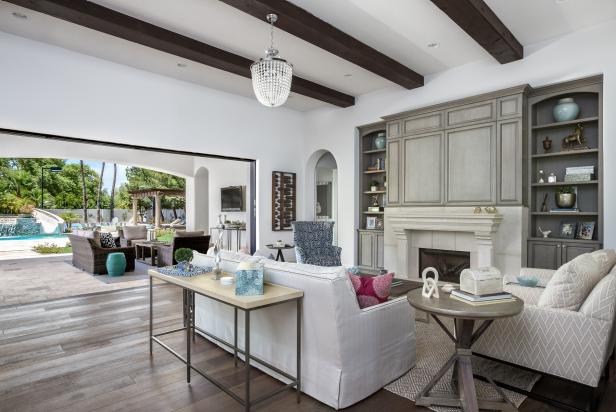 Transitional Indoor-Outdoor Living Space With Exposed Beam Ceiling
This serene living room features neutral upholstered sofas paired with an exposed beam ceiling and gray built-in bookshelves on either side of the fireplace. A large door opens up an entire wall to reveal the outdoor sitting area, creating an easy flow between indoor and outdoor spaces.
What were the main items on your client's wish list for this home?
I had actually worked with this client and her husband many years ago, so I already had a sense of her style. She's very traditional and wanted this space to be more neutral and timeless than her last home. She also wanted a nice living space where she and her husband could spend time together or entertain.
What was your biggest obstacle in designing this house, and how did you address it?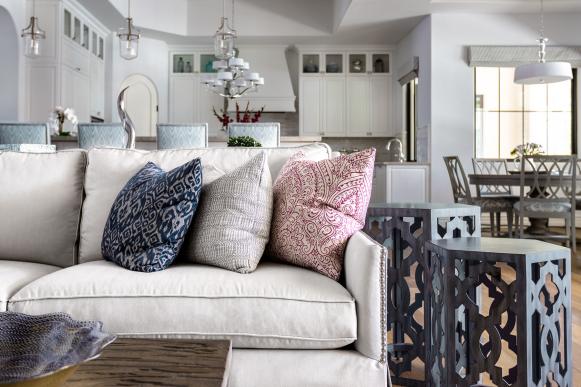 Transitional Open Plan Family Room With Colorful Custom Pillows
This light and bright open concept living room feats a neutral sofa paired with colorful customs pillows in a mix of patterns. A set of nesting lattice end tables offer an interesting touch.
My client is afraid of too much color, so we needed to choose more muted pieces that she was comfortable with. We went with a neutral palette for the home and then used colorful pillows and accents to add a little life to each room.
The living room is both comfortable and sophisticated. How did you achieve that thoughtful balance?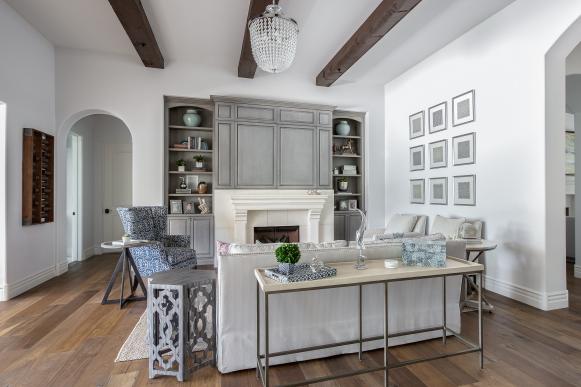 Timeless, Traditional Living Room with Soft Color Palette
To create a restful, yet still traditional space, designers added soft textures and hues, combining a natural, woven rug with a skirted sofa to create a traditional, timeless space. To create a design that is both elegant and perfect for entertaining, watching TV and enjoying the views to the outside, the sofas were carefully arranged directly in front of the custom, built-in cabinet with traditional millwork that provides beautiful display shelves while concealing the television, adding function and elegance.
She really wanted a space that she and her husband could enjoy, but that could also serve as a formal sitting area for visitors. We decided to place their TV in a unit with doors, so she that tuck it away when people came over. We also chose neutral furniture, like the sofa and chairs, and limited the color to the pillows. And then the built-in shelves and wood beams give the room structure.
The kitchen, too, is easily one of the most stunning spots in the house. What did you have in mind for this space?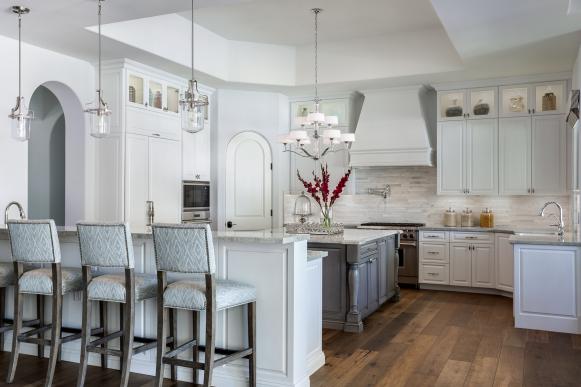 Gray and White Transitional Kitchen With Wide Plank Hardwood Floors
Beautiful transitional kitchen that is soft with the grey and white color palette. soft touches of color and pattern i the barstools soften the room. the clean lines and chrome finish on the light fixtures adds a traditional bling to the space.
Because my client's style is traditional, I focused on keeping the space classic and neutral. We went with quartzite for the countertops, granite for the backsplash and made the island dark gray to add a little contrast. She was nervous about the chrome fixtures at first, but after she saw how clean the kitchen looked, she was very pleased.
Approximately how long did this project take from start to finish?
We were working with about a four-month turnaround.
Are there any specific items in this project that make it uniquely yours?
I don't have a signature piece of mine that I leave behind! I usually focus on incorporating pieces in to the home that personalize the space for my clients.
What are the hidden gems in your plan that really made a big difference in the overall success of your design?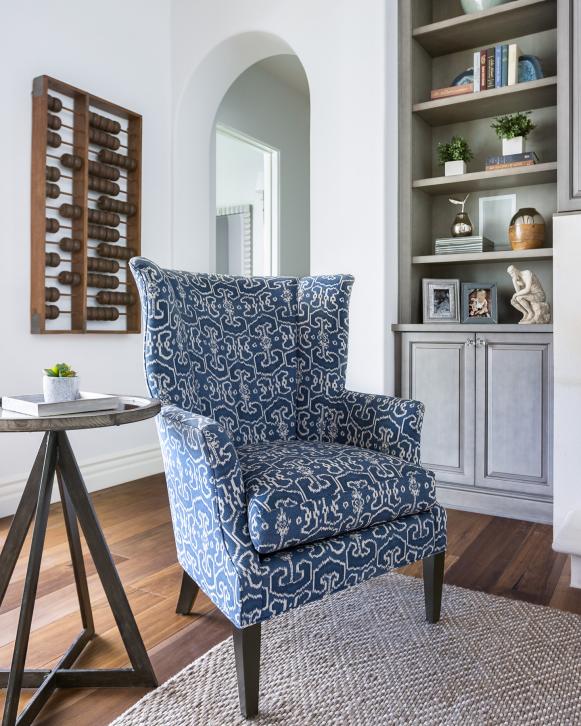 Transitional Family Room With Bold Blue Armchair and Built-In Bookshelves
Natural light illuminates this family room, showcasing a blue armchair with a fun white pattern. Built-in shelves display books and decorative items, while a woven rug sits atop the wide plank floors. An oversized abacus hangs on the wall, an ode to the homeowners' professions as accountants.
In this project, you'll see that we displayed an abacus in the family room. Both of my clients have accounting backgrounds, and they originally met and started dating when they were working together at an accounting firm! The abacus was a fun reminder of their background and the start of their relationship.
What was it like working with your client again, after all this time?
It was great because we already had established a sense of trust and confidence. It's really nice that we're starting to see repeat clients; it's very rewarding.