Family Home Has New-French-Country Style
Luxe fabrics, colorful wallpapers and heirloom furnishings give this custom-built family home European flair. Designer Kate Duckworth created a design based on the homeowners' love of France with an eye on a warm family home perfect for entertaining.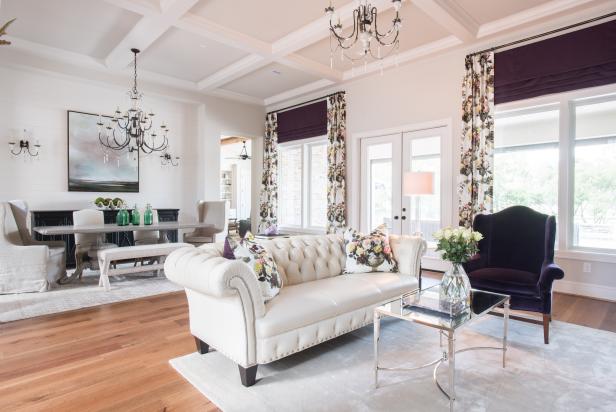 White Traditional Living Room With Purple Shades
Eggplant purple window shades and an armchair add a little drama to the light colors of this living and dining room's furniture and rugs.
What did your clients want for their house design?
We got to design this house from the ground up. We weren't involved in their plan design, but they did custom-design their plans to fit their needs and their lot. When they came to us we already knew the house would be a French-country style, but I really love our adaptation of that style. We like to call it "New French Country."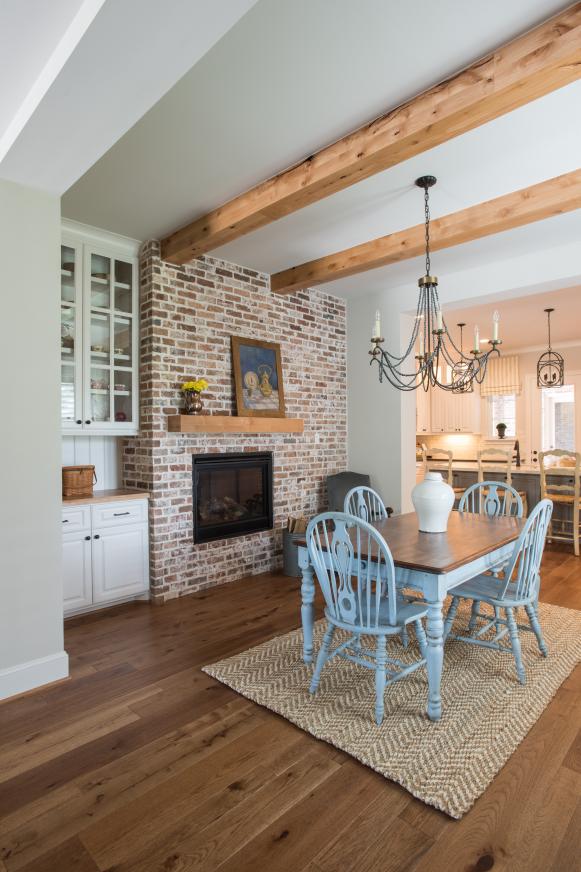 Country Dining Room With Blue Chairs
The pale blue of these dining chairs and table is so pretty against the red brick fireplace and hardwood floor.
Our clients wanted to design this house to age in place. They wanted to be able to entertain, they wanted to accommodate future grandchildren and they wanted an amazing outdoor space so they could take full advantage of that lake view.
Did the home originally have an open floor plan and high ceilings?
It was new construction so yes, always an open floor plan and high ceilings.
What was your biggest obstacle in designing the home?
The largest challenge with this project was merging two houses and two different lifestyles under one roof. The homeowners, while pursuing both of their respected careers, spent many years living separately. They had two homes, one of which was close to the wife's medical practice. The husband was a busy executive and traveled frequently. When he was in town, he was at their primary residence. Now both retired, they wanted to build their dream home — together. We had to combine both of their individual lifestyles and routines into one cohesive home.
Another challenge we faced on this project led to some of my favorite design elements. The homeowners had many family heirlooms they both wanted to incorporate into this home. We left some as-is, we reupholstered some in fun fabrics and others we painted bright, fun colors. Once the project was completed, those same heirlooms really added a huge impact to the design. It was so much fun giving those tired pieces fresh life.
What inspired this home's design?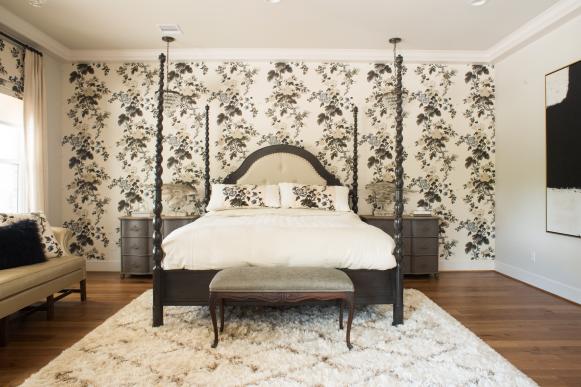 Gray and White Shabby Chic Bedroom With Bench
Restricting the floral wallpaper to one accent wall keeps the pattern from overwhelming this bedroom and lets it be a jumping off point for floral accents like the pillows and window shade.
The inspiration for this project really came from the homeowners' love of travel, particularly their love of France. They wanted something that combined the coziness they experience abroad as well as the dramatic elements of color found throughout Paris. We felt that, with their antiques, bright, fun wallpapers and fabrics would really set off the house and bring some dramatic elements to their cozy French-country home.
How did you create room transitions?
What really helps this house flow was the use of one wall color throughout (Sherwin-Williams's Heron Plume) and one type of flooring (Hickory hardwoods). By painting the house one color and keeping the flooring consistent we were able to really incorporate some unique patterns and color into each room and maintain the cohesiveness of the home.
How did you choose the color palette?
Our color palette came from the inspiring interiors of Paris. We wanted a neutral and light wall color to really showcase the patterns and colors of the upholstery, drapery and wallpaper.
What was your favorite room to design?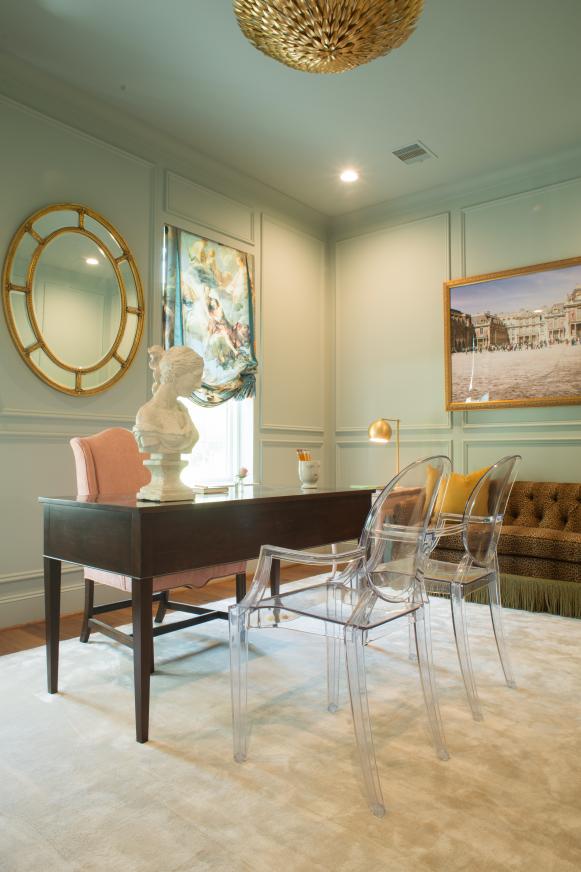 Blue Traditional Home Office With Ghost Chairs
This beautiful home office has a regal feel with its golden touches, like the light fixture and mirror, combined with palest blue walls and a rosy pink desk chair.
Our favorite room is, hands down, the casita. How often do you get to design a room inspired by a client's love of European royalty? In the casita we added wall molding throughout and painted it a French blue along with the walls, ceiling and doors. We also reupholstered their preexisting loveseat in a leopard fabric with gold fringe, painted their antique side table a fun Antoinette pink and had custom photography of Paris framed in ornate gold frames.
The most difficult spaces to lay out were the formal living and dining rooms due to the entry columns and needing lots of walkways since it is where the wings of the house converge. It took some finessing, but we landed on a well-thought-out and functional space.
Did a particular element tie the design together?
In the formal living and dining rooms we fell in love with the drapery fabric and so did our homeowners. We decided to complement that fabric with a bright yellow console table, a purple velvet chair, pink sea glass and green seltzer bottles. In the master bedroom, we really wanted our color to be subtle. We chose to add interest by playing with pattern, texture and metallics. Again, we let the wallpaper take the lead. We matched the window shades to it and pulled a metallic linen for the panels. We reupholstered a family sofa in gold vinyl and two wingback chairs in gray velvet. In the family/breakfast/kitchen, we wanted them to feel more cozy and quaint than the rest of the house, so we used less contrast. We used a lot of French blue, gray and cream. In the casita we wanted to go a little more glam. This was to be the wife's room only and she wanted it to be Marie Antoinette-inspired. We incorporated balloon shades with adapted works by Francois Boucher, gold, leopard print and some pink.
What is your favorite feature of the home?
French Country Courtyard With Fountain
This French-style courtyard comes complete with a fountain, bistro tables and citrus trees.
The courtyard. The fountain is from Paris and is just such a beautiful centerpiece for the space. The walls of the courtyard make it feel so secluded. The sound the fountain creates drowns out any sounds from the neighborhood. You can sit at a cafe table and enjoy a croissant and coffee and feel the Parisian vibe — oh, and the citrus trees in the French planter boxes, too.
Tell us about some of the special and custom touches throughout.
The crackle tile was hand-made in Mexico and we purchased it from Daltile. The master bathroom vanities were custom-built for the house and we installed Shaker-style doors and drawer fronts so we could inset the amazing antique mirror. The casita is a small room, so we went with the ghost chairs so that we could have seating and still allow the space to feel open. Also, the desk was very sentimental and had been passed down through the family so we didn't want to cover that up. The ghost chairs also added a little glam and a different material than anything else in the room. Yes, the balloon shades were a splurge for sure. They are a Pierre Frey fabric with adapted works by Francois Boucher.
What makes this project uniquely yours?
There isn't anything specific that I always incorporate. I'm always bursting with inspiration to try something different; however, I do think my personality is always reflected in my interiors. I think my interiors are always beautiful, but always approachable. I'm a laid-back kind of girl and I get that real life happens in these spaces. We make beautiful interiors, but they still feel homey and comfortable. They can stand up to kids, pets and entertaining. We have three children, quite a few animals and we entertain constantly in our own home. We know firsthand what's going to be practical and what isn't.
What "hidden gems" are in your design?
Fabric! We really put a lot of the budget into some unique, high-end fabrics.
We enlarged three photographs that we took while in Paris to 3' x 4' and put two in the office and one in the entry to the master bedroom. The homeowners love Paris, so they really appreciated unique photographs turned into art, just for them.
The use of their antiques and a lot of existing upholstery (most of the furniture was repurposed). By repurposing their family heirlooms, we really maintained their heritage and gave it new, fresh life.
The lot they built on juts out like a peninsula, so water views wrap the back of the house. The pool, outdoor kitchen and lounge areas are really relaxing and resort-like. There is a massive automated screen that comes down between the pool area and the lounge area in the patio to keep the Texas-size mosquitos at bay.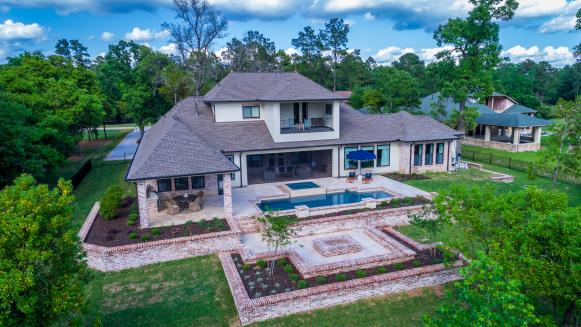 House Exterior and Formal Backyard
The backyard of this farmhouse features an orderly garden and paths lined by low brick walls. There are also a pool and hot tub.
The fountain from Paris is another gem.