Colorful Contemporary Home Infused With Pattern + Texture
Caitlin Murray designed this show stopping contemporary home with loads of color and pattern throughout, when all the walls were painted white. Find out how she went about designing this chic space, and hear her tips on how you can bring color into your own home.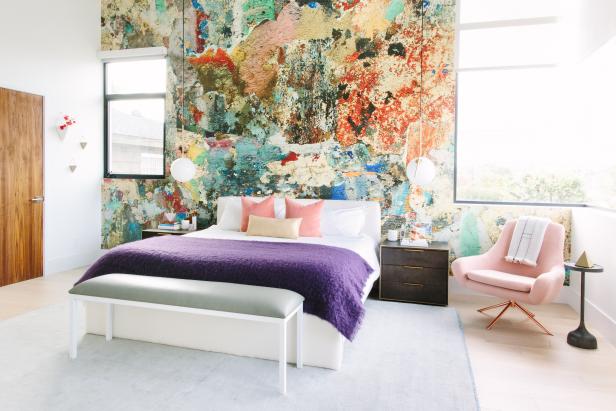 Modern Master Bedroom With Abstract Accent Wall And Pastel Pillows And Accent Chair
This modern master bedroom features a striking multicolored abstract accent wall, white, purple and pink bedding, a pastel pink midcentury modern chair and accent tables.
What were the main items on your client's wish list in the design of their home?
The clients were looking for a very modern design that also felt lively and whimsical. They didn't want anything to feel cold or stuffy. The adventurous couple also knew from the start they wanted to see a bold color palette and a lot of texture layered throughout their freshly built home (and of course, I was game!). At the same time, it was equally important to them that it all felt very warm and inviting.
What was your biggest obstacle when working on the design of this home?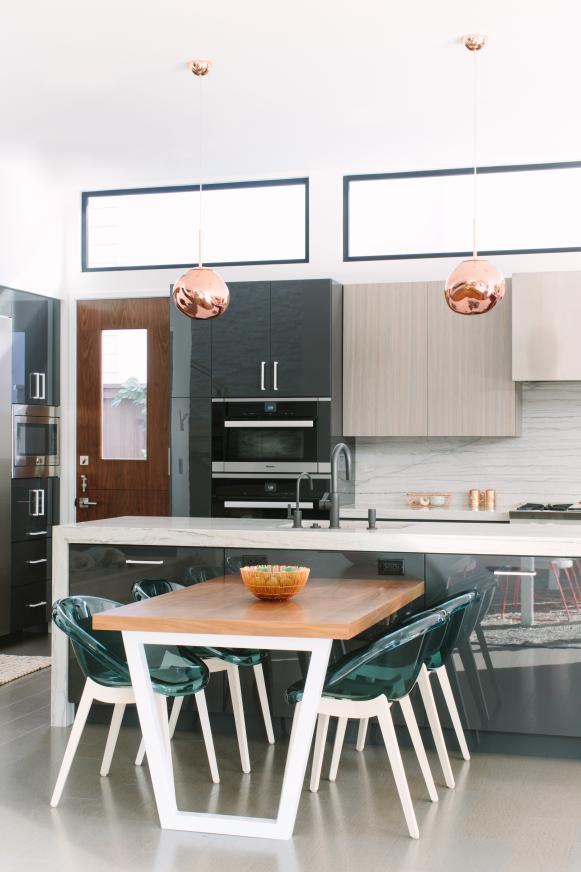 Modern Eat In Kitchen With Copper Pendants And Lucite Dining Chairs
Sleek cabinets and a marble work island with sink, copper pendants, and attached dining table with modern lucite dining chairs provide a place for the family to eat, work, and play in style.
When you are blessed to have clients who are keen to make daring design moves, the challenge is in achieving a balance so that nothing ends up clashing or competing for attention. No matter how bold you're prepared to go, you still want to make sure that the finished home forms a conceptual whole. Here, we did this by settling on a color palette from the start and invoked that same color palette throughout. That defined color palette went so far in creating balance and unity. It also had the added benefit of introducing warmth and depth while also being kid-friendly and modern.
What was the inspiration for the style seen throughout?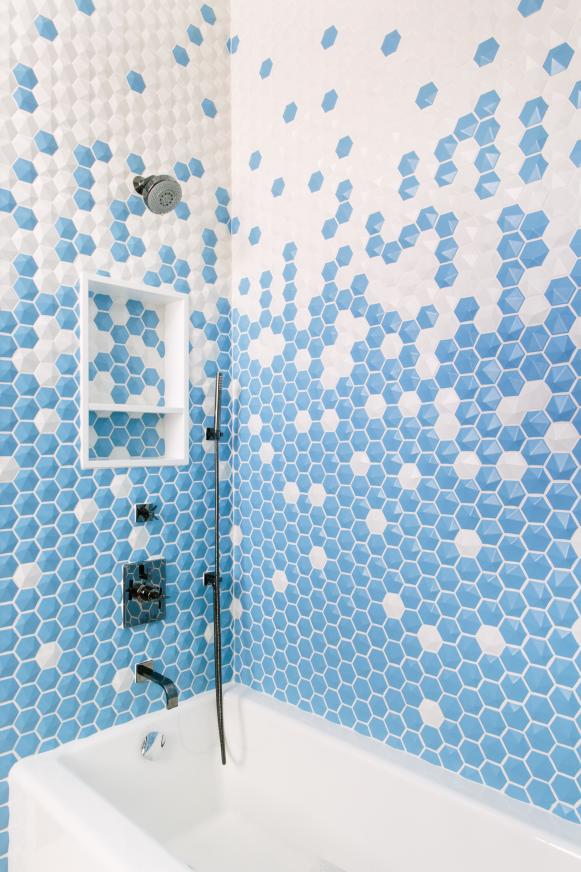 Blue And White Hexagon Tile Bathroom With Modern Faucet And Fixtures
This blue and white bathroom features a modern three dimensional hexagon tile bathtub surround along with a sleek faucet and shower fixtures.
The biggest inspiration for this home were the homeowners, hands down! They were so involved in the creative process that the whole project really felt like a thoughtful, fluid conversation between us. They even designed the intricate ombré tile layout you see in the shower of the jack n' jill bath! The geometric wallpaper in the downstairs bath was another point of inspiration. We selected that very early on in the project, and it set the color palette for the rest of the project!
What is your favorite feature, element or detail of the space?
I am just constantly falling in love with their master bedroom! The abstract wallpaper is so perfect in that space, and it's always exciting to see a bold design scheme in a master bedroom. I think people often play it safe in the master bedroom, so it's refreshing to see something so daring here.
What was the inspiration behind the multi-colored wall in this home's master bedroom?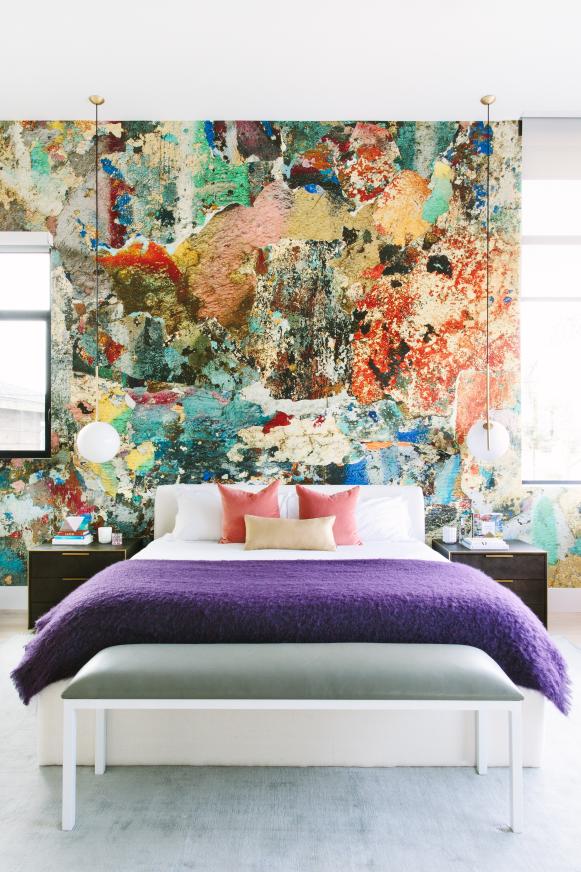 Master Bedroom With Multicolor Abstract Accent Wall And Colorful Modern Accessories
This master bedroom is full of color, with a modern abstract accent wall, bright purple blanket, pink and yellow pastel pillows, and modern side tables, bench, and pendant lights.
I was originally on the hunt for an oversized abstract painting to hang above the bed, then stumbled on this super dynamic wallpaper and it was just a must. A huge white wall suddenly became an exciting sort of art installation and the palette was perfection.
What tips do you have for our readers on how to create a cohesive and fun color scheme?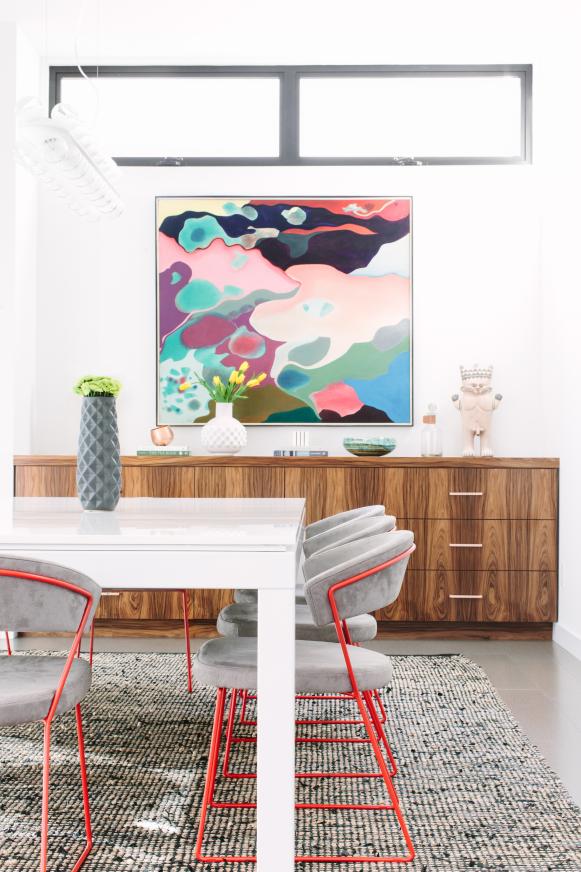 Modern Dining Room With Orange Metal Dining Chairs And White Dining Table
This bright white dining room has pops of color, with bright orange metal midcentury modern dining chairs, abstract wall art and ceramics, modern sideboard, glass pendant light, and clean white dining table.
I love to define the palette of a room by a piece of artwork or multi-colored wallpaper and then build the rest of the choices from there. If you're not sure on how best to combine multiple hues, let the inspiration piece do the work for you! It's one of my favorite design hacks.
What are the "hidden gems" in your plan that make a big difference in the overall design?
It's really about an approach that's part art and part science while also keeping the principles of design in mind—like balance, contrast, repetition and space. When you're using a lot of color and going for an overall clean, modern vibe, these ideas become even more important and impact the way the eye moves through the house.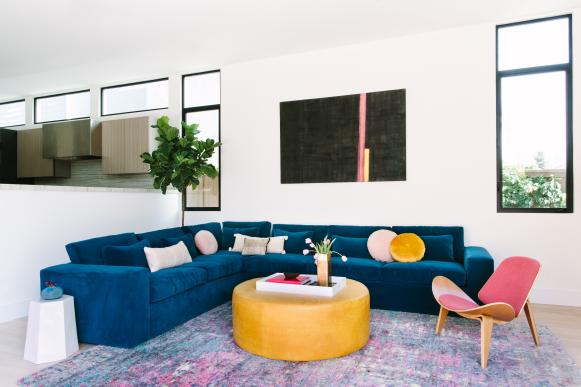 Modern Living Room With Blue Sectional Sofa And Pink Midcentury Modern Side Chair
This striking modern living room features a blue velvet sectional sofa with colorful accent pillows, a bright yellow leather ottoman, pink upholstered midcentury modern side chair, and a soft pink and blue area rug.
A hidden feature you might not notice straight away is that all of the walls were painted white even though the clients were looking for a color-soaked design. While it might seem counterintuitive at first, painting the walls white allowed for bolder color choices throughout the home and provided elegant backdrops for the colors to contrast and pop against. Essentially, it made it possible for us to incorporate and balance all the colors that we did.