Farmhouse Style Helps Family Home Stand Out in Utah
See how House of Jade's Kirsten Krason used fresh white walls, wood accents and chalkboard signs to make this generic-build home in Lehi, Utah the star of its neighborhood.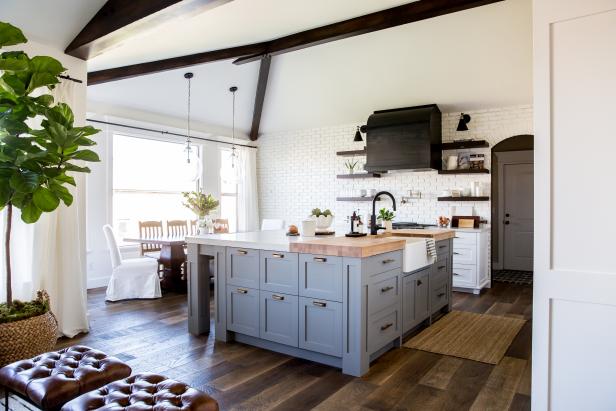 Open-Concept Kitchen With Island
Those blue velvet armchairs actually swivel around, allowing the owners to enjoy the best of the living room and the kitchen. The hardwood floors encourage flow between the two spaces as well.
When designer Kirsten Krason first laid eyes on her clients' generic-build home in Lehi, Utah, she felt as though she had seen it a hundred times before: a closed-off interior with little personality of its own.
So when she agreed to remodel the entryway, living room and kitchen, she looked to the couple's love of farmhouse style to create a home unlike anything she had ever designed.
"They mentioned that they loved Fixer Upper and that kind of vibe, but we'd never done anything so farmhouse before," says Krason, co-owner and principal designer of House of Jade Interiors with Erin Morgan. "It was an exciting new challenge."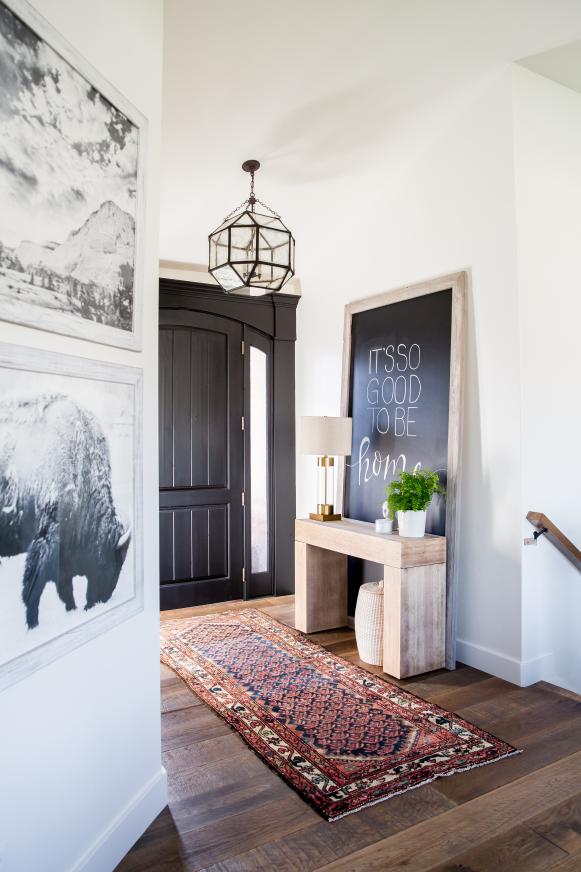 Foyer Shines With Farmhouse Style
That chalkboard sign couldn't be more right. From the moment they walk through the front door, the owners of this home in Lehi, Utah will feel at ease thanks to bright white walls and their favorite art pieces.
With a wall awkwardly dividing the living room and kitchen, the entryway initially felt narrow and cramped. So Krason tore down the wall, opened the floor plan and added a wood beam overhead for structure and visual interest.
Now, with its crisp white walls and easy flow into the living room, the entry is like a breath of fresh air. For functionality, Krason added a geometric-style pendant light and a wood console table where the owners' can place their keys and mail.
Before Krason introduced a large mirror to the space, though, her client offered a sweeter suggestion.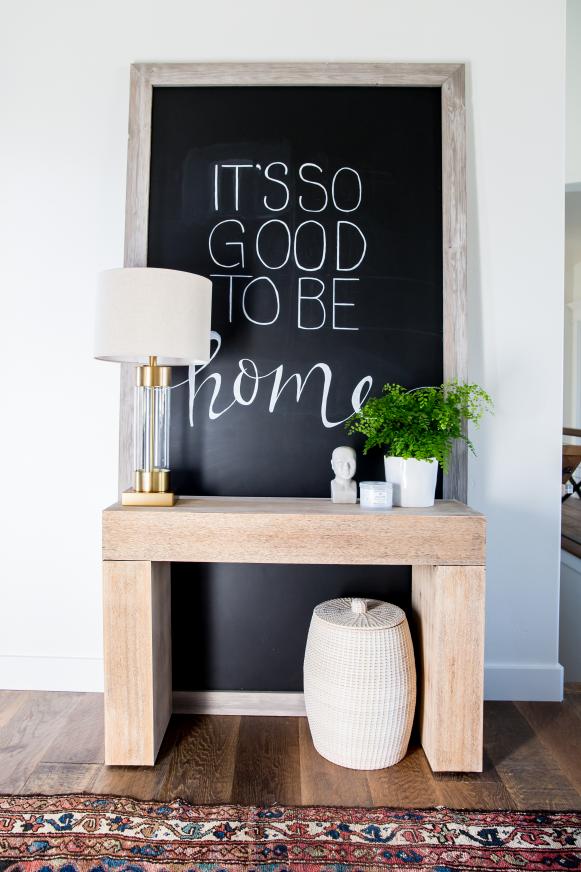 Console Table and Chalkboard Sign
That foyer is just as functional as it is stylish. The console table offers storage for keys and mail, while its light wood finish gives the space a familiar, Fixer Upper feel. As for the chalkboard sign, it adds a personal touch that kiddos will love.
"She wanted a chalkboard sign because she likes to write messages to her kids," the designer says. "So I was like, 'Let's play on that and make it bigger.' So we layered it in and created this look that's a lot of fun."
Krason took cues from the husband's career to personalize the space even more. As a nod to his job manufacturing arrows and his love of hunting, Krason stacked two photos of a southwestern landscape and a buffalo. Given their natural imagery, these prints feel right at home in the farmhouse-style foyer.
Around the corner, a staircase with wood railings furthers that farmhouse look and serves as another pleasant change of pace for Krason and the House of Jade team.
"We've done a lot of mostly-white railings, so it was fun to add a metal detail to this one," she explains. "Most homes in Utah have railings with spiral designs, but is this more modern and industrial."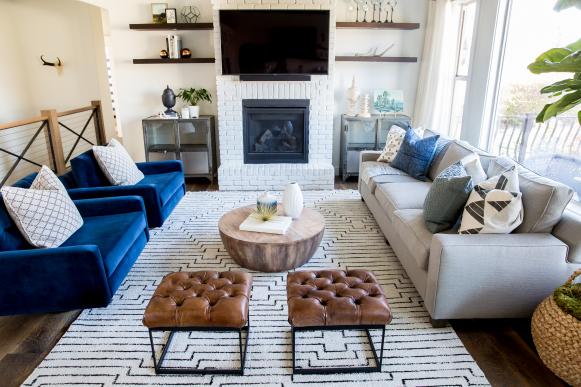 Living Room Includes Geometric Accents
The living room is family-friendly, too, thanks to durable fabrics and wood floors. Notice how the two brown leather ottomans balance out the more feminine pieces, as well as complement the geometric shapes in the rug and railing.
Because the entryway is visible from the living room, Krason took care to make the spaces look as cohesive as possible. Thus, she answered the metal crossbeams on the stairs with geometric shapes in the living room, like those in the graphic area rug and two leather ottomans. These pieces also make the space a little more gender-neutral for the whole family's enjoyment.
Two blue velvet chairs provide additional seats for watching football or catching up with friends, as well as serve as a creative solution to one of the client's requests.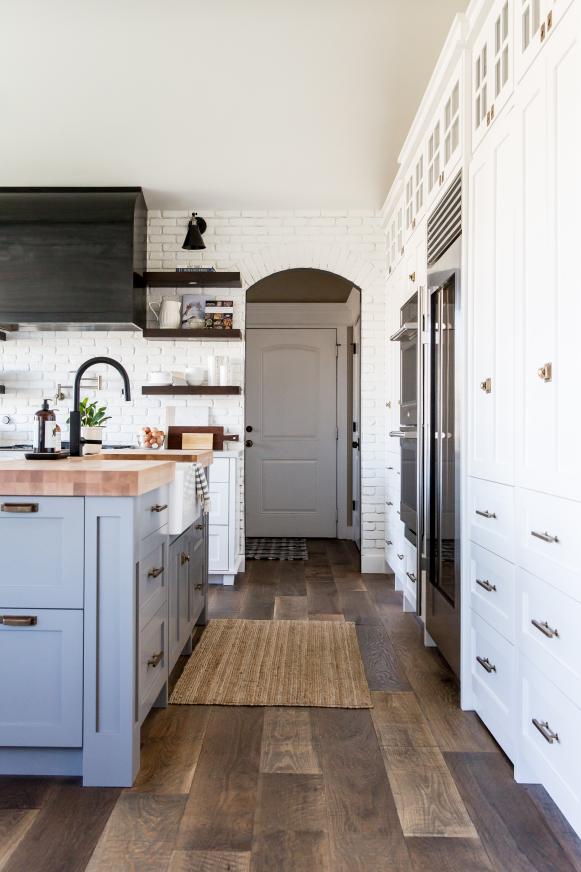 Kitchen Island With Farmhouse Sink
To make the kitchen as functional as possible, the designers also outfitted the space with open shelves and custom cabinetry. The island has drawers, too, as well as a farmhouse sink for a look that Joanna Gaines would love.
"The living room was tricky, because they wanted to be able to see the TV from the open kitchen," Krason recalls. "So we put in those two large chairs that can swivel in either direction."
She used hardwood floors to draw the eye into the kitchen, too. Here, a large island with two butcher blocks and a farmhouse sink was installed for easy meal-prep.
When finished with a white-painted brick wall and open shelves, the space has all the character and charm of a kitchen designed by Joanna Gaines -- but with a twist.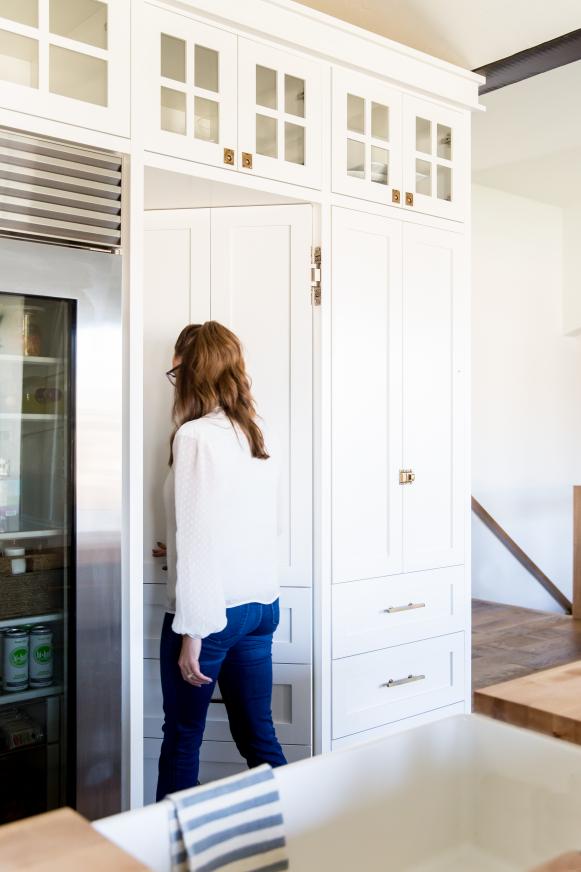 Kitchen Equipped With Stainless Appliances
One push and the pantry opens. And that's not all -- the kitchen also includes an ice-maker, freezer and fridge that are all tucked out of sight, so the owners can enjoy their functionality without the visual clutter.
Hidden behind walls of custom cabinetry lies the pantry. A slight push on the door allows the owners and their kids to step inside, which is another detail that Krason says really separates this home from her previous projects.
Looking back on it now, Krason adds that the home not only exceeded her clients' expectations, but hers as well.
"It felt a little hipper and cooler than something we'd done before," she says. "These clients and their lifestyle pushed us in a new direction."