Coastal-Inspired Farmhouse
A white farmhouse is given a coastal sensibility through the use of texture in furnishings and wall coverings, eye-catching fabrics and colorful artwork. The home's open floor plan offers plenty of space for entertaining and opens up to bring the outdoors in.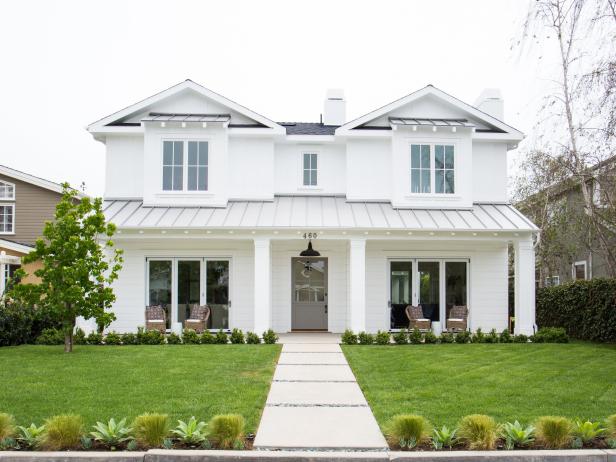 Modern White Farmhouse in Newport Beach
This home is located in Newport Heights,and has a coastal design but with a Modern Farmhouse twist. Keeping the walls white keeps things bright, clean and coastal and lets the furnishings do the talking.
What did your clients want for their new home?
The home, built and designed by GrayStone Custom Builders, already had an amazing open floor plan. The design goal was to create a contemporary coastal farmhouse. The one specific request of the clients was to be able to use this space for entertaining. What immediately stood out to our design team was the huge open floor plan encompassing the kitchen, dining room and living room with bifold doors leading to the covered patio. With more than 5,000 square feet, four bedrooms, four-and-a-half baths and an upstairs loft, there's plenty of room for a growing family. The homeowners love to entertain, and the home's crisp white kitchen is the center of the action, open to the family room where friends and family naturally gather.
How did you make the home functional for your clients?
Since this was a new build, several site visits during construction were made to understand the flow and feel of the layout and how materials and finishes come together before we selected furnishings. The next step was understanding the clients' desires and needs for living in the home and creating a layout that served that purpose. From there you bring in color and texture with pillows and accessories to achieve what the client wants, which in this case was an earthy, contemporary farmhouse that still had a coastal vibe.
What was your biggest obstacle on this project?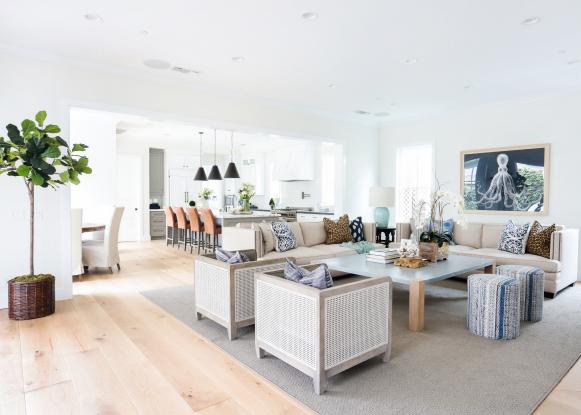 Contemporary Coastal Living Room Is Tranquil, Relaxing
Bright white and soft neutral tones fill this open living area for a calm, soothing atmosphere. Blue accents and ocean-inspired touches add a coastal feel, while clean lines ensure the look is fresh and current.
One of the biggest challenges was figuring out how to divide this large, open floor plan into a space with good flow. We did that by using large-scale rugs and creating individual vignettes that complement each other. Another challenge we faced in designing this house was how to add color and warmth to the entry hallway.
What inspired the unique coastal-farmhouse design?
It's coastal bohemian with a farmhouse twist. It's current, but it has history to it thanks to new, vintage and legacy items. It's clean, but has depth to it. GrayStone Custom Builders built this great farmhouse-style home, but we loved adding some unique features that set it apart, for example, the blue velvet sofa, which is not necessarily something that screams "farmhouse," but still works nicely in this space.
How did you create room transitions?
Color has a lot to do with the way we design. It must complement the rest of the house, but doesn't need to match, and it also has to make sense with the architectural details of the home so everything is cohesive. We wanted to give the large, open floor plan continuity while giving each space its own personality. We mixed different tones and textures of wood throughout the home to keep things casual yet interesting.
What was your favorite room to design?
Our favorite room to design was the family room. It's one of the first spaces you see when you enter through the front door, and we wanted it to have a strong impact. We loved the shiplap in this room — it brought in an extra layer of texture and gives the space a traditional coastal feel while drawing the eye to the fireplace.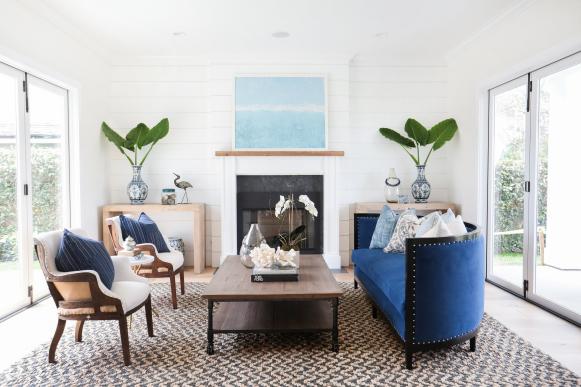 White Coastal Living Room
Placing velvet on a settee that is already an interesting shape really made the piece pop and instantly catches the eye. Mixing wood tones and textures in a subtle way helped to add variety a bring a fancy yet casual atmosphere.
We love mixing wood tones and textures. It keeps things casual and interesting. Placing velvet on a sofa that is already an interesting shape really made the piece pop. By using a jute rug underneath the sofa, it helped ground the space and keep things neutral. The mixture of tones in this room were subtle, but just enough to grab your attention and create a cool, interesting space for entertaining.
One of the hardest things about designing this room was figuring out what to place in the niches on both sides of the fireplace. We wanted to keep the room light and airy and couldn't use anything too bulky or heavy. We custom-made these matching reclaimed wood tables that fit the space perfectly.
Did you use plants to tie the design together?
Live plants are so important in our designs. They are a great way to add color and life to a room and help bring the outdoors in. Plants enhance the design and create ambiance by pulling together the overall look and feel of each space. Plants are a great way to fill dead space and add another layer of depth to a room. It doesn't matter what color scheme you have going on — plants work with all palettes.
How did you support an indoor-outdoor lifestyle?
I'm inspired by color, architectural details and the outdoors. The point of inspiration is always how the client will use the indoor and outdoor spaces together. We like to refer to this as complementary convergence of the interiors and exteriors. The indoor-outdoor connection — the whole idea of bringing the outdoors in and the indoors out — has changed so dramatically in the last few years. The folding doors throughout the home create an open feel, allowing you to have the sense that you are outdoors. Each area has its own personality and vibe, but they flow together to create a cohesive feel.
How did you choose the blue velvet settee for the living room?
We found the demilune sofa at a local vendor and had been holding onto it for the perfect project. We took it down to the bones and reupholstered it in this rich navy velvet to bring new life to it. We added nickel nail heads to give it a more luxurious feel. It adds another layer of texture to this space and elevates the room, blending a casual vibe with a sophisticated look.
What inspired the home office's eclectic look?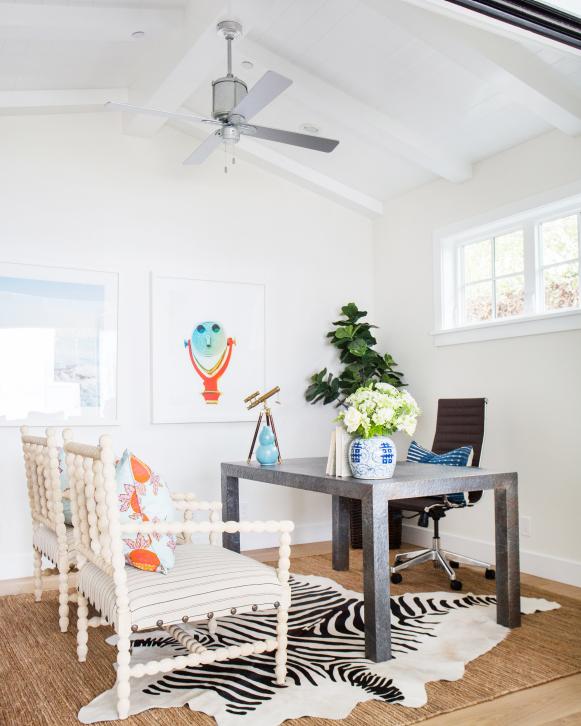 Eclectic Home Offices Oozes Personality
A zebra hide rug and vibrant artwork make this crisp white home office spring to life with personality. Quaint white chairs add an unexpected touch — especially paired with the ultra-contemporary desk.
Again, it's not your average farmhouse style. We wanted to do something different and mix it up while still staying cohesive with the overall look of the home. It started with pairing the zebra-print area rug with the metal of the zinc desk to create an eclectic, layered look. It seems a little masculine, but by pairing it with this beautiful orange-and-blue pillow it helped soften the look and create a coastal vibe. We loved how the orange played with the grays and flax, so we also wanted to bring the same colors in through artwork like the viewfinder print and wave piece, which was created by a local Southern California artist and is representative of the beach lifestyle in Newport.
What do the patterned pillows add to the living room?
A lot of our designs are fabric-driven, and at Blackband Design we have a library of more than 10,000 different types of fabric to choose from. We love coordinating fabrics that at first glance you wouldn't necessarily believe would work together, but we always play with adding different patterns or textures to make it creatively interesting.
We spend quite a bit of time nurturing our relationships with our fabric reps and those smaller mills that aren't always accessible to designers.
What makes this project uniquely yours?
We definitely have a "Blackband" vibe to our designs. We like to refer to our style as coastal bohemian. We do a lot of beach-area designs, but we have a more bohemian undertone to our style. I am constantly mixing things up in my designs; I like to mess things up a bit. My style is not overly done and matchy-matchy or symmetrical; there's a little bit more of a comfortable feel and casualness to our work.
I think people can tell our work from others' by the way we layer in different tones and textures through our fabrics and surface materials. I understand balance and composition of colors and patterns, so I work really hard to make every space interesting and unique.
What "hidden gems" are in your design?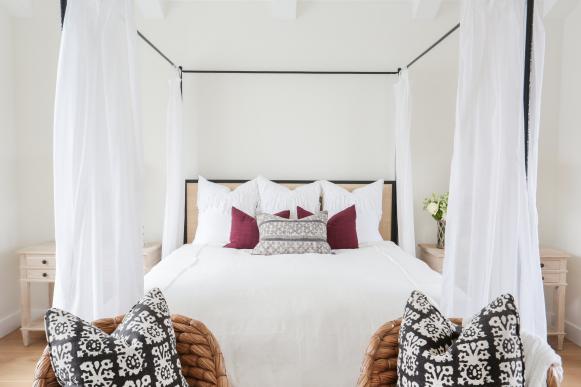 Dreamy Canopy Bed in Clean, Fresh Master Bedroom
Breezy and bright, this soothing master bedroom is the ultimate retreat. Sheer linens adorn a clean-lined canopy bed to create a dreamy place to rest your head, and a crisp white comforter completes the clean, fresh look.
We love the fresh, mixed vibe in the master bedroom, including a great retro surf totem pole-styled block-print fabric for the pillows. Your natural tendency would be to go and pull something much more serene that would match and complement the design, versus pulling something that contradicts it a bit which is what we have done.
In the family room, it's the same idea: You have this reclaimed table with a serene water-inspired print over the mantel, but we juxtaposed it with a royal-blue velvet circular sofa. To further contradict the lushness and sophistication of the sofa, we featured two deconstructed accent chairs. Again, in keeping with our own internal design style, we mix the old with the new, the sophisticated with the casual, and the beach with the city.