Designer Barbara Gilbert transforms a dated kitchen into an elegant, family-friendly space featuring traditional cabinetry, granite countertops and an oversized island.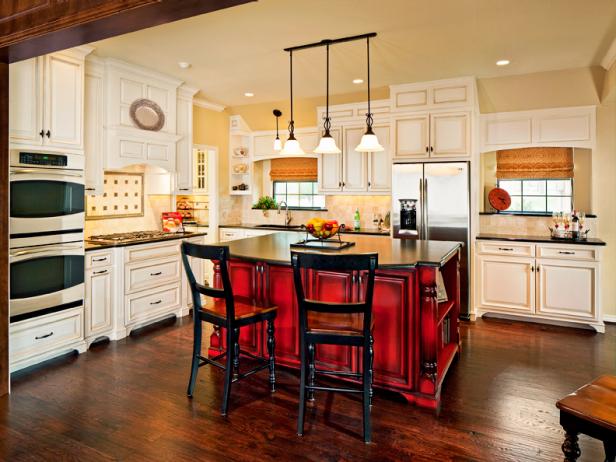 Traditional Kitchen With Bold Red Island
After removing walls to incorporate the surrounding rooms, this kitchen is now an open, welcoming heart of the home. To set the island apart from the traditional white cabinets, designer Barbara Gilbert painted the island with an antique finish using black under a brilliant red.
Classic comfort defines this Farmersville, Texas, kitchen designed by Barbara Gilbert. Showcasing a brilliant red island, timeless cabinetry and stainless steel appliances, the kitchen truly becomes the heart of the home.
We spoke with Barbara to see how she tackled challenges and incorporated her client's goals into this remodel.
Describe the homeowner's wish list.
The homeowner desired an open floor plan that connected the kitchen to the family room; a large island where she could prepare meals while people sat and chatted with her; a gas cooktop; a spice rack; a walk-in pantry; more overall storage; and a butler's pantry to be utilized as a coffee station.
What were the homeowner's design problems?
Since we took down walls to incorporate other rooms into the space, we had to add header beams which increased the overall cost of the remodel.
What was your biggest obstacle in this space?
This kitchen was part of an overall home remodel and upstairs addition. The homeowner was going to be without a working kitchen for more than nine months so we had to set up a temporary kitchen in another part of the home. We actually put up a temporary wall that divided the family room in two.
What lessons did you learn?
Most remodels go over budget and take more time than originally planned. I have a conversation with my clients prior to starting a remodel to alert them to the problems that can arise, thereby costing more money and taking more time to complete.
What are the "hidden gems"?
Since this kitchen was going to be neutral, I wanted to do something different with the island to add a pop of color. We painted the island black. Once it was dry, we painted red over it and rubbed a lot of the red off, allowing the black to show through to create an antiqued effect.