Designer Katheryn Cowles shares how she used smart storage, pro-quality appliances and traditional cabinetry to completely transform a kitchen.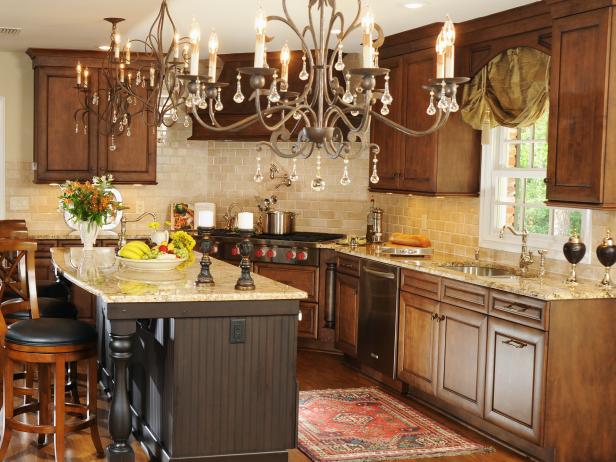 Tuscan Country-Styled Kitchen
Classic paneled doors are used on the deep brown cabinetry, which is given a rustic, distressed look. Neutral subway tile creates a Tuscan-influenced backsplash, and iron chandeliers dripping with crystals add glamour to the space.
Designer Katheryn Cowles combined timeless style with rustic accents to create an Italian countryside-inspired kitchen.
We spoke with the designer about the decisions and process behind her pro-quality, well-organized kitchen transformation.
Describe the homeowners' wish list.
My clients are a sophisticated, professional couple returning to their hometown in rural Alabama. This kitchen was part of an entire home makeover and addition that we designed, which gave us design flexibility.
The only constraints for the kitchen, beside the budget, were that we stay within the original footprint of the existing kitchen. A beautiful kitchen was the homeowners' main wish and a binder of Clive Christian kitchens was her inspiration.
What were the homeowners' design problems?
Removing walls and integrating the living room with the kitchen brought up the issue of how best to marry the couple's antiques and paintings with a functional kitchen. After viewing photographs of items they wanted to use in the adjoining room, the Tuscan country theme evolved and the design developed.
What was your biggest obstacle in this space?
The low ceiling height limited how my clients' vision of grandeur might be interrupted. Taking the cabinets to the ceiling gives a perception of height, while the bling from the chandeliers provides the appropriate grandeur for the space.
How does the end result match up with your original vision?
There are always problems that crop up on projects and have to be addressed; however, most are not design-changing problems. There were no issues that altered the design on this project.
What lessons did you learn?
The economy has dictated and changed how everyone in the design and construction industry approaches projects. Knowing how to read your client and not being timid about asking for a bottom line is something all designers need to include in their client-designer interviews.
What are the "hidden gems"?
The beveled-glass doors with glass shelves and lights became a main focal point for the south side of the kitchen and definitely made a big difference in the aesthetic success. Optimizing cabinet storage with pullouts is what should never be left out of any kitchen design and will be the one item that clients will thank you for each time they open their cabinet doors.