Small Kitchen, Big Makeover
Designer Laura Dalzell helps this family of six get the stylish, convenient kitchen they need, making sure there's plenty of room for everyone.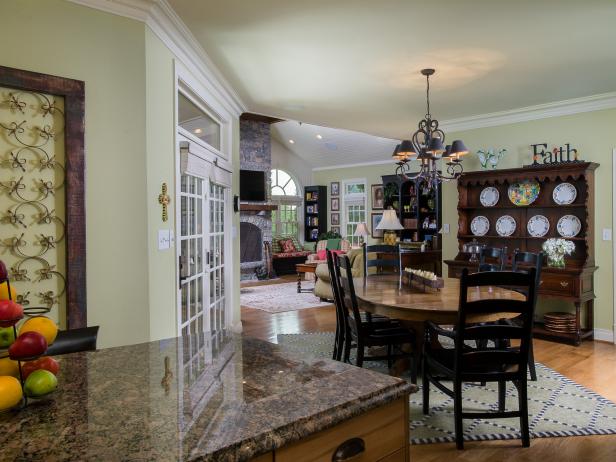 Beige Dining Room With Country Table & Hutch
Just off the kitchen sits a casual country dining room with enough seating for the entire family. A pretty patterned area rug helps to separate the two spaces, while a heavy wood hutch provides a functional display area for tableware.
Walt Roycraft, Walt Roycraft
A couple who moved into their home shortly after getting married has discovered that several years and four children can really take a toll on the home. But thanks to designer Laura Dalzell, their small, worn-out kitchen is now an expansive and beautiful space.
Describe the homeowners' wish list.
The owners built their house and moved in just after getting married. Twenty-two years and four children later, the kitchen, breakfast room and family room were worn out and bursting at the seams!
What was the biggest issue the design addressed?
Traffic flow through the most used part of the house was terrible. Major bottlenecks occurred in several places, and getting to the kitchen from the garage with groceries was a major chore.
Walt Roycraft, Walt Roycraft
After
Describe an obstacle in the space.
The biggest obstacle was trying to design a better kitchen in the existing location. The solution: Swap rooms!
How did the end result match your original vision?
Circle-top windows were used in the new family room, flanking the fireplace. These created a much more dramatic effect and look more balanced with the massive dry-laid stone between them.
What lessons did you learn from this project?
The adage "think outside the box" really came into play on this project. Swapping room functions made all the difference in the world.
What are the hidden gems that make a big difference?
One of my favorite things now is the expansive view when coming in from the front of the house through the new archway (which used to be a solid wall) and out the circle-top window in the family room. Other gems include: the tucked-out-of-sight media center and wet bar on the back wall of the family room; the built-in message center at the end of the kitchen just inside from the garage door; stone and the solid wood mantel shelf for the fireplace from the family's farm; and the fact that the family of six can now comfortably sit together at the breakfast table.