Family-Friendly Home With Unique Wood Features
A home was redesigned to be more family friendly, including opening up the floor plan, raising ceilings and adding architectural interest. The design by Regan Baker dresses up a mostly white palette with colorful wallpapers, tile and patterns throughout.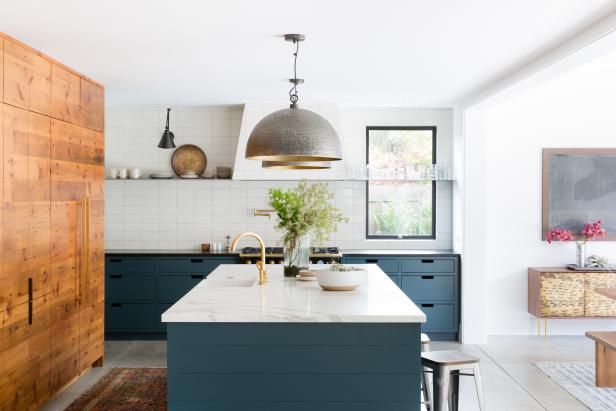 Transitional Kitchen With Blue Cabinets
The white walls in this transitional kitchen are offset by striking blue-gray cabinetry. An unpainted wall of cabinets near the island emphasizes the wood grain.
Describe your clients and their goals
When our clients initially bought this home, the "before" version was on HGTV's House Hunters. A couple of years after the project was complete, they were filmed as part of the follow-up House Hunters: Where Are They Now, which is slated to air summer 2017. The clients say people still stop them because they recognize them from the original show.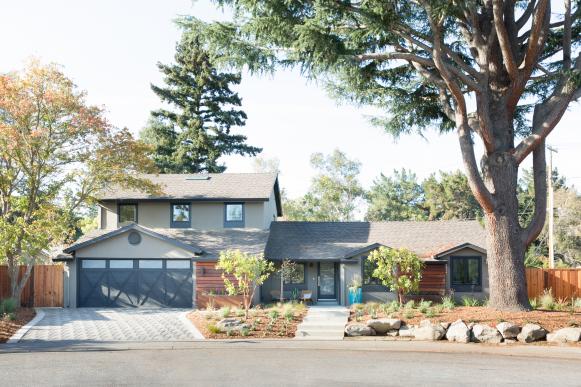 Gray Transitional Home Exterior
Wood siding adds an unexpected touch and texture to the exterior of this gray transitional home. Simple landscaping adds curb appeal to the property.
The client, Heather, is a real estate agent, so she saw a lot of potential in this builder-grade home. Her husband, Brad, works for Google as an engineering director and wanted to move to Mountain View to be closer to work. They have two children, a boy who is 8 and a girl who is 6.
What did your clients want for the redesign of their home?
We were lucky enough to have previously worked with these clients on their home in San Francisco, so we already had a good understanding of their style.
Most of the important things were related to changing the layout of the house. This was a builder-grade home, and some of the original space-planning decisions were questionable. For example, when you entered the front door, you walked right into the kitchen. The family wanted an entry/mudroom where they could store shoes and sports equipment.
Also, the master bedroom was unusually large, and in order to get to the master bathroom, you would have to walk through the closet, which was a bit awkward. We reconfigured the entire master suite to get the best use out of such a large space. We relocated the master bathroom to make it bigger, and created a small room that could serve as a lounge, an office or even a nursery.
Our clients are also environmentally conscious, so we used a lot of reclaimed materials throughout the house. For example, the beautiful wood featured in the kitchen is reclaimed hemlock, which also provides a focal point and adds warmth to the kitchen. Also, the family spends most of their time in the kitchen and they really love to cook. We added a beautiful La Cornue range that is not only a quality brand with a long legacy, but it is also a piece of art that fits the family's everyday needs.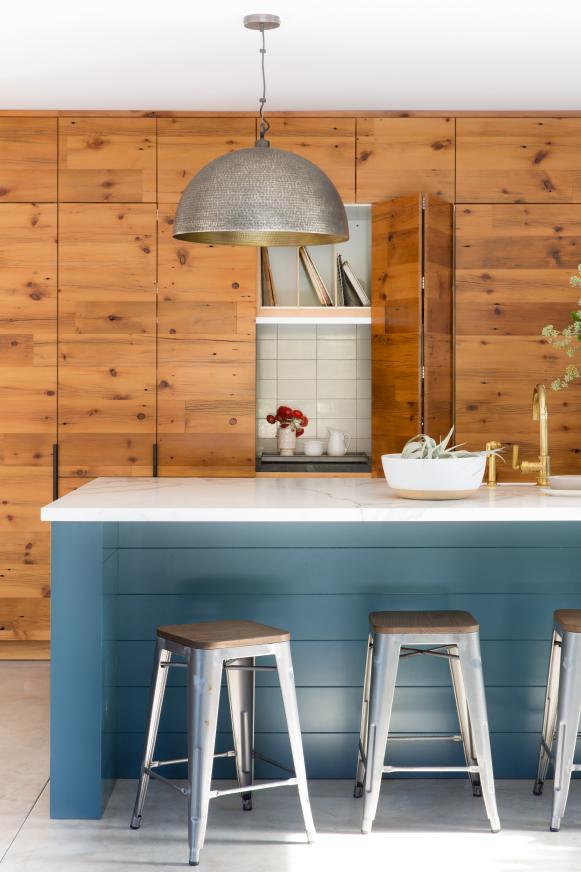 Transitional Eat-In Kitchen With Blue Island
The doors of the floor-to-ceiling cabinetry in this kitchen are both beautiful and practical, with doors that fold back accordion-style for easy access and matching panels that conceal the refrigerator. Barstools stand at the ready in front of the large blue island for a casual dining option.
In addition to the reclaimed hemlock in the kitchen, we added more warmth and interest by using board-formed concrete on the fireplace, cedar wood beams on the ceilings and custom teakwood storage in the entry/mudroom.
How did you make the home more functional?
We already mentioned some of the layout issues, which weren't ideal, especially for a family with young kids. When we studied different options for where the kitchen could be located, we landed on a place that provided Heather and Brad with a line of sight into the family room, so they could keep an eye on the kids while they were doing homework, watching TV or playing games, as well as the backyard.
When our clients bought the house, they were excited about the idea of having a big backyard for their kids. They have a wonderful vegetable garden, and even chickens. They also love entertaining and wanted to create an indoor/outdoor space to connect their main living areas to the backyard. We decided to add a Nanawall that opens up their kitchen and dining room to the backyard.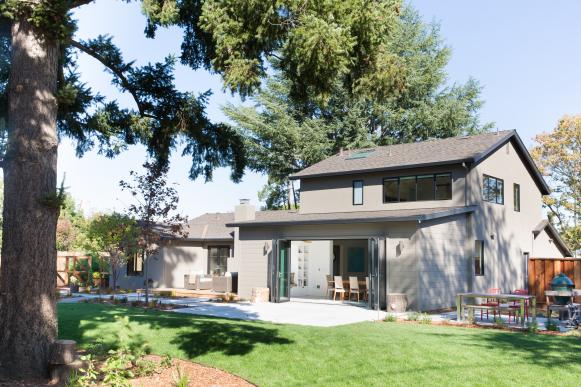 Gray Transitional Home Rear Exterior and Backyard
This backyard features a large patio and big, grassy lawn for a space that's just right for playing and entertaining. Large trees provide plenty of shade for staying cool on hot days.
The washer and dryer were previously located in the garage, and with young children and constant laundry to do, that wasn't very convenient. We created a new laundry room, which we've hidden behind a touch-latch door, that now allows for more convenient and interior access.
What was your biggest obstacle during this project?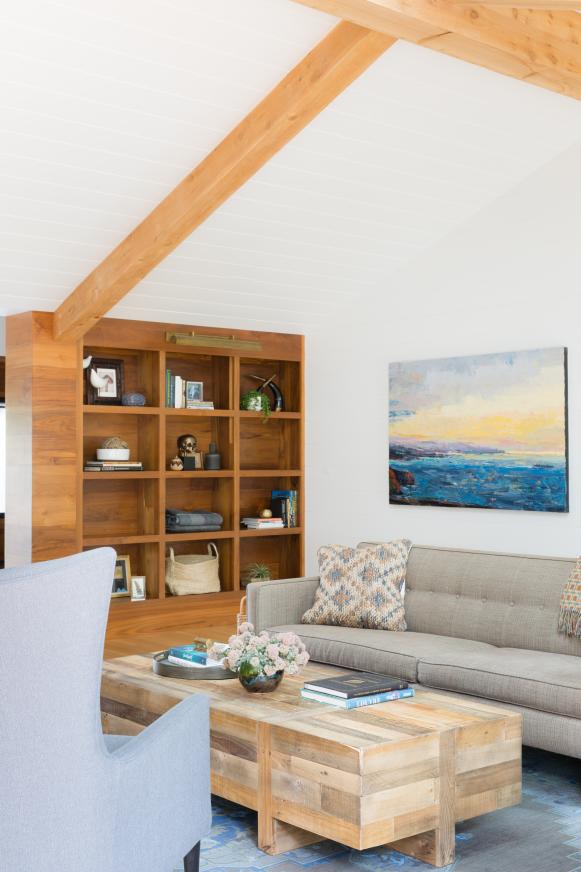 White Transitional Living Room With Vaulted Ceiling
Exposed wood beams against a vaulted ceiling add architectural interest to this white transitional living room. A built-in bookcase serves as a statement piece and focal point as well as a place to display family knickknacks.
In the living room, the existing plate heights of the ceiling were lower than we preferred, which provided a challenge when we wanted to add the cedar ceiling beams. With the existing plate heights, the beams would not have a natural place to land. Our solution was to pitch the ceiling, allowing us to add the ceiling beams to bring in more warmth and character to the space. We were lucky to have an existing roofline that allowed us to pitch the ceiling.
How did you effortlessly marry rustic and modern styles?
We love mixing different styles in a home, and feel this is a way to give a home warmth, interest and characteristics that are unique to the homeowners. When we started on the project, our clients had recently stayed in a home in Healdsburg, California, and fell in love with its rustic yet modern style, which helped provide us with a great starting point.
What inspired the coastal details throughout?
Designing for families is always so fun, because we can create a space that is exciting and personal to them. We love using bold patterns and textures. Since the home is in California, these design elements were also inspired by a coastal style. And one our favorite ways to bring in bold patterns is by using wallpaper.
We sourced a few of the paintings through Arthaus in San Francisco, and we loved the extra pops of color they added to each space.
In the girl's bedroom, how did you mix different prints without making the room seem busy?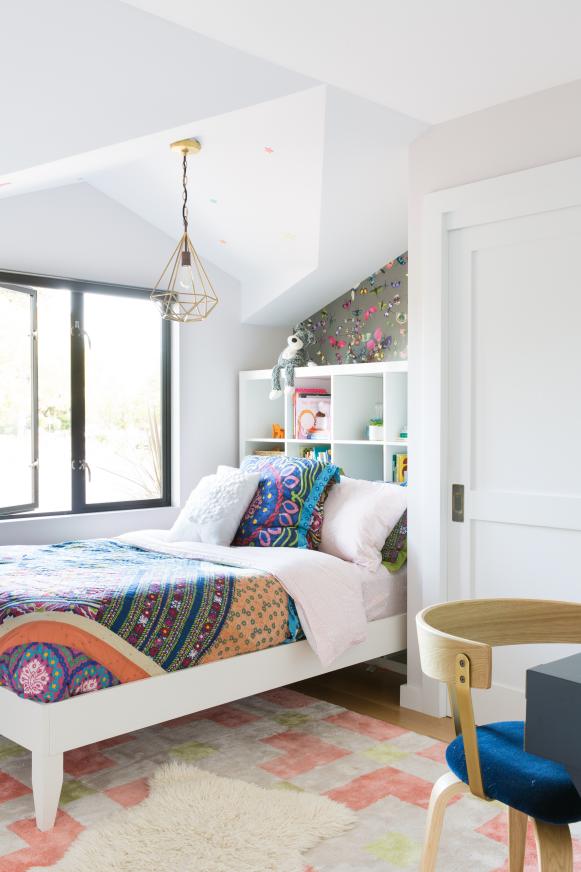 White Contemporary Girl's Room With Angled Ceiling
A bed with a bookcase headboard fits perfectly in the niche under the angled ceiling in this girl's contemporary bedroom. An accent wall of colorful butterfly wallpaper adds extra color to the white space.
In the girl's bedroom, our clients wanted a style that could easily transition with her as she got older. Using patterns is a great way to do this. In the bed niche, we designed the wallpaper and bedding together, and focused on the patterns, which helps give the room a grown-up feel.
Were robots a must in the boy's space?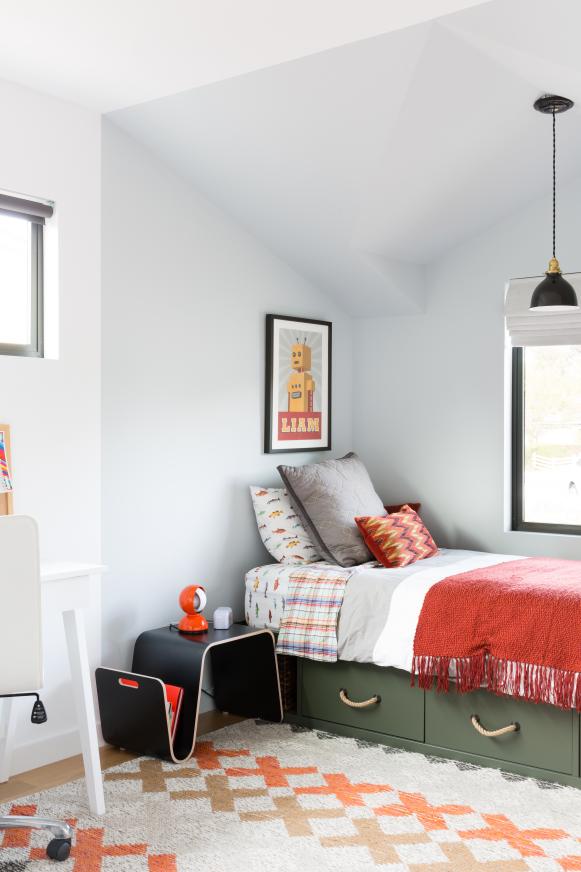 White Contemporary Boy's Bedroom Has Sleek Aesthetic
A set of under-bed drawers adds extra, hidden storage to this contemporary boy's bedroom. The room's white palette is dressed up with orange, red and gray and a fun robot art print.
In the boy's bedroom, we painted the bed nook a few shades darker than the paint in the rest of the room. This gives the illusion of architectural detail and shadowing, which creates interest and adds dimension to the bedroom.
What makes this project uniquely yours?
At Regan Baker Design, we always aim to create a space that is modern and classic, yet comfortable and casual. In addition, we think it's important to bring warmth and interest into each room, using colors, patterns or textures. We love using color, whether it's just pops of color through accessories, or color pulled in through a beautiful rug or artwork. Patterns can also be brought in through accessories, but our favorite way to add pattern is through fun tile or wallpaper, which always helps set a room apart from others. Finally, we love bringing in texture through fabrics, such as leather or wood, whether it's flooring, furniture, or something unique like ceiling beams or custom built-ins.
What "hidden gems" are in your design?
We really love the reclaimed hemlock used in the kitchen, which also provides hidden storage. This is where the refrigerator and pantry are located, but we also added a hidden appliance garage. The appliance garage allows everyday items, such as a coffeemaker or toaster, to be easily accessible and stored without cluttering the kitchen countertop. We also added a drawer in the kitchen with a charging station inside to avoid the kitchen countertop clutter of mobile devices and cables.