Use these flowers as engaging container garden centerpieces.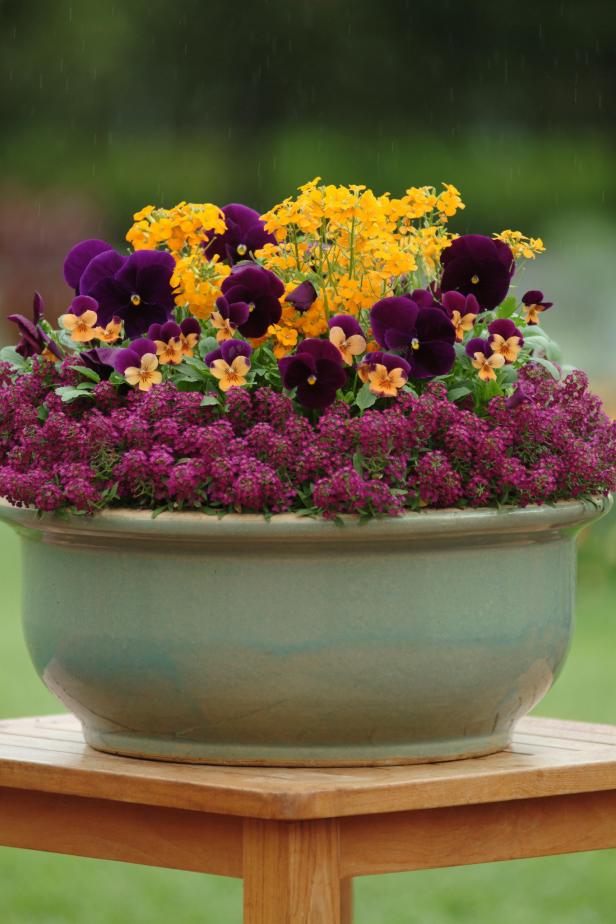 Cool Season Container Garden
Celebrate U-Dub with floral finery in Husky hues of purple and gold. This fragrant combination plays through a Pacific Northwest winter without missing a blooming beat. Start with a 14-inch (or larger) container. Fill the center with 'Citrona Orange' wallflower, spacing four 'Matrix Purple' pansies evenly around it. Plug 'Sorbet Orange Duet' viola into the empty spaces between pansies, and finish the container with a ring of 'Easter Bonnet Violet' sweet alyssum. Snip blooms as they fade for the longest flower show.
Ball Horticultural Company
September may spell an end to summer but don't let it put the brakes on your gardening. In fact, fall's cool weather will surely recharge your creativity because it's the perfect time to plant trees, shrubs and perennials. That's because the plants aren't forced to battle the summer heat, yet the soil is still warm for establishing their roots.

Shrubs and perennials are not only the backbone of the garden but also make great companions for that floral workhorse dominating garden center shelves right now: the pansy. There's good reason that this tough, cheery annual is so wildly popular. Pansies can brighten a lawn or container on winter's grayest days like no other. And they provides three seasons of color and texture, from the coolest days of October until the warmest afternoons of May.

Yet, as popular as they are, pansies (and their little cousins, the violas) should never be left alone – not with all the great choices in companions out there. Pansies shine even brighter when planted alongside everything from winter vegetables and culinary herbs to evergreen ferns and flowering perennials. Pansy companions can create even prettier pictures within the confines of a container garden. Even just a few pots of these colorful combinations on your patio or around your garden will add a splash of color to the bleakest of landscapes. Like me, my colleague Kathryn Moomaw, a senior horticulturist at the Atlanta Botanical Garden, subscribes to the old "thriller, filler, spiller" approach for designing eye-popping container gardens:
Find an interesting plant to place at the center or the back of your pot. Think small evergreens such as boxwoods, conifers, camellias, and rosemary topiaries. At the same time, don't rule out small deciduous trees and shrubs that because of their bark or structure make strong architectural statements. Two Japanese maples, 'Bihou' with its brilliant yellow stems and 'Beni Kawa' with vibrant red limbs, make great candidates. And in spring, both can be transplanted to your landscape.
These are smaller plants for tucking in around the thriller. Combine winter vegetables such as kale, ornamental cabbage, Swiss chard and parsley with your pansies and violas for contrasting textures to the flowers. Other options for colorful foliage include Heuchera, Euphorbia, Dusty Miller and autumn ferns. Though they may bloom only sporadically during the winter, Dianthus, Erysimum and snapdragons can also provide a splash of color in early spring. While most of these plants require full sun, some will thrive in winter's partial shade, such as most conifers, violas, Dusty Miller, parsley and cilantro.
To soften the edges of the container, add spillers, such as cascading Vinca major, ivy, Sedum 'Angelina' or Creeping Jenny. For the biggest impact, invest in the largest specimens of these trailers.

Finally, for an unexpected touch, tuck in a few spring bulbs, such as daffodils and tulips. Plant them underneath your pansies and other "fillers," and watch them poke their heads up in March and April with a surprising explosion of color!