Gardening expert Paul James suggests ways to avoid common landscaping and gardening problems.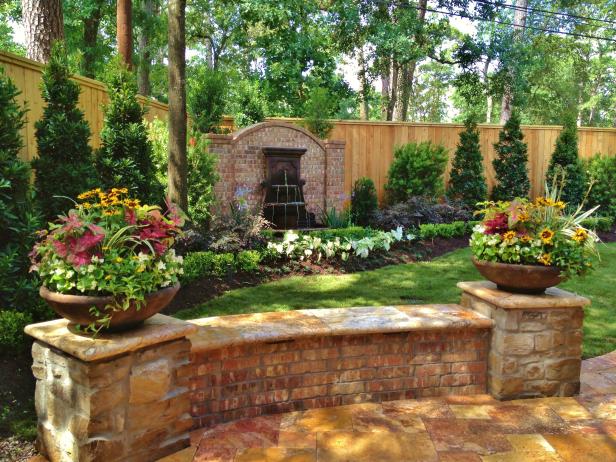 Enclosed Garden With Low Brick Wall
Before you choose your plants and their permanent locations, notice how the sun and shade move through your yard.
Designs By Elizabeth
Before you choose your plants and their permanent locations, notice how the sun and shade move through your yard.
Even the most experienced gardeners make mistakes now and then, and master gardener Paul James is no exception. The Gardening Guy discusses ways to avoid some of the more common pitfalls:
Pitfall: Planting too close to a wall means that there's just a little air circulation between the plant and the wall, and fungal diseases can run rampant.
Solution: Keep plants at least a few feet away from walls.
Pitfall: Planting in straight lines (or curved lines, for that matter) isn't a mistake per se, but very often one plant — or whatever reason — doesn't perform the same as others. One plant may grow at a slower or faster rate than others in the line and in some cases die outright, which ruins the entire planting scheme. Finding a replacement plant of the same size as the others can be difficult if not impossible.
Solution: If you plan on planting five plants in a line, then buy six or seven plants at the same time, and stick the extras somewhere else in your landscape. Then, if something goes awry with one of the plants in the line, you can dig up one of the reserve plants to replace the one that died.
Pitfall: Planting on a slope can be a problem primarily because water tends to quickly run off the slope before it has a chance to seep into the soil. That can lead to erosion on steep slopes. It also means that whatever is planted on the slope may not get enough water
Solution: Regardless of what you're planting, create a level planting area. For example, James planted a young dogwood, raising the low side of the slope with soil so that the tree is actually growing on a level surface. If you are forced to plant on a steep slope, then chances are you'll be better off to actually create terraces and stair-step the planting area. This requires a lot of digging and very often constructing retaining walls, which means a lot of work. Before you choose your plants and their permanent locations, notice how the sun and shade move through your yard.

Pitfall: An odd but not uncommon situation is a garden bed that's divided in two parts: one in full shade and the other in full sun. Planting in a spot like this can be tricky — particularly if the sun or shade scenario changes throughout the day.
Solution: Monitor the situation by noting the hourly changes that take place during the day. Pay close attention to which areas receive mostly sun or shade. Only then can you begin to make your plant selections. Remember that while most sun-loving plants can grow with as little as three or four hours of sun, most shade-loving plants can't handle more than an hour or two of sun, and only morning sun.

Pitfall: Planting on easements, which are areas of your property owned by the city, can create problems. Easements are areas of your property that extend out from both sides of the property line a few feet and very often run the entire property line. To find out where the easements are on your property, check your plat, title or abstract. Easements are there because there's some sort of gas, water or power line below the ground. Although it might be legal to plant on an easement, if the city should need access to the easement to repair lines, it has no responsibility for your plants.
Solution: Don't plant anything on an easement (unless you don't mind losing the plants), and don't place a shed or other garden building, especially one that's built on a cement slab. Such a structure is not legal in most cities, and you might have to move the building and slab if you ever decide to sell your house. It's best not to plant trees below power lines, because the power company contractors have the authority to trim them back.

Pitfall: String trimmers are a threat to trees and shrubs (especially young ones), and also to turf (especially if the grass is cut too short). Accidental hits by the string leads to unsightly dieback around trees, borders and other areas that are routinely trimmed.
Solution: Try to trim the grass roughly the same height as you cut the lawn to create a cleaner look and avoid nicking tree trunks.

Pitfall: Kids can litter the lawn with all sorts of things by the end of a summer day. If left on the grass for more than a day — especially in hot weather — these items can damage the lawn, sometimes permanently.
Solution: Try to remove toys and other items from the lawn as quickly as possible.