How to Make and Can Applesauce
Once you have this easy, homemade applesauce recipe down, canning applesauce is a great next step to ensure you always have delicious applesauce on hand.
Fresh applesauce is a joy and pairs especially well with oatmeal, pork chops or yogurt. Additive-free applesauce is a recommended baby food. It can also be used as a healthy substitute for oil in baked goods. And, not for nothing, it's awfully good all by itself.

Making applesauce from scratch is surprisingly easy and carries all of the benefits that come with using fresh produce. Many store bought applesauce brands contain additives, coloring and more sugar than seems reasonable for a "healthy" treat.


Applesauce provides unbeatable flavor and moisture to this easy-to-make bundt cake.
Unlike store-bought applesauce, what you make at home can range greatly in taste depending on the apples you choose. Among the sweetest are Fuji, Gala and the Cameo. At the other end of the spectrum lie the Pink Lady and the iconic Granny Smith.

Using a blend of different types of apples in you applesauce can yield complex flavors tailored to your individual taste. I lean away from the overly-sweet and generally use a combination of a mildly tart apple like the Braeburn or Honeycrisp and a sweeter apple such as a Fuji or Gala. With those seven thousand varieties at your disposal, it should be easy to find a blend that satisfies the palate without the need for added sugar.
Find out what the US Apple Association says are the top apples.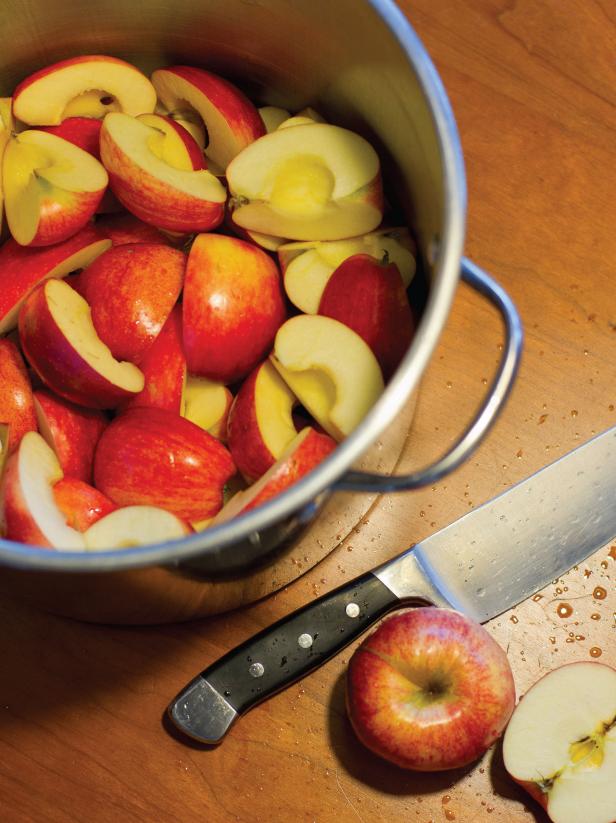 Preparing the apples
You will need: 6 lbs of cooking apples (about 18-20 depending on size) 8 cups apple juice zest and juice of a lemon 1 cup sugar 1/4 cup packed brown sugar 1 1/2 tablespoons molasses 1 1/2 teaspoons cinnamon 3/4 teaspoons ground cloves 1/4 teaspoon ground allspice Wash, stem, quarter and core all of the apples leaving the skin intact. Place apples in a heavy pot with apple juice. Bring to a boil and then reduce to simmer. Cook, covered, until soft (about an hour).
No special equipment necessary! Peel, core and slice about 3 pounds of apples. No need for a food processor, as the flesh will break down nicely in the cooking process and the familiar consistency will be achieved with little more than a spoon or rubber spatula.

Alternately, the apples can be washed and cooked without the effort of peeling or coring by passing the cooked results through a sieve or food mill.
Stovetop: Combine apples with just an inch or two of water in a heavy saucepan. Cover and cook at medium-high heat for 15 minutes or until the apples become soft and begin to break apart.

Pressure Cooker: Using a pressure cooker helps hold in that fresh apple flavor. Two minutes at full pressure in about an inch of water is all it takes to achieve applesauce.

Microwave: In a hurry? Combine apples with 1/2 cup of water in a glass bowl. Eight to 10 minutes on high will also do the trick.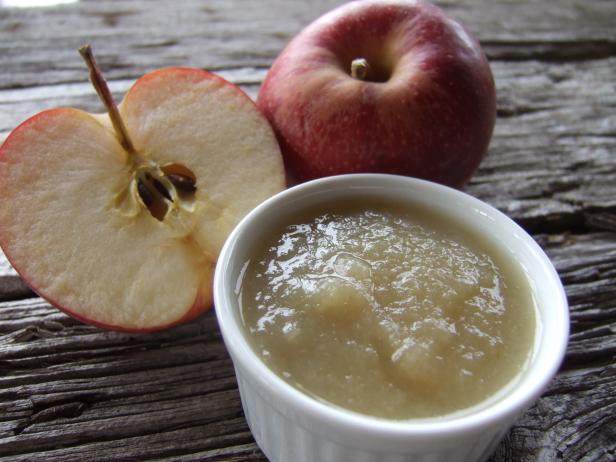 Homemade Applesauce
A family favorite, applesauce blends well with many mealtime menus, standing in as side dish or dessert. Best of all, applesauce is easy to make. Simply peel, core and cook apples until they fall apart easily with a spoon. Add seasoning (think cinnamon and maple or agave syrup) while cooking or after. Applesauce without seasoning varies in color, based on the type of apple you use. In some cases, cooking the apples with peels on results in a pink sauce. To remove peels, just run the cooked apples through a food mill or strainer. Make applesauce as chunky or smooth as you like. For long-term storage, freeze or can it using a boiling water bath.
While it's still hot, stir in to taste whatever suits your fancy. Cinnamon, nutmeg and allspice are all popular choices, but even a little black pepper works well against the sweet sauce.

At this time, sugar may be added. But with the right apples, it may not not necessary.

Serve warm or keep refrigerated for future use.

Applesauce is also a terrific candidate for canning. Follow these directions for canning your applesauce.