Garden Ideas: Ideas for All Types of Gardens
Looking for garden landscaping ideas? Discover great ideas for gardens of all types.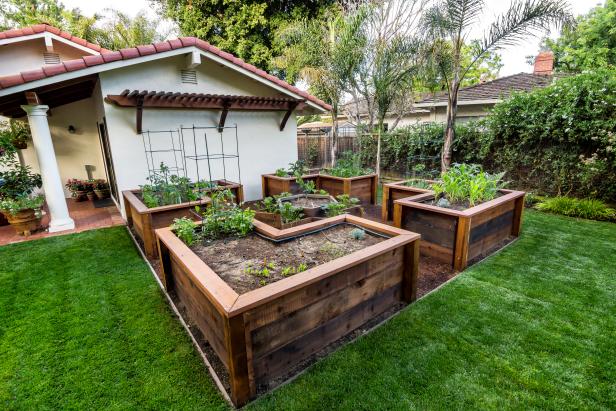 Inviting Backyard With Raised Garden Beds
Raised garden beds making planting and harvesting a cinch. A red brick patio leads out the yard, which is surrounded by trees and beautiful plants for privacy.
Give your yard a facelift by adapting different garden landscaping ideas to your style and budget. Maybe you want to create a family staycation destination or are hoping to trim your food budget with an edible garden design. You may yearn for flower garden design ideas so you can always have fresh bouquets in your home. Whatever your greenthumb hankering, we'll help you find ideas for gardens that will make your yard the talk of the block.
You can find all sorts of garden ideas in many different places. Online photo galleries, videos and chat rooms burst with inspired ideas and easy step-by-step instructions. Local garden tours also provide a wealth of ideas for gardens. Before you embark on renovating your yard, explore different types of garden designs.
In a metropolitan environment, urban gardening design ideas earn top billing. These design strategies focus on space-savvy techniques, from custom tree containers, to hanging mirrors to create the illusion of space, to selecting plants in a simple color palette (another space-enlarging trick). You'll find similar garden ideas and tips when you study small garden designs. In small spaces, every inch must work hard.
Small gardens typically include seating areas with open-weave furniture that's in scale with the abbreviated space. Water features usually boast a tiny footprint, like a wall fountain, while vertical garden designs take plants upward. Pressing walls into service as garden space isn't new—consider the Hanging Gardens of Babylon. But new technologies, like planting pouches and living walls, give the tradition a modern twist that's easily adapted to any garden space.
Raised bed garden designs can make a big impact in any size backyard—including courtyard gardens. When should you consider raised beds? Anytime you're dealing with difficult native soil that's tough to dig or refuses to grow plants. With a raised bed garden design, you can customize soil inside the bed to suit whatever crops you intend to grow. In small gardens, build raised garden beds to a height that lets bed edges double as seating.
Employ a rain garden design to transform a soggy spot into a beauty spot. Rain gardens offer an environmentally friendly choice in any backyard garden design. By slowing and stalling stormwater runoff so it can soak into soil, these gardens help recharge local groundwater supplies and might earn you a waiver of municipal stormwater runoff fees.
No matter what types of garden ideas you're considering, always explore inexpensive options. Any money you save on hardscape or the design process is money you can sink into soil improvement, which is the secret behind every successful landscape. Many clever ways to trim garden budgets have little impact on how a garden landscaping idea ultimately looks.
For instance, you can build your own firepit that creates a striking focal point in your yard—and serves as a family gathering spot for years to come. Or you can design flower gardens that set a beautiful backdrop no matter the season. Or you might even devote a section of your yard to an herb garden design that seasons flavorful family meals and helps supply the makings of herb wreaths, butter, vinegar or blends that you give as gifts.