Garden Landscaping Design Ideas
Create attractive gardens with easy garden landscaping design ideas.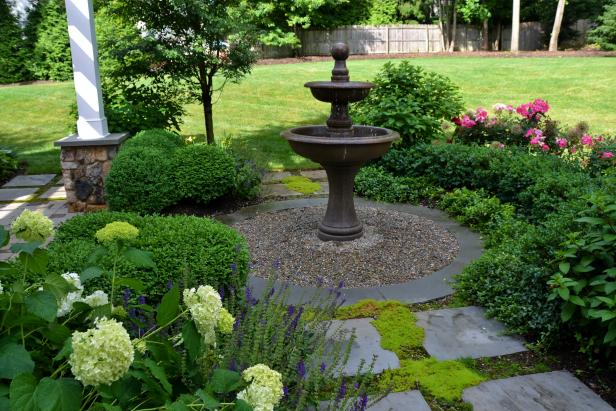 Garden Fountain Feature
A lovely water fountain centers the garden, adding a beautiful final touch to the design.
Whether you're growing vegetables, flowers or both, you can create attractive gardens with these easy garden landscaping design ideas.
If you're planning to integrate your garden into an existing yard or other outdoor space, the key word is design. Don't be intimidated by it. Drawing up a few plans on your own is as easy as using a children's coloring book.
First, choose the area you'd like to transform into a garden. Is it adjacent to a lawn? On a hill? Next to the street? As long as it has viable soil and adequate access to full sun, any size or shape area will do.
Next, measure the potential garden area and draw it on a sheet of paper. This drawing will be your planting and design guide.
Decide the purpose for the garden. Will it be a quiet sitting area with pavers and a bench surrounded by roses? Or will it be your all-purpose summer vegetable patch, with rows of cucumbers and tomato vines surrounded by a fence or mesh to keep critters away? Will it be a formal English garden or maybe a Zen garden with an uncluttered feng shui look and a bubbling water feature?
Once you determine the type of garden you're planting, then you can envision how it integrates into its surroundings. If your garden space borders grass, maybe you need a visual demarcation such as a row of short ornamental grasses, or you might even desire fencing. (For the traditional cottage look, a 3-foot white picket fence makes a cute garden border.) If you're going for a more natural feel, edges can be softened with mulch, pine straw or gravel.
Use your drawing to determine how much of the ground you wish to cover, what shape your plantings should take, and which plants you'll place in the garden, keeping in mind their size, color and care. Symmetry is a matter of personal taste; so don't feel like you have to plant equal numbers of everything. Companion planting is important in small gardens; planting flowers or vegetables with similar sun and watering requirements is a good idea. Also, be sure that any groundcover plants have room to spread without encroaching on the roots of nearby plants or lawn.
Choosing plants for your garden should be based on your local topography and Hardiness Zone. If you live in a dry or rocky area, a cold climate or a warm, humid tropical environment, you should choose plants that will thrive locally.
Finally, make a list of materials, including your plants, any groundcover (brick pavers, stepping stones, gravel, etc.), and furniture or accessories – and browse online plant shops or head over to your local garden center to get an estimate on costs. Adjust your garden plans according to your bottom line. Happy planting!