Discover different types of iris you can grow in your garden.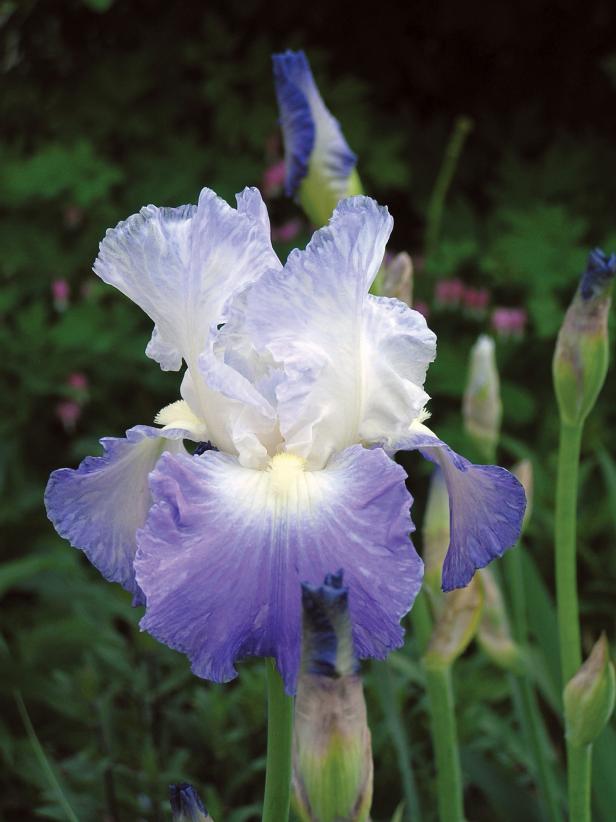 Iris 'Clarence'
February birthdays are represented by violets or irises, flowers that suggest loyalty and faithfulness. The three upright petals of an iris bloom can indicate courage, faith and wisdom, or friendship, hope and compliments. 'Clarence' is a tall, beareded iris with pale blue standards and violet-blue falls.
Improve the spring and summer color quotient in your landscape by adding beautiful iris varieties to planting areas. Different types of iris can carry a garden with strong flowering from spring through summer, if you're willing to grow many iris varieties, including some that might need to be raised in pots.
Iris varieties include the spring favorite, bearded iris (Iris germanica), pictured. These showy perennials open brightly tinted flowers from mid-spring to early summer, depending on the hybrids you plant. Bearded iris are usually hardy in Zones 3 to 9 and include types of iris that are dwarf, knee-high and full size (reaching 40 inches tall).
To extend the bearded iris flower season, include reblooming iris in your landscape. These perennials can be hardy from Zone 3 to 9, depending on the iris varieties you grow. Reblooming iris offer varying degrees of reliability when it comes to rebloom. Make sure you purchase ones rated to rebloom in your hardiness zone. Be patient with reblooming iris, because many need to become established in the garden for a year or two before they start reblooming.
Siberian iris (Iris sibirica) is a tough perennial type of iris that brings exquisite beauty to late spring and early summer garden. Blossoms unfurl to reveal purple and blue iris flowers, along with blooms in shades of red, white, pink, orange and yellow. Plants are hardy in Zones 3 to 9 and form clumps of grassy leaves that add a fine texture to perennial garden designs.
One of the beloved iris varieties for cutting gardens is Dutch iris (Iris hollandica). This iris has beardless blooms in a rainbow of hues. It flowers in spring and is hardy in Zones 5 to 9, although gardeners in Zone 5 should mulch bulbs after the ground freezes in fall.
Orchid-like iris flowers make wonderful additions to garden bouquets, lasting up to a week as all the buds on a stem open. Dutch iris grow from bulbs that are planted in fall in zones where the plants are hardy. In colder zones, bulbs go into the ground in spring, and they're usually treated as an annual.
If you're looking for types of iris that can grow in standing water, check out Japanese iris (Iris ensata). This exotic, elegant bloomer tolerates up to 6 inches of standing water—but only during the growing season. In winter, this beauty needs to be in drier conditions. Try growing it at the base of downspouts or along a stream, or tuck it in pots that you submerge in a water garden during warm weather and remove for winter.
Other types of iris include African iris (Dietes bicolor), which is a drought-tolerant beauty that's hardy in Zones 8 to 11. The flowers on this perennial contain traditional features of other iris varieties, although blossoms are somewhat flattened and delicate. They open to reveal yellow petals with purple splotches and resemble butterflies floating above leaves.