Sunflower Meaning and Symbolism
Discover the imagery behind a familiar and beloved bloomer: the sunflower.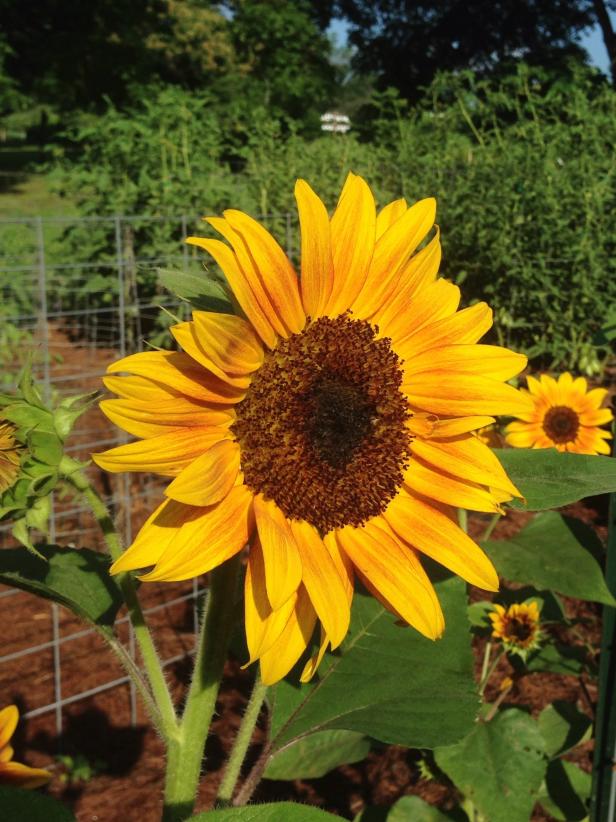 Sunflowers
A kitchen garden is not complete without these sunny faces bobbing above the rows. Try a dwarf variety, such as Botanical Interests' Elves pack, or skyscraper-tall stalks for wide-eyed wonder. Start from seed easily, or get a headstart with a 'Ring of Fire' in a biodegradable pot.
Enhance the beauty of sunflowers by investigating the symbolism of these cheery bloomers. Sunflower meaning varies based on cultural and religious roots, but many aspects of sunflower symbolism remain constant in legends and mythology. Explore the botanical name of this annual flower, Helianthus annuus, and you learn that it derives from Greek "helios" (meaning sun) and "anthos" (meaning flower). The word "annuus" translates as annual, so the botanical name's literal translation is sunflower annual — a perfect description of this pretty plant.
More Advice
Learn the ins and outs of growing sunflowers. Planting these bright and breezy bloomers is a snap. Growing them is even easier.
Plant and Grow Sunflowers
Sunflower meaning in various cultures runs counter to the idea of a short-lived annual. In China, for instance, sunflower symbolism includes the idea of longevity and long life. Many groups associate sunflowers with prolonged constancy and loyalty, reflecting the flower bud's tendency to follow the sun across the sky.
Greek mythology celebrates a sunflower's apparent dedication to the sun in the tale of a water nymph who fell in love with the god of the sun, Apollo. In her adoration of Apollo, she would sit on the earth and gaze at the sun (Apollo) day after day. While Apollo took no notice of the water nymph, the other gods felt compassion for her and turned her into a sunflower.
This myth explains why sunflower buds always follow the sun. Other general sunflower meanings include focus, healing and warmth. In China, sunflower symbolism extends beyond longevity to include good fortune, vitality, intelligence and happiness.
Various faiths have adopted sunflowers to express a symbol of worship and faithfulness, as in the flower's faithful dedication to the sun. The golden petals and the blossom's resemblance to the sun has expanded sunflower meanings to embrace the idea of spiritual knowledge and a worshiper's devotion to seeking the light of truth.
Explorer Francisco Pizarro recorded that priestesses in the Incan empire wore golden sunflowers on their priestly garments. Sunflower images have also been discovered in ancient temples of the Andes.
Native American cultures in North America celebrated sunflowers in their harvest festivities, elevating sunflower symbolism to include harvest, bounty and provision. Sunflowers have been grown for centuries not for their beauty, but for their usefulness in providing edible seeds, oil, dye pigments (from petals) and stalk pith, used for making paper.
In the modern world, sunflowers are the gift of choice for third wedding anniversaries and are the state flower of Kansas, which is known as the Sunflower State.
In the language of flowers, giving sunflowers reveals adoration. Another more recent sunflower meaning is a world free of nuclear weapons. When Ukraine surrendered its last nuclear warhead in 1996, officials from Russia, the United States and Ukraine marked the event by scattering and sowing sunflower seeds.