Discover how to winter geraniums using simple techniques and easy-grows-it tips.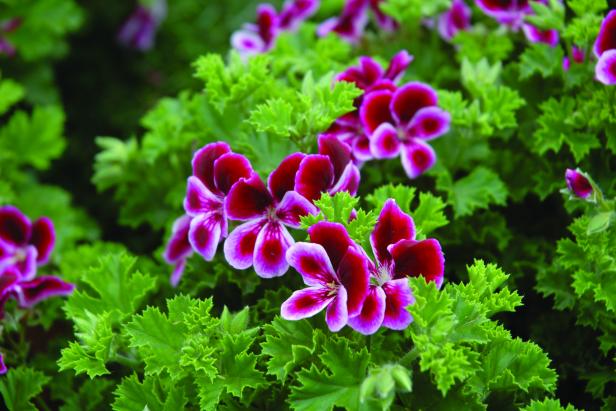 Geranium 'Angel's Perfume,' courtesy of Burpee
You'll catch the light, citrusy scent of lemons in 'Angel's Perfume,' a 2014 geranium introduction from Burpee. The burgundy blossoms are backed by ruffled, cool-green leaves. Best of all, this geranium can take shade to full sun. The plants grow 12" to 14" in height and width.
It's not difficult to master wintering geraniums, thanks to their tough-as-nails constitution. By storing these plants in a dormant state or treating these annuals as houseplants, you can get a jump on next spring's garden season—and save a few dollars along the way. Learn how to keep geraniums over winter.
Choose geraniums that belong to the Pelargonium genus for overwintering. This includes zonal or cutting geraniums, as well as ivy, scented or seed geraniums. Although Regal or Martha Washington geraniums fall into this group, they don't usually overwinter well. Treat these cool-season favorites as true annuals and compost them when their flowering season draws to a close.
A low-effort method for wintering geraniums involves storing plants in a dormant state. Zonal geraniums yield consistently successful results with this technique due to their hearty genetics. Other geranium types may or may not overwinter well as dormant plants. This is the way that many of our grandparents overwintered geraniums, in an era when basements often had dirt floors, stone walls and high humidity. Modern basements are frequently too dry and warm to use this method.
Prepare geraniums for dormancy by lifting plants from soil. In cold regions, you can wait until a light frost zaps leaves if you want. A frost also helps by knocking down insects that might be hiding among leaves. Definitely gather geraniums before a killing frost occurs. Knock most of the soil from roots. You might want to cut plants back by one-third to one-half, but it's not necessary.
Our grandparents hung their plants from basement rafters. In lieu of rafters, place plants into brown paper bags or boxes—some kind of container that supports plants but also allows air circulation. Check plants every four weeks. If stems start to shrivel, soak the rootball in a bucket of water for an hour or two. Allow plant and soil surfaces to dry to a dripless state before returning geraniums to their storage containers.
In spring, plant geraniums a few weeks before setting plants outdoors. Soak the rootball overnight before planting and knock off any remaining brown leaves. Take care not to damage any white or light green growing shoots. Set plants near bright windows to encourage growth. Stems will green up before new leaves start to appear.
You can also pot up geraniums and tuck them into a protected location outdoors. Just be sure to bring plants inside if a late spring frost threatens. Once plants are leafed out and growing outdoors, trim back any wayward stems or ones that failed to leaf out.
Another method for wintering geraniums is growing them as houseplants. You might want to cut plants back by one-third to one-half, depending on how much room you have indoors. Provide bright light, cool air temperatures and water only when soil is dry. Check plants carefully before bringing indoors to make sure you're not ferrying insects inside.
Wintering geraniums causes plants to produce larger flowers as plants mature in years. This is especially true for zonal geraniums. Plants that are just a few years old can produce flower heads the size of softballs. Keeping geraniums over winter also saves money—money that you can spend on other plants for your garden.