22+ Tips for First-Time Landlords
Are you considering renting your property? Remember these tips before you take the plunge.
Have you been bitten by the income property bug, or are you moving and planning to rent out your old home to a new family? Or do you simply want to lease out your home on weekends or when you're away on vacation? There's a lot to consider before you take the leap into becoming a landlord. Get the know-how now, and avoid surprises later.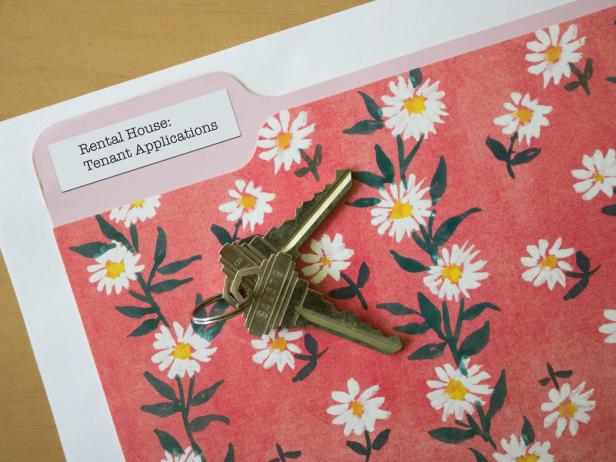 Things You Need to Know Before You Become a Landlord
Tips for first-time landlords.
Don't Be In It For Instant Money
Of course it's about the money. But the money is probably not going to be rolling in for a while. If the home is paid off, you're going to be enjoying the dough a little bit more than someone with a mortgage. When I decided to move and rent out the home I owned (with a mortgage), I knew most if not all of the rent was going to be filtered back into the banks and taxes for 15 more years. The opportunity for equity is there, especially if you can use the rental income to pay off your loan faster, but you may not have that luxe vacation funded by your rental property for quite a while.
This critical comment was given to me early on when I decided to rent my home. It didn't make sense at the time, but it does in hindsight. To effectively and objectively manage the property, it's helpful to position the property as something bigger than just you. This is no longer your house, this is a house owned by a business — with legal obligations — and you need to separate the business needs from emotional needs, such as if a tenant is a week late with rent.
As part of the rental process, you'll consult with lawyers, insurance companies and accountants, and you should use their business advice to help guide you through complex (and emotion-driven) situations in defense of sustaining the business. For example, you can say "I'm sorry, I'm required to charge you a late fee if rent is more than 24 hours late. It is processed by my accountant, so I don't have control over it". Or, "Unfortunately, our insurance doesn't cover damage caused by BB guns, and if the behavior is reported again I will be required to evict."
Have an Impeccable Bookkeeping Process
For a small-owned operation, bookkeeping is something you can easily organize yourself. Keep a detailed archive of all events — things you purchase, vendors you pay and materials you purchase to maintain the home.
Put Everything in Writing
Everything should have a paper trail, digitally or handwritten. If it's handwritten, do yourself the service and digitize it for good measure. Bookkeeping is a lot of work, but dedication to organization is where it's at.
Speak to an accountant or tax planner with experience in filing taxes for landlords. This expert will help advise on how you need to organize your expenses, what documents you're going to need at the end of every tax year, and how you should go about paying yourself for this side hustle (It's important to know upfront how that extra income is going to affect your federal and state taxes). If it's helpful to you, they can run numbers before you rent to make sure you're charging the correct amount. This is the ultimate reality check to determine how well your business might work for you.
Know Housing Laws, and Consult With a Lawyer
Applying for a Certificate of Occupancy (COO) will introduce you to all housing laws you need to be aware of before you rent your space. The office staff at your town or city's housing department will be a wealth of knowledge, so befriend them, and always be on the up-and-up with respect to inspections and licenses.
Consulting with a lawyer is always advisable too; you may not need to retain them, but having someone reviewing the language used in your lease and terms will surely put you at ease.
Shop Around for Insurance
Homeowners insurance on dwelling properties is higher than it is on your primary residence for various reasons, but shop around and you'll be surprised how much the quotes can vary. If you keep all home insurance policies at the same company, they may be willing to offer you a discount. Furthermore, if you explore liability insurance (which you should), an insurance agent can help you write a good umbrella policy to protect yourself, your property and your family.
Quite simply, let your tenants know you are only available to answer your phone during certain hours. Allow it to go to voicemail outside of that, and only respond to the message if it's an urgent matter. Avoid texting with your tenants because the expectations of immediacy will surely disrupt your night out.
Avoid Renting to Family and Friends
Or, do at your own risk with firm guidelines and expectations. It's easier to evict a stranger.
I always said I felt lucky to have rented to people who I would legitimately befriend — couples and individuals who were friendly and seemed honest and didn't give me reason to worry. The truth is, don't let your guard down. Even the friendliest of people can have quirky habits, like always being a few days late with rent or hop-skip-jumping to a new job every four months leaving their security to question.
A few things to consider asking for during the application process:
salary verification letter
credit verification
personal and professional references (including their current boss)
Have a Very Clear Stance on How/When Rent is Owed and Late Fees
State this in the lease, and more importantly, stick to your guns. Make the terms suitable to your needs, so you can keep up with overhead costs related to your rental property.
Be Clear About What Will Happen if They Break the Lease
Have all of the terms in writing, including how and when the lease needs to be renewed, and what costs will be incurred if a lease is broken. Many landlords plan their renewals around spring/summer to make it easier to re-lease the space, but if a tenant decides to leave in the winter, the landlord might enforce extra penalties if it's deemed harder to fill a residence. That said, there are always people looking for homes, so be optimistic. There will undoubtedly be moments of stress when a tenant decides to leave.
This is also a good time to note a policy about subletting, which is common, but not always allowed. Think about it, and define your stance.
Take Several Photos Before Renting (and When Each Tenant Leaves, Too)
Know exactly what the property looked like before and during tenants, so you can compare to assess damage and have a visual archive of changes that were made to the home.
Be On the Up-And-Up With Inspections
Don't become the slumlord. Your town or city will have very specific regulations that you need to keep in mind, and inspections are a part of that. Keep your certificate of occupancy up-to-date, and oblige to regular inspections to be sure your tenants are safe and to avoid being fined out of the blue.
When it's time to start showing the space, the unit doesn't need to be fully furnished but it does help to have a few items in place. For example, a dining room table with florals is a nice visual for someone walking into a home, adding a kitchen island temporarily will help show how functional the space can be and putting a few framed images on the wall will reflect light and make a home feel more comfortable. Similarly, in bedrooms, install the curtain rods yourself. Show the property staged with curtains, and the tenants may decide to use your hardware to make their space just as home-y.
Hardwood Flooring Is Easier Than Carpet
Staining is less prevalent, and it's easier to get them looking like new between tenants. Plus, as a former tenant, I liked moving into a place that didn't have carpet germs from the previous resident.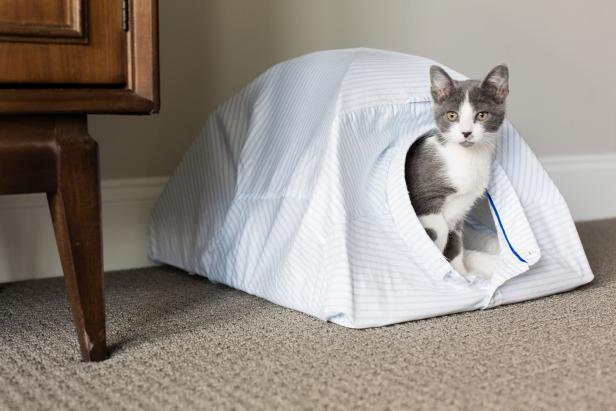 Cat In Tent
All you need is an old shirt and a few things you probably already have around the house to create the ultimate lair for your best bud. First clip and straighten two wire hangers. Bend both into an arch. Cross them over one another, securing them at the top with duct tape. Push the end of each wire through the corners of the cardboard base below, bending at a 90-degree angle to secure. Next, drape the shirt over the wire framework, lining up the collar along the base so it's the ideal entry. Neatly fold and wrap the sleeves and excess material around the bottom of the cardboard base and secure using tape.
Flynnside Out Productions
My husband and I had pets, which made it hard to say no when a tenant asked us if she could get a cat. Why not? We love pets! Especially snuggly ones that are house-trained and sleep all day. But not everyone cares for their pets in the way you would expect. When poorly trained or neglected, it doesn't take much for any pet to damage floors and screens, and leave an aroma not even the most scented and determined cleaning products could eliminate. Allow that to permeate your mind for a second, and if you're going to allow pets, be certain your security deposit covers worst-case scenario clean-up expenses.
Similar to pets, you might find that your tenants hobbies can cause conflict. There's less you can do to be aware of these hobbies upfront, but being an active landlord (or having an active property manager or nosy neighbors) can help to thwart unusual behaviors.
Having the know-how to do simple repairs and upkeep around the home certainly cuts back on your need to be reliant on others (and it's more rental income in your own pocket), but choose your battles. Having a reliable handyman available to help late at night or to cover situations that arise when you're out of town will put you and your tenants at ease.
Be Prepared for Seasonal Maintenance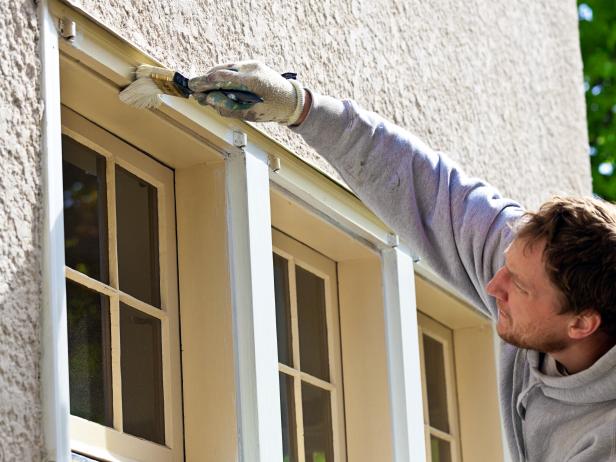 513063028
A professional house painter, small construction business entrepreneur, home owner or handyman works on exterior wooden surface, painting house window trim for repair and home improvement. The working man wears a painting cap, protective work gloves, and hooded sweatshirt, carefully brushing the paintbrush to apply latex paint for fall maintenance.
If you take it on yourself, remember to consider how much your time is worth. You might find that contracting out seasonal tasks like the below is a better value for your budget:
lawn mowing
mulching and weeding
tree trimming
general landscaping
cleaning siding, windows and door screens
snow removal and salting
leaf removal
Be Prepared for a Lapse in Tenants
Regardless of how much notification you receive of a tenant's departure, it's virtually impossible to clean and turn over a property to a new tenant without a small window of vacancy (Wherein, you're not earning money). Be prepared for the reduction in income, and have a contingency plan for fronting the mortgage for an upwards of several months until the new tenant is in place.
Realize People Are Much Harder on Property They Don't Own
Care and respect goes out the window, to some degree. My tenants broke things that I never could have fathomed damaging – I'm talking about breaking the basement stair treads, warping the window screen so it no longer slid in the track, chipping tile grout and scraping every inch of door trim when they moved their furniture in and out. Just know that anything can happen, and that's another good reason to follow my "Don't have heart" advice.
We're sorry, there seems to be an issue playing this video. Please refresh the page or try again in a moment. If you continue to have issues, please contact us here.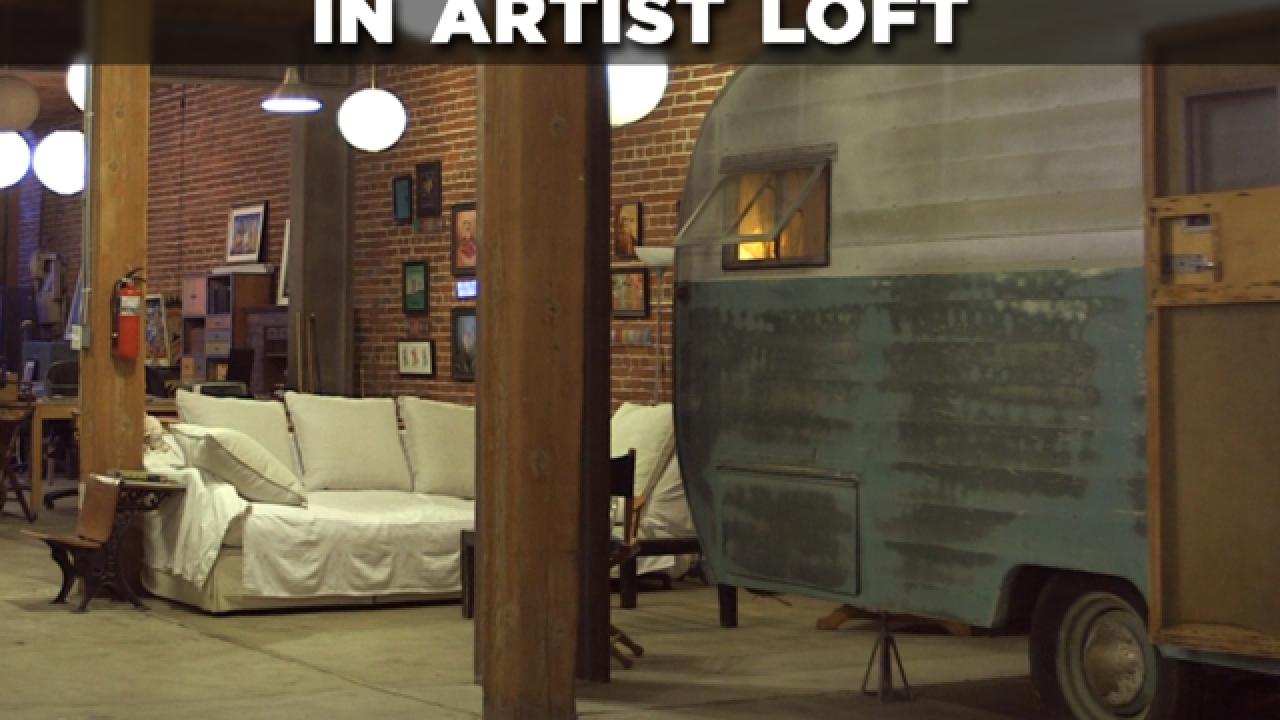 For both the seller and homebuyer, renting to own a house can be a dream come true — or a nightmare. Find out if this type of real estate transaction is right for you.
Get expert tips for picking a construction manager and crew for your addition project