Pros + Cons of Rent-to-Own Agreements for Buyers and Sellers
For both the seller and homebuyer, renting to own a house can be a dream come true — or a nightmare. Find out if this type of real estate transaction is right for you.
For some people, renting to own conjures up the term "predatory lending." For others, it presents a path to homeownership that might otherwise be unattainable. Renting to own offers many benefits as well as pitfalls, depending on your situation, so it's important to fully understand the process before signing a rent-to-own contract.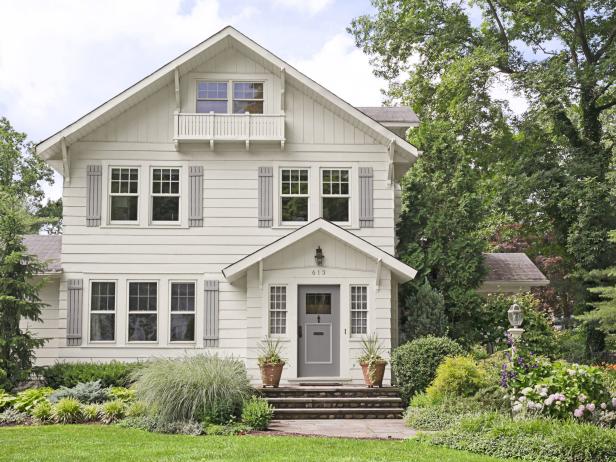 White and Gray Home Exterior With Gray Front Door
This home keeps its style crisp and classic with a white exterior and gray accents like its shutters and elegant gray front door.
Renting to own is an alternate route to buying or selling a home when traditional home loans are not an option. There are two types of rent-to-own contracts. Lease-option contracts give the renter the option of buying the home but does not obligate the renter to do so. Lease-purchase contracts, which are less common, require that the renter purchase the home. It is important that the buyer and seller agree upfront about the terms of the contract to avoid misunderstandings down the road.
Rent-to-own agreements have two components: a lease and an option to buy. Agreements typically require an upfront, non-refundable down payment called the option fee. This ranges anywhere from 1% to 5% of the purchase price. Often, a portion of the down payment goes toward the eventual purchase of the home.
For the duration of the lease, renters pay a monthly rent. Sometimes the renter pays a rent that is slightly higher than the market rate, with the additional amount going towards the final purchase. Some contracts also require renters to pay for certain home repairs and maintenance costs that go beyond typical tenant obligations. After an agreed amount of time, typically one to three years, the renter may then purchase the home for the price stated in the agreement.
Whether you are the buyer or seller, it's important to work with real estate agents, lawyers and mortgage brokers who have prior experience with rent-to-own agreements. Lease-option and lease-purchase contracts can be complicated and it's important that qualified experts help you understand your rights and responsibilities.
If you are a seller, have a mortgage broker involved at the outset. If the mortgage broker reviews your potential buyer's paperwork and feels that he or she will be a good candidate to buy the house in the next several years, you can feel reassured that you've done everything you can do to ensure a successful rent-to-own transaction.
Whether you're looking to sell your home or just want to stay current on its value, here are some tips to help you determine what your home might be worth.
You don't rent-to-sell your house to become rich. You do it to avoid becoming poor. If you're relocating for work, scaling up to a better house or moving unexpectedly, and the market is preventing you from selling your home, then renting to sell may be a worthwhile alternative to paying two mortgages every month indefinitely.
If you find someone who is interested in buying the house but can't because their credit isn't quite right, this is how a lease-option or lease-purchase should work:
After securing the go-ahead from a mortgage broker and before moving in, your potential buyer will give you a healthy, nonrefundable deposit to go toward the down payment of the house. Typically, this is

1% to 5%

of the purchase price.
The buyer rents your house for a period of time. This time period is variable but typically ranges between one and three years. During this period, the renter pays you monthly rent. Often, a portion of the rent goes toward the eventual purchase of your house.
In a lease-option agreement, your renter has the option to buy the home after the agreed amount of time. Since renters put a considerable amount of down payment money toward buying the home, they generally choose to go ahead with the purchase. If they don't, the seller keeps the down payment money.
In a lease-purchase agreement, the renter must purchase the home after the agreed amount of time. Renters who choose not to buy the home at this point may be sued by the seller for breaking the terms of their contract.
If you're thinking of renting to sell your home, be aware of the downsides and risks. Here are some possible scenarios to keep in mind:
Renters don't always end up purchasing the home. Some renters, even after paying a down payment and monthly rent, still can't get approval from a bank when it comes time to purchase your house.
Your renter may have trouble paying rent, which is especially problematic if you depend on this rent to pay the mortgage on the house. Should you decide to end the relationship due to rent delinquency, your renter may resist being kicked out of your home.
Your renter might treat your home poorly. This would not be an issue if the renter goes on to buy the place, but if they decide to opt-out of the purchase, you may be left with a home in need of major repairs and deep cleaning. Fortunately, one of the benefits of renting a house to someone who plans to buy it is that they tend to treat it much better than they do a place they believe they'll never own. In fact, some people may treat your home better than you would.
Even with rent-to-own agreements, you are still a landlord. If your renters want to refinish the basement, for example, they will likely need to obtain your permission first. If there is a leak in the roof, mold in the walls or some other structural damage, it's ultimately your job to fix it, even if your contract states otherwise. These types of maintenance issues are bound to arise over the course of your contract, so you must be prepared to bear the responsibility of a landlord.
"Everyone getting into this has to understand that this is all subject to landlord-tenant laws," says Vena Jones-Cox, a real estate broker and investor in Cincinnati, Ohio, who has lease-optioned several hundred homes as the seller. "There are a whole bunch of laws out there, like lead disclosure. People will think, 'I don't have to do that because it's not a rental,' but it is — all of those general laws referring to the rental are applicable to you. Until the option is exercised, it is a rental." (That said, although the laws are slightly different, any home seller or landlord is required by federal law to disclose the presence of lead or other hazardous materials found in their home, if they know of its existence. After 1978, lead-based paint was outlawed for residential use.)
As long as you own the deed to the home, you may still ultimately be responsible for unpaid utility bills. According to Vena, in many states, the water company will send the bill to the tenant of a house. However, if the tenant doesn't or can't pay it, the homeowner is responsible. Vena recommends looking for a potential buyer who has a history of being a responsible tenant.
Learn about the various steps in the foreclosure process and ways you can avoid losing your home.
Renting to own may appeal to prospective homeowners who do not qualify for a mortgage now but expect to be better qualified in the near future. Here are some benefits of renting to own:
In some contracts, renters can lock in a purchase price based on current market rates. So even if the market gets sizzling hot and the home's value increases over the course of the contract, the renter is entitled to purchase the home at the agreed-upon price. Rent-to-own agreements may be an attractive option in reliable markets where home prices are expected to increase.
If your credit score is too low to qualify for a mortgage, you can 'lock in' a home at current market rates and then work on improving your score over the course of the rent-to-own agreement. If you still do not qualify for a mortgage at the end of a lease-option agreement, you are not obligated to purchase the home.
A rent-to-own agreement allows you to test out the home before ultimately purchasing it. This gives you the opportunity to find out if the home has any long-term issues or concerns that you would not necessarily learn about with a traditional home purchase.
A major disadvantage of renting to own is that renters lose their down payment and other non-refundable charges if they decide not to purchase the home. Some sellers may even take advantage of renters by making it difficult or unappealing to purchase the home — with the goal of keeping the down payment.
Locking in a purchase price can be an advantage in reliably hot markets, but it is a liability in less predictable housing markets. If home values plummet over the course of your rent-to-own agreement, you will still be obligated to purchase the home for the higher price stated in the contract. Not only does this make the home a less attractive investment, but you may also have more difficulty obtaining a loan.
Beware of clauses that affect your exclusive right to purchase the home. For example, in some contracts, your right to purchase the home may be forfeited if you fall behind on rent payments.
How to Sell or Find Rent-to-Own Homes
If you are thinking of buying or selling a rent-to-own home, you can start by checking out sites like Foreclosure.com, RentalHouses.com or iRentToOwn.com, which claims to be the largest marketplace for rent-to-own homes in the United States. iRentToOwn.com allows you to list your house — for a fee, of course — and potential buyers can search the database for homes. The site also has a wealth of information on real estate agents and experts in each state who specialize in lease options, like real estate attorneys and firms that perform background checks.
Find out the advantages and disadvantages of these urban abodes. Plus, learn about HOAs, and get advice on buying property and hiring a real estate agent.
Another way to find or sell rent-to-own homes is to reach out to an agent who has experience with this corner of the real estate market. If you are a buyer, you can also try directly approaching owners of homes that have been on the market for a long time. These owners may be open to discussing alternative options to selling their homes.