Rent Out or Swap Your Unsold Home
If you're having trouble selling, try marketing it as a vacation destination.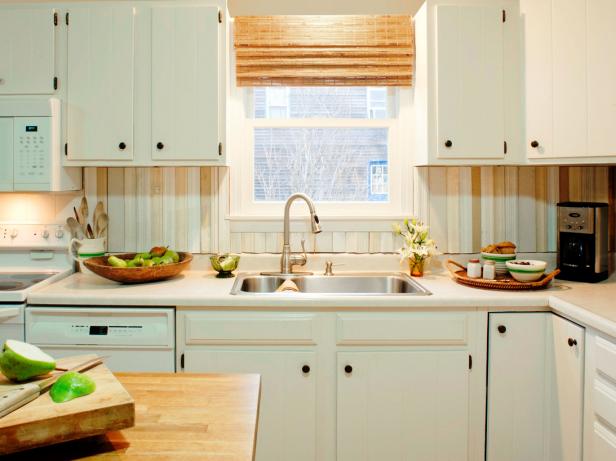 White Kitchen With Salvaged Wood Backsplash
Salvaged molding and old boards add cottage style with plenty of texture. To make this backsplash, cut a thin piece of plywood to the exact wall size. All the molding is cut to size and attached to the plywood, then the whole thing is simply screwed to the wall.
If your home has been languishing on the market for months, there are ways to make it work for you. Consider posting your property online as a vacation destination -- through a home rental or swap.
"People swap homes for a variety of reasons," says Helen Bergstein, owner of the online home exchange Web site, Digsville.com. "Many of our members have swapped homes as a way of scouting relocation destinations for a lifestyle or job change."
Homeowners hoping to make money off their slow movers can rent their home out at nightly or weekly rates, like a hotel or bed and breakfast. Sites like VRBO.com let homeowners post listings of their available properties for interested vacationers.
Say you've always wanted to visit Paris or you're thinking of relocating to another state but want to check out the area first. Consider home swapping. It's not a new concept, but it has become increasingly popular as homeowners look for ways to leverage their properties in a slow market. As a home swapper, you can:
Exchange your home for vacation purposes, while waiting for the housing market to improve
Try out potential places to move (in the U.S. and overseas)
Try out another home of a different size or style
Possibly find a buyer interested in buying your home
When Christine Harmel of Charleston, S.C., decided to put her traditional Southern home on the market, she had a short list of states where she was interested in relocating. She posted her home on Craigslist and mentioned that in addition to selling her home, she was open to conducting a vacation swap with a homeowner in Austin, Texas.
"A family contacted me that also had their home for sale and they were interested in visiting Charleston, so we swapped homes for 10 days," Harmel says. "Our homes were both listed for sale for almost the exact same price so it was a very even swap."
While Harmel's Charleston home was a traditional Southern home, the Austin family owned a new modern home.
"It was nice to try out a different style of home for a week but I decided I could never live in a modern home," Harmel says. "I ended up buying a traditional home in Austin, and the family I swapped with sold their home for a more traditional home and stayed in the Austin area. It was a great experience and allowed me to check out the Austin area before I committed to moving there."
While Harmel's story has a happy ending, know that there are risks to loaning your home out to people you don't know. Be wary of scams and take these precautions:
Conduct thorough interviews and ask a lot of questions.
Consider signing up with an official home exchange program.
Consult with a real estate professional or broker who specializes in home swapping.
Consider drafting a contract for the arrangement. Global Home Exchange.com offers a free downloadable contract. Consult with an attorney.
Ask for references.
Home exchange networks offer consumers an additional layer of safety, by giving "members the benefits of a community of review," Bergstein says. "We have a rating system that allows members to rate their exchanges and we provide a customer service option, household rules, home amenities, housekeeping style and more for people who may be new to the home swapping process."
The secret to successful home swapping is clear communication between both parties, Bergstein adds. A reputable home exchange should never involve one party being asked to wire money or to send checks or money orders in advance. Be wary of anyone who refuses to give out the physical address of the property.
While Bergstein says most home swaps exceed consumers' expectations, it's always a good idea to ask questions about issues that may be important to you, such as whether the other party is a smoker, has pets or if the home you're visiting is childproofed so that you can feel comfortable staying there with your family.
"Before you swap homes you should feel comfortable asking all sorts of questions and requesting additional photos," she says. "If you're dealing with someone whom you feel is not providing the info you're looking for or you are uncomfortable in any way, that's your red flag to move on."
Once a home swap has been established, Bergstein suggests that both parties agree on ground rules and note if there are any areas of the home that are off-limits.
Consider listing your home on the following Web sites:
Craigslist: List your residence under vacation exchange for homes across the country.
VRBO: If your primary residence is going to be vacant or you are interested in exchanging your vacation home, Vacation Rentals by Owner offers vacation home listings posted directly by the owners.
Digsville and HomeExchange.com: These home exchange networks charge yearly fees for families who want to connect with other potential swappers from around the world.
SERVAS: Unlike a home exchange network, this is a homestay network in which you live with a family in their home. Shel Horowitz, a 25-year member of SERVAS, says several families have come to visit in her Hadley, Mass., home who had homes on the market and were looking to relocate to the Boston area.