5 Projects With a Big Return on Investment
Discover the top five projects that have the highest return on investment when selling your home.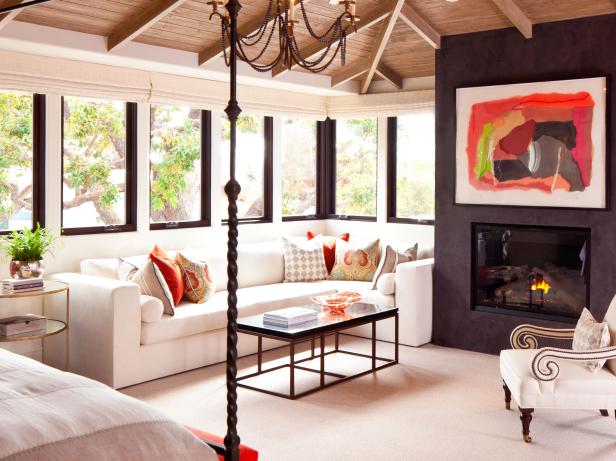 Master Seating Area and Venetian Plaster Fireplace
This master bedroom suite used a neutral color pallet creating an ideal retreat for relaxation. The Venetian plaster fireplace, spacious seating and art piece help maintain the Mediterranean feel and create an intimate space.
Photography provided by Donna Puzifera
Average return at resale: 102 percent
It costs about $10,500 to replace the tub, tile surround, floor, toilet, sink, vanity and fixtures. You'll get back an average of $10,700 at resale, a recoup rate of 102%.
Need a budget option? You can re-glaze your old tub for a like new finish for $300 to $400 dollars and get an even higher rate of return! Removing or replacing shower doors is also a low-cost change that makes a big difference in your bathroom's appearance.
Average return at resale: 100 percent
If people don't like the way your home looks from the outside, they're not likely to want to look at the inside, so it makes sense that landscaping costs reap a 100 percent return at resale.
The average homeowner spends about $3,502 for landscaping and another $1,465 on a designer, according to the American Nursery & Landscape Association. If you're not sure where to start, local garden centers often offer free design services. You can also peruse your community for ideas and ask the neighbors what works for them.
Focus on making your walkway and doorway a focal point. If your doorway is overwhelmed by greenery, replace overgrown shrubbery with flowering foundation plants mixing heights and colors for eye-catching drama. A walkway can also help lead buyer's eyes to your door.
Average return at resale: 98.5 percent
A minor kitchen remodel averages $14,913 and brings in $14,691 at resale, a recoup rate of 98.5 percent. Go for the minor remodel when your kitchen needs a cosmetic update and not a drastically different floor plan.
A $15,000 kitchen update covers 30 feet of re-facing for cabinets and drawers, a new wall oven, cooktop, sink and fixtures, laminate countertops and resilient flooring. If your home is worth more than $500,000, go with stone or trendy glass countertops.
For an even lower-cost option, brighten up the kitchen by giving your old wood cabinets new character. Just sand and paint -- it's a whole lot less expensive than buying new ones. Get the steps for painting wood cabinets.
Minor Exterior Improvements
Average return at resale: 95.5 percent
Your home's exterior should look like-new when you're selling, so it's no wonder that vinyl siding, paint and other exterior fixes all bring a high rate of return.
The average national cost to replace 1,250 square feet of vinyl siding: $7,239. Average return: $6,914, with a recoup rate of 95.5 percent.
If your home has wood siding, a few gallons of fresh paint can really change your home's appearance. Get paint color cards to take the guesswork out of choosing a color, and remember to choose a universally appealing shade (read: not lime green) if you're planning on selling soon. If you think your home was painted before 1978, test for lead before sanding or scraping.
On the porch and windows, removing old awnings can spruce up your home with minimal effort. Also, swap damaged wrought iron railings for real wood supports for a more inviting entry.
Average return at resale: 93.5 percent
Creating a bedroom out of wasted attic space reaps almost as much as it costs upon resale. The average attic bedroom in a two- or three-bedroom house costs $39,188 and returns $36,649. The best recoup rate is in the West: 105 percent; worst is in the Midwest: 82 percent.
That price includes a 15x15 bedroom, a 5x7 bath with shower, a 15-foot dormer, four windows and a closet. Can your existing HVAC system handle the load of another room? If not, factor in the cost of a second unit.