Learn the Pros and Cons of a Buyer's Agent
Learn about the advantages and disadvantages of hiring a buyer's agent when looking to purchase a new home.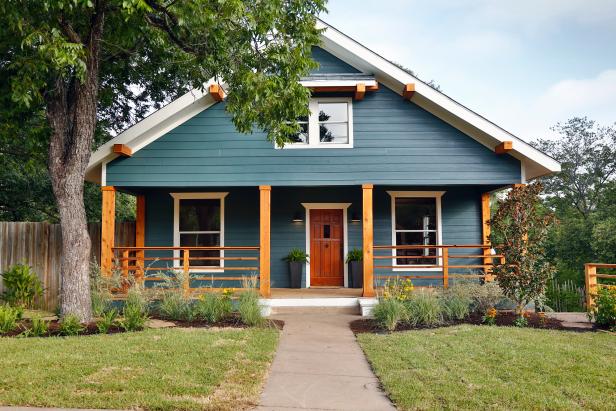 Blue Farmhouse With Wood Porch Beams
Fixer Upper Hosts Chip and Joanna Gaines transformed and updated the Batson home with new paint and warm natural wood support beams, porch railings, and fence. New landscaping and modern potted plants offer a welcoming first impression, as seen on HGTV's Fixer Upper. After #1a (Afters)
Sarah Wilson / Getty Images
While data shows that homebuyers favor the flexibility of starting the home shopping process online, 88% still opt to have a real estate agent navigate the ins-and-outs of the deal when it comes time to get down to business. The National Association of Realtors estimates that 43% of buyers take the first step themselves by doing market research on their own time, as opposed to 18% of buyers who start by contacting a realtor. There are distinct pros and cons to both avenues, so if you're on the fence, this is the insight you need.
Navigating a home purchase can be easier with a real estate agent, but a buyer needs to distinguish between the two types of agents involved in the process: the buyer's agent, who represents the home buyer, and the seller's agent, who's charged with putting the seller's best interest first.
While some buyers may complain about experiences interacting with aggressive listing agents, they should be mindful of the value that a buyer's agent can bring to the home buying process. The two agents serve very different functions depending on which side they represent in a home sale, but there are advantages to having adequate representation as a home buyer.
Agents can spot red flags. You might say home buying without a buyer's agent is a little like grilling tenderloin without a meat thermometer: you might not know there's a problem until you're sitting at the table. Working with an experienced buyer's agent can make it easier to identify and navigate issues early in the process.
A buyer's agent is committed to representing you. Both agents can set up house tours, but unlike the listing agent who represents the seller, a buyer's agent protects the buyer's interests during the crucial negotiating and closing process. The agent bargains with the seller on the selling price, facilitates the home inspection, negotiates contingencies and assists the buyer through the closing paperwork.
For many buyers, the pros outweigh the cons, but it can be important to understand two main reasons why some buyers choose to navigate the process without representation:
Money, honey! Most buyers and sellers like that they can save money by skipping the agent. You may have heard that the seller pays the buyer's agent commission (commonly 2.25% to 3.5%, or 5% to 7% of the home's total price), but we should point out that the commission is often wrapped into the house price. In other words, sellers factor in the cost of commissions when they price homes, and the listing agent and the buyer's agent split the commission from the transaction, so technically the buyer is offering the payday to both agents.
Can't find the "perfect" agent. While it's usually not too hard to find a buyer's agent that understands your wish list, it can feel challenging if you have a series of setbacks and feel like you chose the wrong agent.
What Is Exclusive vs. Dual Representation?
An agent can be both a listing agent and a buyer's agent, but with increasing frequency, many agents have started specializing in one side or another. "Exclusive buyer's agents" don't list properties at all. These agents solely represent homebuyers and avoid potential conflicts of interest with sellers.
Of course, there are still plenty of agents who will provide dual representation. "A dual agent is an agent that represents both the buyer and a seller in the transaction," says Michelle Corsi, a licensed real estate salesperson and team leader with the Steve Wrobbel Team at Howard Hanna in Rochester, New York. "The agent is not able to provide a full range of fiduciary duties, and there must be written consent by all parties for this relationship. Buyer and seller give up their right to undivided loyalty when agreeing to dual representation."
Similarly, proceed with caution if your agent shows you a house he or she is listing for a seller. You're walking into a dual representation scenario, and the agent will need to balance your interests with the seller's. Corsi adds, "A little saying I have is that using the listing agent is like stepping into a courtroom and using the opposing side's legal counsel. Everyone is entitled to have their own representation, and should."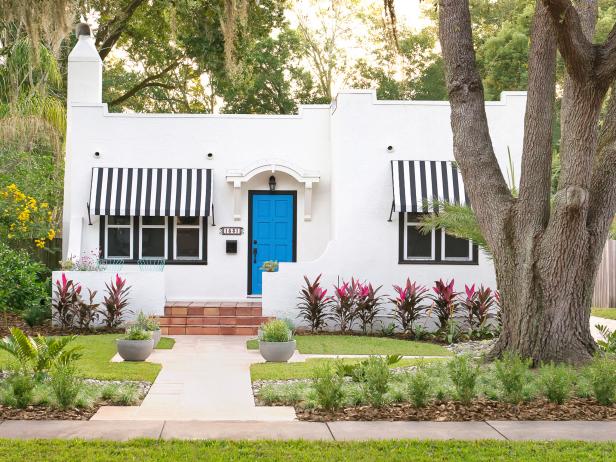 Mediterranean Style Home in Orlando Florida
This curb appeal idea was featured in HGTV Magazine
How to Find a Buyer's Agent
If you decide to use a buyer's agent, ask your friends and family for recommendations. Remember, real estate agents make their living on their reputations and they thrive from referrals!
If you are new to the area or don't have any referrals, search the internet for leads in your area, and take the time to meet several agents to find one who not only has reliable credentials but connects with you on a personal level.
When you're prequalifying agents based on your needs, be prepared to be transparent about your expectations and timeline. Come prepared with these questions:
Do you live in the area? If so, for how long? You want an agent who is quite familiar with the local geography. While you might also want someone who has insider knowledge of neighborhoods, local schools or development plans, a good agent will remain objective and refer you to third-party sources for more information to aid in your decision process.
How many people have you (not your firm) helped buy a home in the past three years? And, how many clients are you helping now? Find a real estate agent with proven success who is not so overloaded with other clients that they won't be able to balance your expectations.
Can you refer me to several mortgage brokers? Recommending ethical mortgage brokers, especially after the recent mortgage crisis, is critical. Your real estate agent likely has a network of trustworthy partners for referrals.
Do you prefer vanilla or chocolate? See how they respond to curveballs. A sense of humor is a great asset during stressful situations!
Once you find the agent you like, you may be asked to sign a Buyer's Broker Agreement committing you to a set amount of time with your agent (usually three to six months). As with all paperwork, read the fine print. Make sure that if you become dissatisfied, you can break the agreement without notice and/or an opt-out penalty.