What to Know Before Buying Your First Home
Buying a home is the most important purchase you're likely to make. You want to get it right.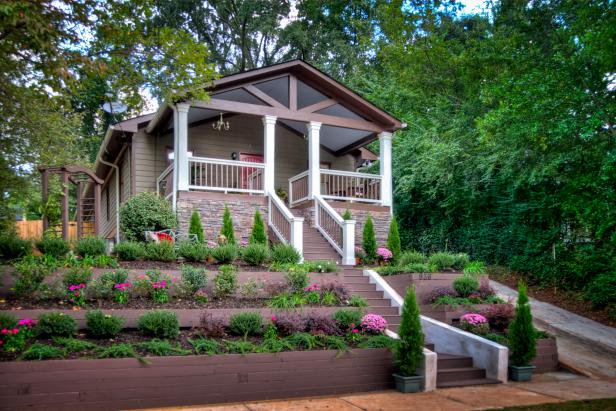 Why Curb Appeal Matters: 10 Curb Appeal Tips From the Pros
First impressions are everything -- at least when it comes to selling your home. According to the National Association of Realtors, 63 percent of homebuyers will drop by after viewing a home they like online. What will they see? The home's exterior -- including the front entry, yard, driveway and sidewalk -- should serve as a snapshot of what's to come when potential buyers enter your home, says Caroline Wilkes, owner of Caroline Wilkes Interiors on Long Island. Read on to learn 10 ways you can wow homebuyers from the curb.
By:
Annalisa Burgos

and

Geoff Williams
Life is full of exciting firsts. Your first steps. Your first day of school. Your first love. Your first job. Your first place.
Whether you want to move out of your parents' home for the first time, own a home after renting for years or buy a place with a spouse or partner, purchasing your first property is a big step. It takes a lot of preparation when you're in this stage of your life, and a little luck never hurts.
Brittany Frey, 24, may be a little younger than the typical first-time homebuyer, but she probably speaks for most of them when she talks about why she bought a house.
"I've been working at the same professional job for the past three years and feel like I'm ready," says Frey, who lives in Buffalo, N.Y. "My rent has ranged from $600 to $800 per month, and that's a lot of money to just throw away. And," she adds, "I think I was just sick of renting."
Frey is one of the lucky ones. With no house to worry about selling and it being a buyer's market, Frey could afford to take her time looking -- and then pounce. After looking at 40 houses and condos, that's exactly what she did, and she is very pleased with her purchase.
Renting instead of buying a home may seem like the most convenient or most affordable way to go. It pays to do some simple research to understand the pros and cons of buying versus renting. You may find that owning a home is actually your best option.
HOW YOU KNOW IT'S TIME TO BUY YOUR FIRST HOME

When you learn to drive, most states allow you to get a learner's permit at age 15. Any teenager thinking of joining the military knows you can't enlist until you're 18, or 17, with parental consent. And every teenager knows that it's not legal to drink until you're 21. Most folks know that no matter how ambitious you are, you can't be elected president until you're 35.
But buying a house? There is no age restriction. Some might argue you can't buy a house until you're 18, because a bank won't let a minor sign a contract, but theoretically, if you had the cash and your parents were cool with it, you could be a toddler. Or you could be a senior citizen; this writer's grandmother bought her first house at the age of 77 and is still enjoying it, almost eight years later.
It's safe to say you're going to be somewhere in between those ages -- and you're going to hear a little voice, just as Frey did, that says, "It's time."
That's largely how Heather Clark, 27, general manager for Chicago Sailing, and her boyfriend, John Honkala, 32, a Web design business owner and part-time bartender, came to buy their house.
"We were planning on moving in together and expected to just rent an apartment," says Clark, but she and her boyfriend changed their minds when they realized how inexpensive houses were becoming. But even without the lure of the financial incentives, it felt like it was the right time.
Clark says that they were both sick of moving, of dealing with landlords and of living in dated quarters. "My old apartment has been described as '80s Florida chic," quips Clark, referring, in part, to her "plastic vertical Venetian blinds."
WHAT TO CONSIDER BEFORE BUYING YOUR FIRST HOME
THE QUESTIONS TO ASK YOURSELF
Regardless of how ideal the market may seem, it's still a good idea to sit down with your real estate agent and think about how you see your life in three or five years and ask yourself some pointed questions, suggests Althea Smock, a real estate agent with ZAPA Realty in Denver.
Buying a house will have a significant impact on your finances, so make sure you can handle it.
Housing is more affordable than ever and incentives like low interest rates and the new expanded tax credit are enticing buyers to enter the market. But purchasing property involves a lot of upfront costs: closing costs, down payment, new furniture, moving expenses. Do you have enough cash?
Create a budget for the monthly mortgage payment and homeownership costs, such as general maintenance if you buy a single-family home or homeowners association fees if you buy a condo.
Say you saved enough cash, but what about your credit? It's not a secret that getting a mortgage these days is harder than it used to be. Lenders are looking closely at all documentation of your income, debts, assets and liabilities, to make sure you don't exceed the maximum debt-to-income ratio. And when it comes to credit scores, the most competitive interest rates (the 5 percent you may have heard about) only go to buyers with credit scores above 700.
The key is to review your financial situation before you check out open houses. Use our affordability calculator to see what kind of monthly mortgage payment you can comfortably afford.
Do I plan to live here for at least five years?
Most personal finance experts say that unless you plan to live in a home for at least five years, you likely won't recoup any of the expenses associated with buying and later selling the house.
Plus, your first few years of mortgage payments primarily pay off interest, not your principal, so you will not have built up a lot of equity in your home. You may be better off renting if you expect to move in the next couple of years. Just because you live in a buyer's market doesn't mean the time is right for you to buy.
If I buy with another person, how will this affect me?
Buying real estate with another person has its perks, if you both have stable financial situations. By combining cash and resources, you're likely to get a bigger, better place than you each would as individual buyers. Plus, when you're starting out, it helps to share the financial burden with someone else.
But before you start house hunting together, sit down, lay all your cards on the table and get the answers to these important questions. Whether you're buying with a spouse, domestic partner, relative or friend, setting the ground rules first will save you both a lot of headaches in the future.
Frey admits that she's spending slightly more than she wanted to, but, in the end, she decided it was worth it because "the appliances stay, the kitchen is remodeled and it's a house that I won't outgrow in a few years."
In other words, the place in which you live is an investment and the money will always be relevant, but that old-fashioned moniker "home sweet home" is decidedly modern these days. People aren't buying houses anymore; they're buying homes.
In today's housing market, we're seeing monthly mortgage payments rival monthly rents in some cities. While this may be the case in your area, keep in mind that securing the "start-up" costs of homeownership is the biggest challenge.
Buying property requires a large amount of cash upfront to cover closing costs and a down payment, which ranges from 3 percent for a government loan from the Federal Housing Administration to 20 percent for a conventional loan. That's a lot of cash to fork up. Can you handle it? Will you have enough cash on reserve for emergencies, like an accident or job loss?
How much will I spend on a monthly basis?
Your monthly payment will consist of PITI: principal and interest (determined by the home's purchase price and your interest rate), property taxes and home insurance. Your monthly homeownership budget should also include utilities, cable/TV/Internet and general maintenance costs.
When buying a condo or townhome, factor in the homeowners association fees and any special assessments.
Will buying a fixer-upper save me money?
If you're young and driven, you may not mind if your house is a fixer-upper. And if credit is an issue, that may be about all you can afford. But keep in mind that repairs and home improvements still require money, so prioritize your projects and create a budget.
The house you buy should at least fit into your five-year vision for yourself. Why spend the time and money on something you'll outgrow in a couple years?
"I've talked with a few younger people that have taken advantage of the tax credit and the buying market over the past year," says Smock, the agent in Denver. "The overriding theme with all of them now that they've owned for a year or two is that their lifestyle has changed -- of their own doing -- and the place they bought no longer works for them."
So look for a house that doesn't just fit this stage of your life, but would also work for the next one. A mistake that many first-time homebuyers made in previous years was looking at their house mostly as an investment and not a place to live and grow old. It was all too easy to say, "Well, if this small yard drives us crazy, we'll get a bigger one at the next house."
And it may, indeed, turn out to be easy -- the housing slump won't last forever -- or it may be harder than you think. You don't want to box yourself in and limit yourself before you even move in.
"It all seems like common sense," concedes Smock, "but people who are used to apartment living and changing houses like outfits will find themselves in a bind when they finally buy, because the house no longer fits their needs a year later."
And be wary of buying a home because of a low price tag -- it won't be a deal if it doesn't fit your lifestyle. Ask yourself these questions:
How often will I be at home?
If you work long hours or travel a lot, it doesn't make sense to buy a large home that requires extensive maintenance. That 3-bed, 2-bath short sale with a yard may be priced right, but who will take care of it? A one-bed condo, on the other hand, requires minimal upkeep.
Likewise, home styles like Victorians and Craftsmans are beautiful but need attention. Would a lower-maintenance contemporary home work better for you?

Who will live in the house and will that change soon?

The home should accommodate the current and intended household. But this doesn't mean you should buy a house that's more than you can afford.
If you're single, but hoping to meet someone special and settle down soon, perhaps a one bedroom isn't enough.
If you're newly married and plan to have kids, a two bedroom may not be enough room. Especially, Smock adds, if you were planning to use one of the rooms as a home office.
If you're a childless couple and plan to stay that way, you still might want to buy a home with a guest room -- just in case.
If you have a dog or several pets, a single-family house may work better than a condo in a high-rise building.
If you're a 60-something buying a first home and feel that you won't be one of those "active seniors," you may want to opt for a ranch house instead of a two-story house with a lot of steps.
What about a foreclosure?
Foreclosures are attractive because of the perceived bargain they offer, but don't be fooled. Not all foreclosures are deals. You're also competing with savvy investors who have years of experience buying distressed properties, so as a first-time buyer, it's essential you work with a real estate professional who knows the market.
Your best bet as a first-time buyer is an REO (real estate owned), a property that has been through the foreclosure process and is now owned by a bank. You work with the lender or lender's broker, rather than a distressed homeowner.
But if you're a buyer in a hurry, buying a foreclosure may not work. Foreclosure deals are known to take as long as 90 days or more to close, if they close at all.
What about a fixer-upper?
A fixer-upper is another appealing option for bargain-hunting buyers. Clark and Honkala from Chicago, for instance, bought a fixer-upper and took advantage of the FHA 203KS rehab loan program, which allows borrowers to finance improvements and upgrades up to $35,000 at the time of the purchase, provided the work financed is done by licensed contractors.
"When we're done with the rehab," Clark says, "we will have altered all but one room on the first floor and changed everything on the second floor. In prior years, the house had been split into multiple units. We've gutted all three kitchens and are only planning on putting one back. But even though it has been a lot of work, it's definitely worth it."
With the rehab loan, Clark's mortgage is for $180,000. The bank appraiser estimates the house will be worth $230,000 when the rehab is finished -- not a shabby purchase, even if the home was initially shabby, and a solid investment to boot.
A fixer-upper also gives you the flexibility to "mold" a modest home into your dream home. Clark says she and Honkala are "both into cooking and hate apartment kitchens with their lack of counter space and sub-par appliances. About 35 percent of our rehab budget has gone straight into our kitchen, and we can't wait to host large dinner parties."
THE NEIGHBORHOODS AND AREAS FOR YOU

Many first-time buyers tend to be young professionals or young families who want convenient access to arts, culture, good food, shopping, nightlife and recreational activities. For this reason, pedestrian-friendly neighborhoods are great for those starting out, in revitalized downtown areas or up-and-coming communities with history and character.
If you're a first-time buyer on a budget, you may need to make some compromises when it comes to your first place. You may not be able to afford your ideal neighborhood or dream home, but you can get as close as you can to them. Buy a fixer-upper in the best neighborhood in the city, or buy new construction in an up-and-coming part of town. Just be mindful that your purchase price reflects the home's market value.
Look at the price of your house and the comparables, advises Gregor Watson, managing partner at McKinley Capital Partners, in Oakland, Calif. Research the neighborhood and school districts. For instance, if you buy a house that's inexpensive but surrounded by pricey McMansions, your property tax might be much higher than you would think.
Or if you're going to live in the nicest house in a transition area, that, too, could adversely affect how much your house is worth -- which may not matter to you if you plan to live in the place for years to come and see it as a place to live and not an investment.
If you're focused on buying a foreclosure, take Watson's advice: "Once you think you know the area and smell a good deal, don't waste your time trying to buy an REO home or a short sale. You can't compete with all the cash buyers. The best way to find a deal is to partner with a broker or a group of investors that are buying direct from banks or on the courthouse steps."
Whatever you're looking for, work with a real estate professional that specializes in it, whether it be urban homes downtown, small houses or green living. There are even reputable real estate agencies and government programs that focus on selling houses to people with poor credit histories. Some real estate companies, like Performance Realty, Inc., in Indianapolis, offer programs specifically designed for first-home buyers.
As you search for financing and the right house, "stay patient," Watson says. "Yes, the government is handing out money through first-time buyer tax incentives, and, yes, interest rates are low. But do your homework and really get to know the areas you want to live in and look for."