5 Stylish Low-Waste Gift Wrap Ideas
These almost free gift wrap ideas will give you and your wallet a double dose of Christmas cheer.
We're sorry, there seems to be an issue playing this video. Please refresh the page or try again in a moment. If you continue to have issues, please contact us here.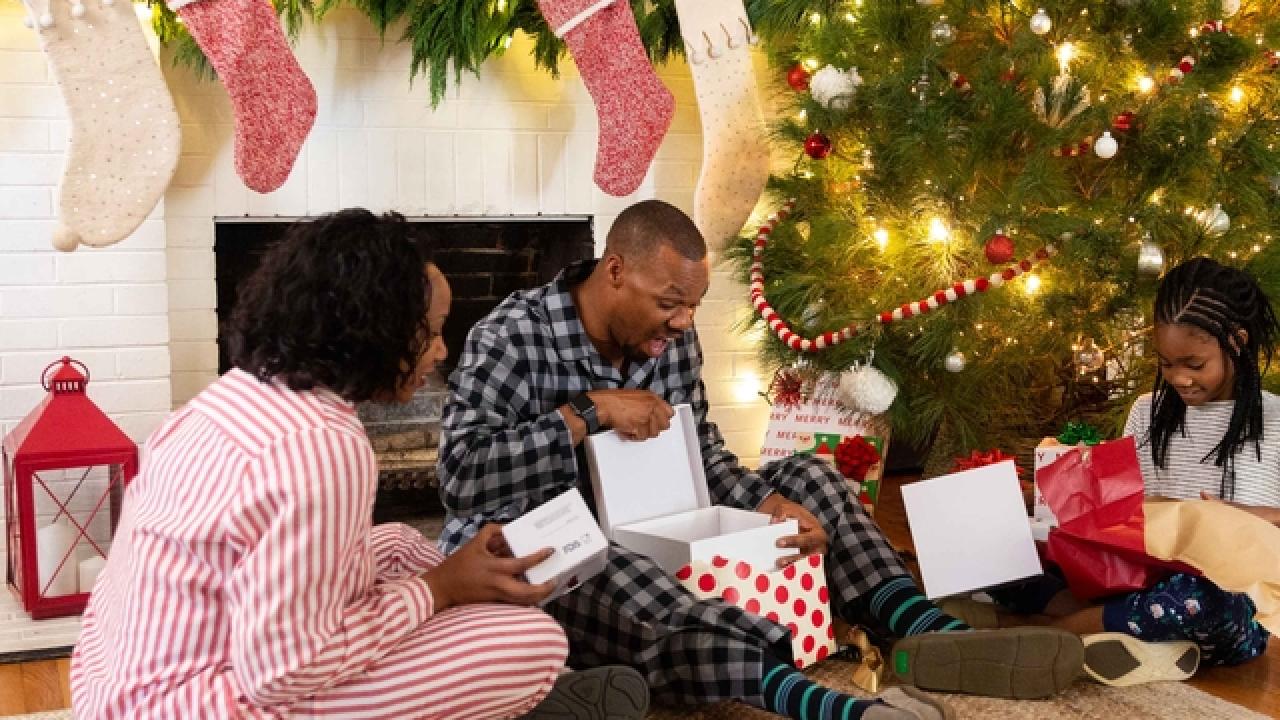 Every year, thousands of beautiful wrapping papers and gift bags hit the stores, making it so tempting to load up on them. Instead of blowing your Christmas gift budget on wrapping that will just be torn off and thrown away, here are a few ways to reuse, recycle and repurpose your way to gorgeous gift wrap.
Grocery Bag Gingerbread House
paper grocery bag
scissors
tape
paint pen
miniature wreath
hot glue gun + sticks
If you're anything like us, you have a stack of paper grocery bags that you planned on eventually reusing for something. Here's the perfect something! To turn paper grocery bags into gift wrap, start by cutting along the crease of one side and the bottom with scissors and laying the bag out flat (Image 1). If the bag has handles, cut them off with scissors. Place the gift on the bag with the bag's design facing inward, and wrap as you would with gift wrap (Images 2 & 3). Once wrapped, turn the gift over and use a white paint pen to draw gingerbread house details on the front (Image 4). Finish off this adorable look by hot-gluing a miniature wreath above the front door in place of a bow (Image 5).
scissors
hot glue gun + sticks
Looking for an easy way to handcraft an adorable Christmas bow? Look no further than today's paper. First off, sift through the pages until you find one with colorful details. Once located, use a ruler and scissors to cut out nine 1-inch strips (Image 1). Next, use hot glue to make seven equal-sized loops (Images 2 & 3). Stack the loops together in a crisscross manner, securing with hot glue, then top the stack off with a smaller loop in the center (Image 4). Use the final newspaper strip to create the tail. Simply fold in a "V" shape, glue to the bottom of the bow, and cut decorative notches out of the ends (Image 5).
Technically, this low-waste wrapping method could be used for a variety of gifts, but we think it works best for cookbooks. Simply place the book on a decorative dish towel and fold the towel over on each side (Images 1-3). Secure the towel by tying the side folds together in a knot at the center, then finish off the gift by sliding a beautiful wooden spoon beneath the knot (Images 4 & 5). Wrapping and gift in one!
shopping bag
colorful card stock
pinking sheers
magic marker
watercolor paint
pen
clear glue stick
If you have a shopping bag that doesn't quite fit the season's aesthetic, this can easily be remedied. First, cover any undesirable logos using colorful card stock cut to size using pinking shears (Image 1). Attach to the bag using a clear glue stick, then use this surface to write your to-and-from message (Image 2). On the other side of the bag, use watercolor paints to create the pattern of your choice. We chose to paint on green triangles, then added Christmas tree detailing to each using a pen once dry (Images 3 & 4).
Easy and Protective Egg Carton
Having trouble wrapping fragile, oddly shaped items such as bath bombs? Look no further than a recycled egg carton. These are perfect for creatively packing small, breakable items in a convenient, protective manner. Simply place the items in the carton, then top it off with a colorful ribbon (Image 1). We chose to layer multiple strands of pink yarn in various shades and then tie them off in a chunky knot (Images 2 & 3). To finish, simply cut off any excess to create a clean look (Image 4).