Upcycle Old Flannels Into Totally On-Trend Ornaments
Easily craft these cute ornaments that'll add a trendy, woodsy touch to your tree or make great handmade gifts or party favors.
3" foam spheres
clean, old flannel shirts or pants
coordinating ribbon
fabric or school glue
scissors
chopsticks or a wooden skewer
apple corer
Using an apple corer, create a hole in the middle of the foam sphere (Images 1 and 2).
Using the foam sphere for guidance, cut out a section of fabric that's just a bit bigger than the sphere (Image 1). Next, if using a sleeve or pant leg, cut open the seam to create a flat piece of fabric (Image 2).
Loosely wrap material around sphere and cut off excess, leaving about 1/2" overlap for the seam.
Wrap fabric around sphere, ensuring that the fabric is straight and the ends overlap with the pattern matching up. Using a skewer or chopstick, push the excess fabric into the hole you created, tucking it tightly as you go to eliminate wrinkles.
Fold ribbon over to create a loop that's long enough to securely tuck into the ornament's center, leaving around 2" sticking out as a hanger (Image 1). Using a chopstick or skewer, tuck the ribbon's ends into the ornament's center, securing the ribbon, if necessary, with a dot of glue (Image 2). Tip: Depending on the thickness of your fabric, this may not be necessary. Once glue has dried, hang the finished ornament on your tree or give to friends or party guests as a festive handmade gift or party favor (Images 3 and 4).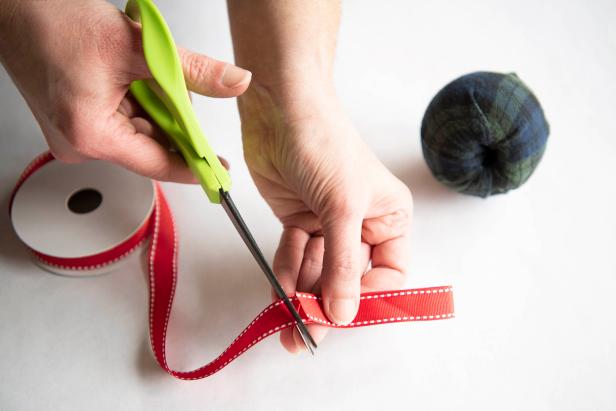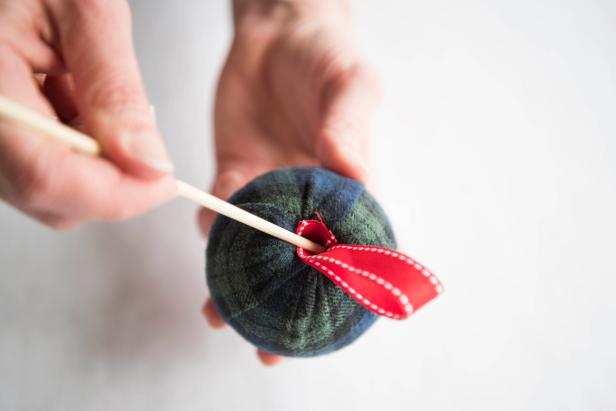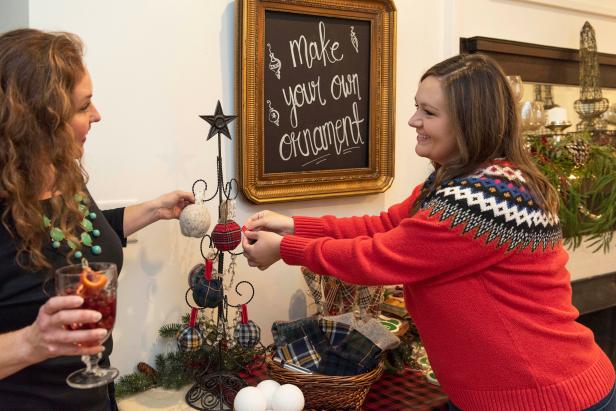 Sarah Busby; Styling by H. Camille Smith