3 Ways to DIY Oversized Porch Decor for Christmas
Go big or go home with these DIY oversized porch decor ideas that are as easy on the eyes as they are on the wallet.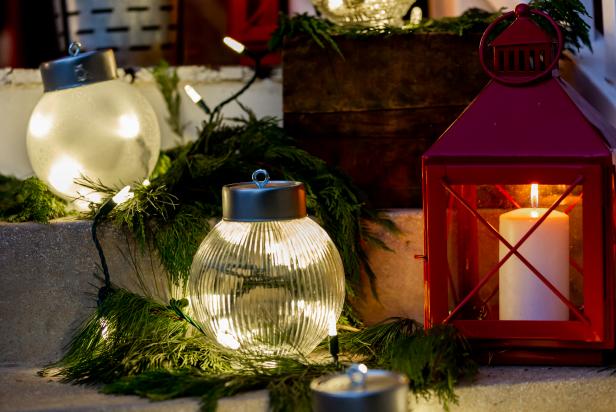 Oversized Light Ornaments Made From Vintage Light Fixtures
These oversized ornaments are crafted using the globes from vintage light fixtures. The globes are removed and attached to recycled tuna cans that have been painted and fitted with eyebolts. The ornaments are then stuffed with Christmas lights to cast an ambient glow.
Sure, we love the subtle beauty of twinkling white lights and greenery, but when you want to make a bolder statement with your holiday decor, these jolly, jumbo DIYs are the way to go. Follow along as we show you how to load up your porch with elegant, oversized DIY decorations that will keep it classy, while piling on the holiday cheer. Bonus? With materials like plastic planters and recycled tuna cans, these budget-conscious decorations won't break the bank.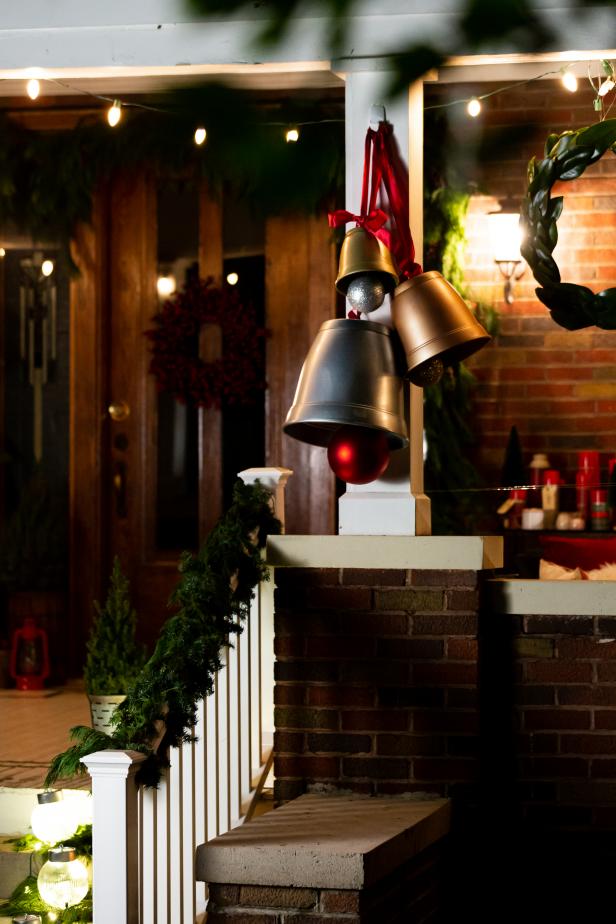 Oversized Christmas Bells Made From Plastic Planters
This porch post is home to DIY oversized Christmas bells. The homemade bells are made from plastic planters that have been spray painted with metallic paint and then outfitted to look like bells. Large ornaments are tied to the inside to resemble the bell's clapper.
large plastic planters
metallic spray paint
drill + bits
eyebolt + nut
cotton twine
scissors
large outdoor ornament
thick red ribbon
Decking your porch with authentic bells of this caliber would completely blow your holiday budget. Luckily, this plastic alternative is inexpensive, easy-to-store and will last season after season. To craft these larger-than-life bells, start by purchasing plastic planters in various sizes, then drill a hole in the center of each one for a large eyebolt (Image 1). After drilling, coat each planter with metallic spray paint in either brass, gold or silver (Image 2). Once the paint has dried, run the eyebolts through the holes and secure with nuts (Image 3). On the inside of the planters, tie baker's twine to the eyebolts and cut, leaving some excess hanging out of the planter's opening. To resemble a clapper, tie large outdoor ornaments to the twine and cut off any excess (Image 4). As a final touch, tie bright red ribbon to the eyebolts and hang in a visible spot on your porch (Image 5).
Pro Tip: To ensure the spray paint will stick, gently rough up the plastic with fine sandpaper.
Super-Sized Light Ornaments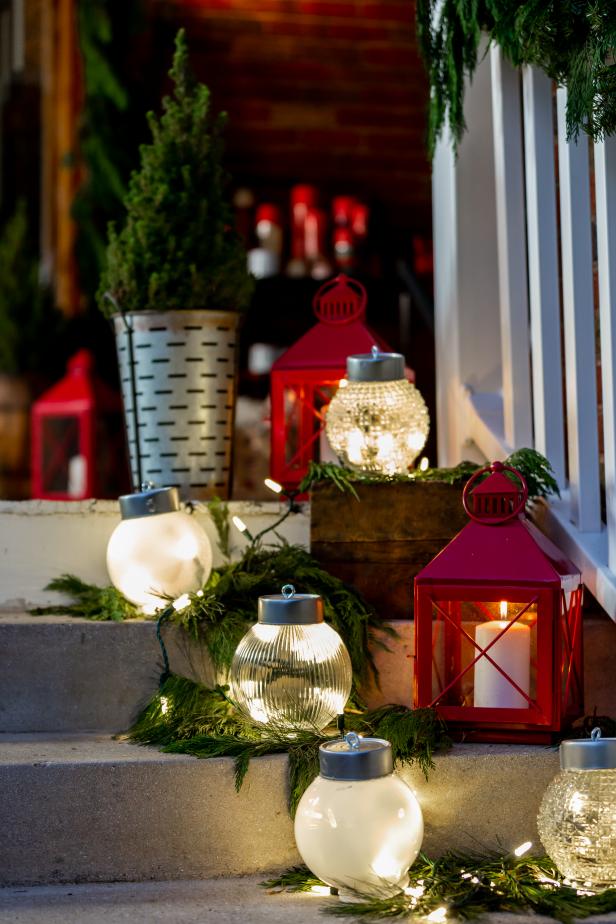 Glass Ornaments Made from Vintage Light Fixture Globes
These oversized glass ornaments are part of a DIY project that utilizes the globes from vintage light fixture globes. The globes are modified with a recycled tuna can to resemble vintage ornaments. The ornaments are then stuffed with Christmas lights to cast a glow.
vintage light fixture globes
screwdriver
recycled tuna cans
hot glue gun + sticks
drill + bits
eyebolt + nut
silver metallic spray paint
outdoor Christmas lights
Christmas lights and ornaments come in all shapes and sizes, but to find any this large would take some serious searching. To tackle this DIY, start by removing the globes from a vintage light fixture (Image 1). Next, remove the label from an empty, cleaned tuna can and drill a hole through the center that is large enough for an eyebolt (Image 2). As an optional step, paint the tuna can with metallic spray paint to add a little glitz (Image 3). Once the paint has dried, stick the eyebolt through the hole and secure it with a nut (Image 4). Use hot glue to affix the tuna can to the glass globes, opposite the opening if the globes are only open on one end (Images 4 & 5). Once the hot glue has set, work the giant lights into your porch decor by stuffing with outdoor string lights and garnishing with greenery.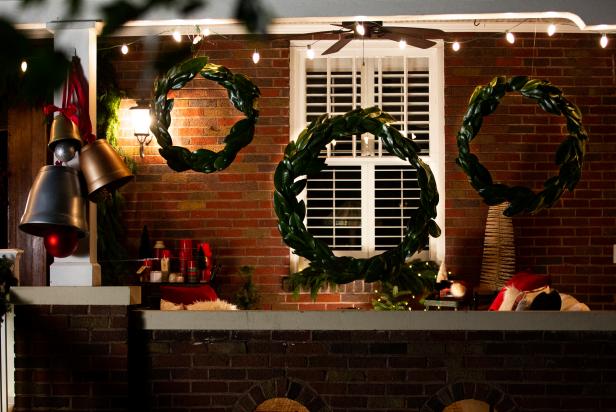 Oversized Magnolia Wreaths Made From Painted Hula Hoops
These three oversized wreaths are an easy DIY Christmas decoration projects. The wreaths utilize foraged magnolia branches that have been hot glued to hula hoops. The colorful hula hoops have been painted using black spray paint in order to better blend in behind the leaves.
hula hoop
black spray paint
hot glue gun + sticks
magnolia branches
pruning shears
floral wire
monofilament fishing line
scissors
Oversized wreaths aren't necessarily hard to come by, but it's rare to find one that doesn't look cheap or cost a fortune. As always, we recommend taking the DIY route. Start by spray painting a hula hoop black and setting it aside to dry. Next, begin removing magnolia leaves from a branch, bunching them together in groups of three to five and tying them together with floral wire (Images 1 & 2). Use hot glue to attach your leaf bundles to the hula hoop, stacking them like shingles (Images 3 & 4). Once the hula hoop is covered, use more floral wire to further secure the leaves to the frame (Image 5). To display your gorgeous creation, simply suspend from a beam using a monofilament fishing line. This creates a floating effect that will keep everyone's eyes on the wreath.