Model Home Transformed Into A Custom Masterpiece
Design 4 Corners transformed this cookie cutter home into anything but ordinary, with custom finishes and a soothing blue color palette, the interior design is one to remember.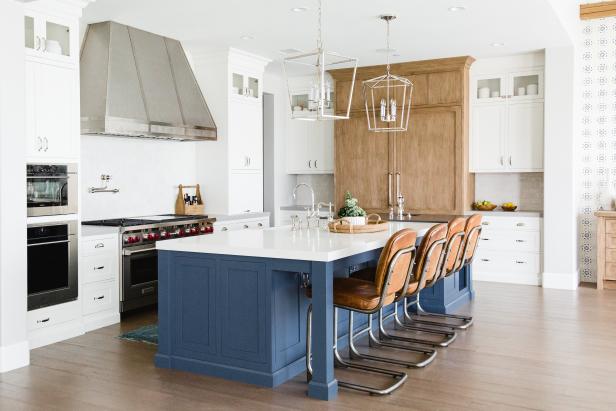 Kitchen Island Complete With Brown Leather Barstools
Brown leather barstools feel right at home in this contemporary kitchen, bringing out the rich blue of the island. When they're not sharing a meal together, the owners and their kids can also use this space to go over homework.
When Design 4 Corners clients, a family with 3 young children, decided it was time for a bigger space, they enlisted the help of designer Susanna Samaniego with the redesign of their new home.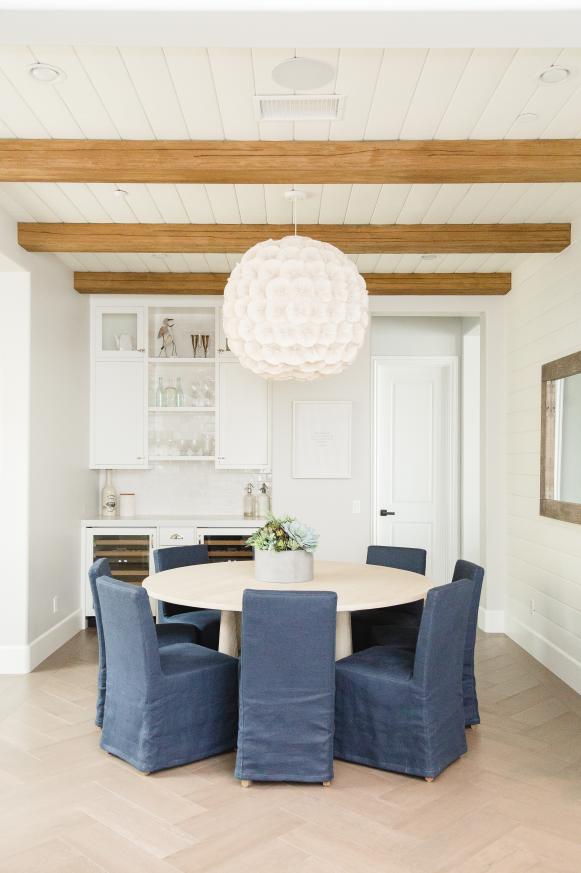 Formal Dining Room With Built-In Bar
In addition to an eat-in kitchen, this single family home has a formal dining room with its own bar. A large chandelier brightens the space, while a round table with blue slipper chairs provides stylish seating.
Wanting to stay in the neighborhood they had already grown to love, the clients resolved to buy a new construction home that was being built in the same community. Instead of getting the keys to their new home and moving in, alternately, the clients handed Design 4 Corners the keys and they began removing all of the builder grade finishes.
In essence, Design 4 Corners, together with the homeowners, were able to start the interior design process from scratch - removing walls, selecting new finishes and materials. The end result is a home that functions according to how the family lives.
"While the outside of this home looks like a typical cookie cutter home, the inside looks totally custom and well designed," explains designer, Susanna Samaniego. "Even the kitchen is custom designed, down to the drawer inserts to fit her specific utensils."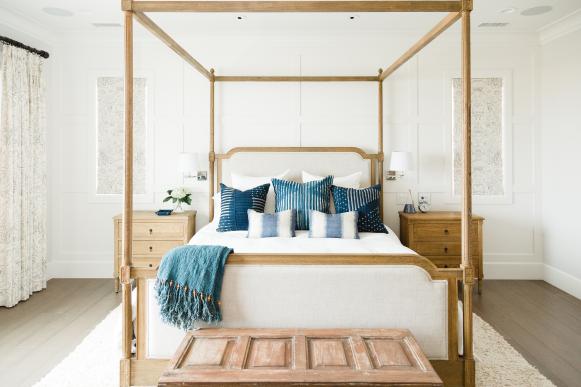 Boho-Style Master Suite With Canopy Bed
Much like the rest of the house, this master bedroom looks bright and bohemian, with a wood canopy bed, matching nightstands and indigo-dyed pillows. Two small sconces cast a warm glow on the space at night.
Susanna describes this home as a "modern farmhouse" with timeless elements. She explains they did not want to design a space that "would be trendy then die." This timeless look was created by mixing different materials, which produces "elements of surprise," while, at the same time, the materials speak and play off one another.
The home may be cookie cutter on the outside, but the inside is far from the ordinary. Susanna explains, "the use of different materials keep it interesting and make it standout. It's timeless, with trendy parts."