Toast to New Year's Mocktails
Learn how to whip up some delicious mocktails that cater to nondrinkers.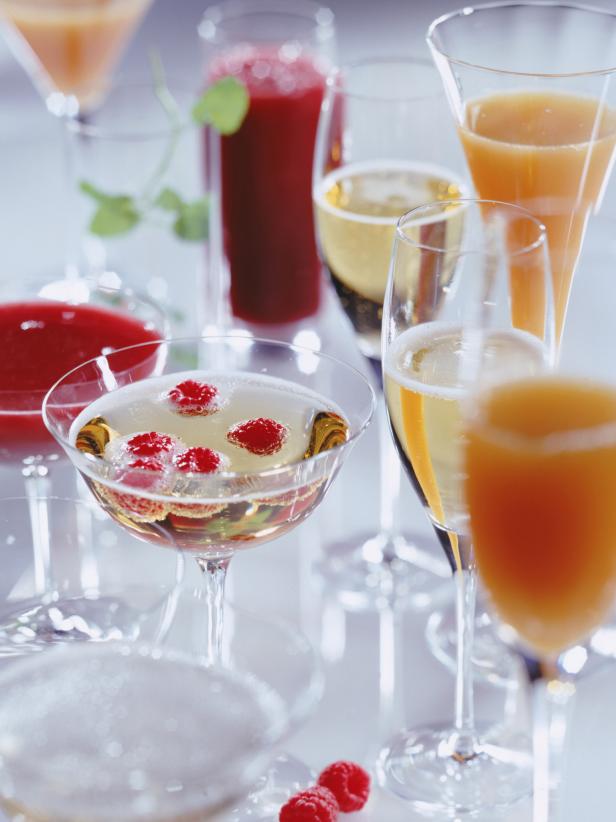 Stylish Cocktail Glassware
An important part of planning the bar is thinking about the type of glassware that will be used to serve each drink. While traditionalists recommend a different glass for red and white wine, you can keep things simple by using a multipurpose glass for both. You might also try searching for unique and vintage glassware at flea markets and garage sales to add to your collection; don't be afraid to mix and match stemware for an eclectic look. For large parties, we recommend renting glassware. It comes perfectly polished, and there's no need to clean before returning.
Creativity expert Andrew Rakos whips up some delicious New Year's Eve mocktails that cater to nondrinkers. His recipes use everything from designer ice cubes to fun-shaped root-beer floats.
Mix juice flavors, pour into ice molds or ice-cube trays and freeze. Add the flavored ice to other beverage bases such as club soda and other clear drinks. As the ice melts, the flavor is added to the drink. Also, if food coloring is added to the flavored ice before freezing, it will be added to the drink with the flavor.
For a different touch, freeze tiny edible flowers into the cubes by first filling trays halfway and freezing them. Add edible flowers and fill trays the rest of the way and freeze. Mix drinks with fizz and colorful juices, such as half berry juice and half soda.
Garnishes for drinks make them more festive. Use any kind of fruit such as grapefruit, orange, lemon and lime slices.
ice
ginger ale
grenadine
orange slices
mint slices
Fill glass with ice. Pour ginger ale and grenadine over the ice. Garnish with orange and mint slices.
ice
cola
vanilla ice cream
cookie of choice
colored sugar-covered chocolate pieces
Fill a wide, fun-shaped glass with ice. Pour cola until the ice is barely covered. Add a big dollop of vanilla ice cream on top of the ice. Put a cookie on each side of ice cream to make ears, and add colored sugar-covered chocolate pieces to the front of dollop for the eyes and nose.
orange juice
pineapple juice
grenadine
lemon juice
bitters
Mix equal parts of orange juice and pineapple juice. Add a dash each of grenadine, lemon juice and bitters.