Oysters Rockefeller Recipe
The Jekyll Island Club Hotel in Jekyll Island, Ga., shares its popular recipe for oysters Rockefeller. This tasty appetizer is easy to make and will win over all your seafood-loving guests.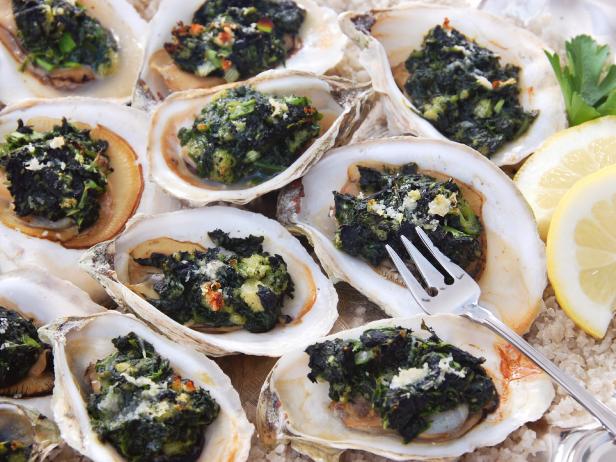 Oysters Rockefeller
This classic holiday appetizer is deceptively simple to make. We got the Jekyll Island Club Hotel in Jekyll Island, Ga., to share its popular version. Get the recipe.
12 oysters, rinsed and shucked
1 bag fresh spinach
2-3 strips bacon, uncooked
1 clove garlic, minced
1 1/2 tablespoons cream
1/4 cup plus 1/4 cup Parmesan cheese
breadcrumbs, as needed
salt and pepper, to taste
1. Render the bacon in a hot skillet until almost crispy.
2. Add the garlic and pull from the heat. Stir well to cook the garlic.
3. Fold in the spinach, cream and 1/4 cup cheese.
4. Adjust seasonings with salt and pepper.
5. Place approximately 1 tablespoon of mixture onto an oyster.
6. In a small bowl, mix 1/2 cup breadcrumbs with 1/4 cup cheese. Add a pinch of salt and pepper to the crumbs.
7. Top the oyster with the crumbs and repeat the process.
8. Place oysters in a pan, bake at 400° F for 5-6 minutes, or until topping is slightly browned.
Recipe yields 12 oysters, ideal for 5-6 people.